If Bowling Harbour was in the USA there would be a kiosk selling guides and bumper stickers saying "I've been to Ghost Harbour".
Originally the naturally formed shelter of Bowling Bay and visited by Glasgow's tobacco lords and slave traders to get away from the city smoke it was built into an industrial hub which ran until the 60's. Its in a unique position where the canal, two major railways, the main west coast roads and the River Clyde met on the north side of the river, close to the firth.
I saw a lot of the physical remains of this when I was young but the years have softened the edges from the abandoned to the archaeological and vandals have removed far more than the passage of time would have done alone.
Where I saw ships launched and heard sheds ringing with hammers there's now expanses of flat concrete erupting with trees, smooth stone walls are split and tumbling into the river, metal shapes hacked away and stunted give few clues to what the once supported.
Yet I find it beautiful. The decay, the melancholy, the whole place bursts with memories and as quiet as it is when I sit out there with my camera waiting on the sun to set I can easily imagine the shouts, the idling engines of ships, the steam whistles, the laughter, the whole harbour full of life.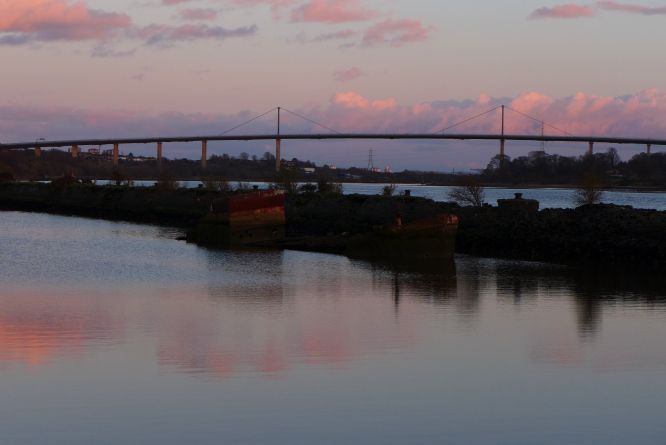 Frisky Wharf is the wooden pier now twisted and collapsing into the river. It used to have railway sidings carrying goods to the waterline and back and ships could dock there.
Now a single step onto it's once mighty timbers would be a gamble with your life.
The swans don't care. It did care when I was creeping up on it though, I found reverse quick enough. A swan can break your arm apparently. I think it would have to peck at it for long time. A very long time.