The flysheet rattled and swayed around me, nothing unusual in that if I'm honest, but it was distinctly brighter than it had been, and no rain either. I squinted at my watch (the big numbers are great without my reading glasses) and it was a little after 7. I heard some shuffling from the other tents and blew my nose without restraint or worry of waking the others. That's better, lets have a wee shufty out the door.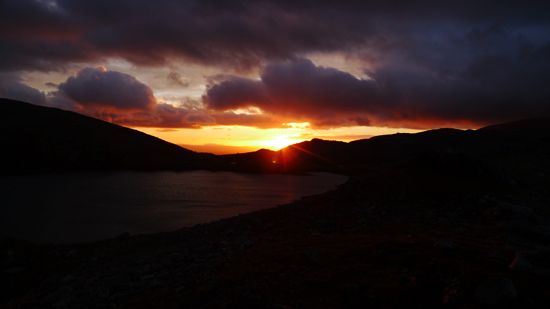 There was a warm glow to the east, fat ribbons of cloud scraped across the tops and there was a bite to the air. Primaloft and morning cuppa were my shield as I wandered the campsite. A visit to the loch to pick up water got my legs moving and my temperature up a little. The loch is deep and still, the white boulders that form it's bed disappear into the darkness at an alarming angle. I bet there's a skelpie in there somewhere.
I climbed to the little top above camp where a huge erratic boulder is perched, what I thought was a cairn was another shooting hide, not as glamorous as the wood and turf shack we'd found the day before, but there must be a fine view of the beasts resting by the water's edge from here. It did occur to me that a shooting party might wander in at any moment, it was Monday now. But we never saw a soul, well not an armed one anyway, one surprised looking walker did flit by without saying hello.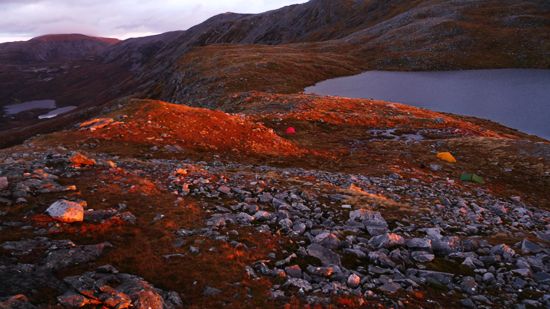 I stood and watched the sunlight strike the low cloud and drip down onto the land, the orange glow seeping into the heather and rock, bringing the day to life. We were all milling around now. Phil climbed to the boulder as Mike and Marian got emerged to see what the plan was. For all their huge experience of the worlds remote and high places,  we were glad to introduce them to something new, the second cuppa rule. You know me, never in a hurry. So rather than break camp and hike, it was hats and gloves, cuppas and banter until the sun was higher. We talked about mapping for a while as we planned a new route, I was working from the official LAMM map (thanks guys) and the brand new Harvey Superwalker Suilven map. Mike recalled the mapping troubles in the early days of the KIMM where the existing maps didn't cut it and going to bespoke maps was the only way forward. The quality of current UK mapping is outstanding when you think about it, we don't know when we're well off.
The cloud was lifting, and the wind was filling the gap it was leaving. We were all well wrapped up when we left, it was cold indeed.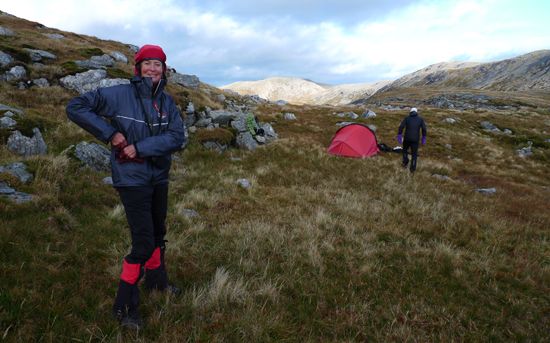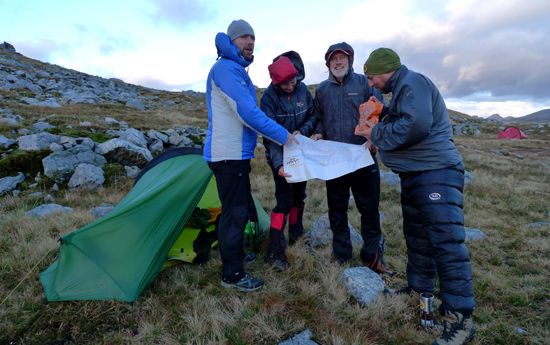 The terrain is a joy, it changes and evolves with every rise and fall, and even after the rains the boggy sections were few and far between. We climbed to a little grassy plateau north of Beinn an Fhurain and saw a cairn standing in the middle, a cairn with a tall white cross. We all realised what this was, the spot where the crew of an RAF Avro Anson which crashed in 1941 are buried. As we closed on it we could see the wreckage that remains on site, both remarkably intact radial engines, one set of landing gear and other indistinguishable pieces, all of it slowly being sucked into the peat. The full story is well told on this great wee site here. Both my grandfathers were in the RAF during WW2 and childhood stories make moments like this all the more poignant. We stood for a while at the cairn, the engineers within us found fascination with one of the engines and then we were away, a ridge line sparkling in the sun was calling us onwards.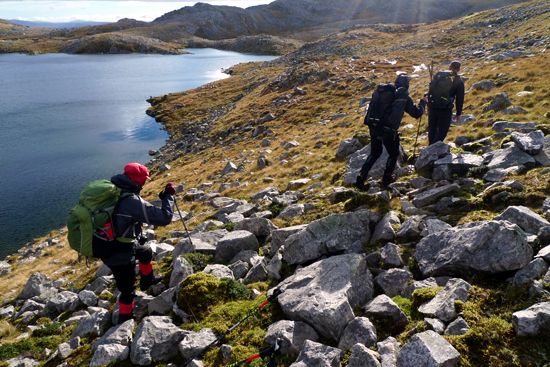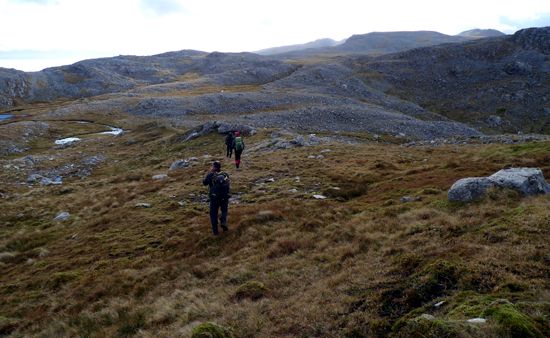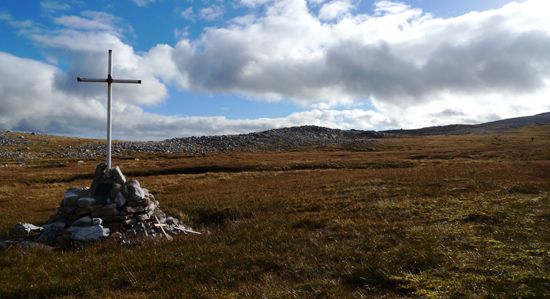 Beyond the ridge the dark face of Na Tuadhan (delightfully ignored by OS on their landranger "map") tugged at us like a magnet. This 860m top proved to be the hub of our trip as we wound our way around and across it. It's a work of art, and as we moved around it, it changed shape constantly, a rounded bulk, a spire, a tower of impossibly twisted strata.
Geology is something you can't ignore in Assynt and it's something we talked of often. The landscape is breathing here, you can see the movement, I swear you can even feel it if you stand still. For what might appear as a barren wilderness, it's both primeval and as alive as a new born.
We found tiny pebbles crushed flat into quartzite boulders like pennies left on a rail and run over by a train, later I saw red ones the size of plums suffer the same fate. The power of the ground under our feet, it's without thought or direction, conscience or motivation. It's an 18-wheeler with no-one at the wheel and we're a rabbit in its headlights. We should probably be nicer to this lovely wee planet we're on. It'll win every time.
We reached a sheltered spot and stopped for a snack. Phil and Mike looked east across the peaty expanse, and after I pointed out roughly where Altnaharra was they started talking about skiing there from Inchnadamph this winter. Aye, I'll drive the motor round I think.
Marian and I were debated the origin of lines in the ground and decided that they were sort-lines, where the pebbles and rocks gradually take almost tidal shapes after centuries of tiny movements from freeze and thaw cycles. That Hostile Habitats book, as dry as it can be, really is helping me to fill in the gaps in what I see out there. And sharing trips with folks well ahead of me knowledge-wise steadies the hand or tells me where I've misinterpreted something. Every day is indeed a school day.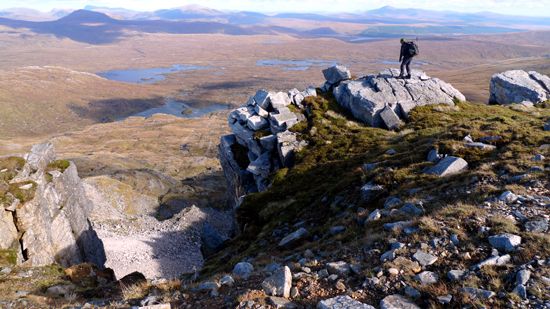 We rounded some pinnacles and found the ground was now a sea of scree. From out high point the ridge from Conival to Ben More Assynt stretched in front of us as a huge barrier, it's edge bright as the sun caught it's quartzite, its height dark as the sun takes it's lowly October arc across the sky.
The descent to the lochan was interesting. The slope is steep, the scree is very mobile, pathless, and the blocks are big. The best policy seemed to be staying on top and leaving each rock just as it started to move, but that was too tiring and in the end we all picked our way down to the water's edge by any means necessary, however ungainly it looked.
Bottles refilled, banter restarted, headgear altered as the wind was fairly whipping by now. Conival was dead ahead.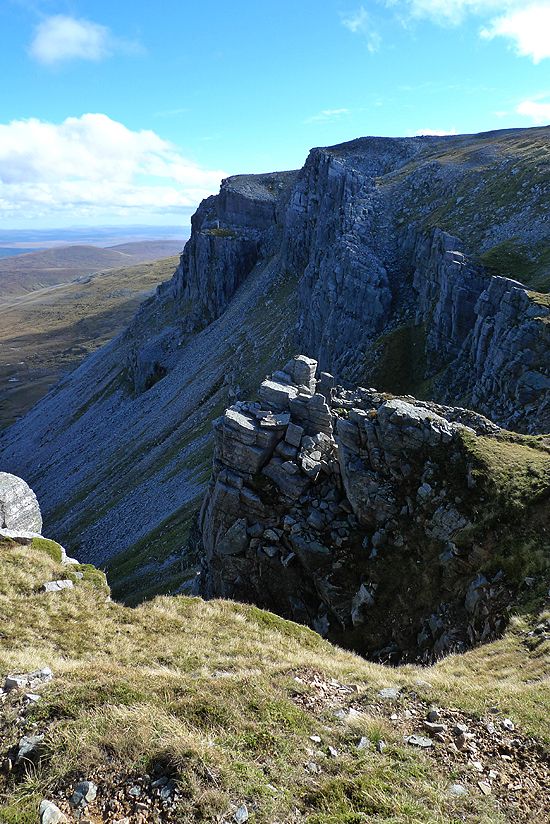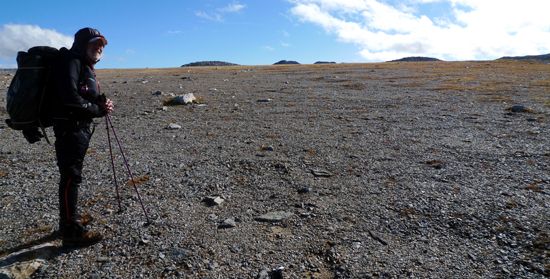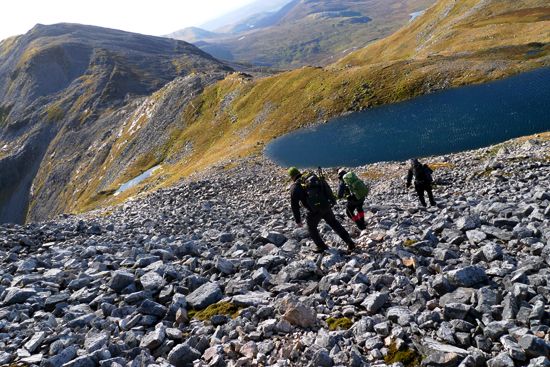 It's steeper than I remember, but less snow than than the last time too, and I was quietly confident of making the summit this time. It was a warm climb as the rocky bulk had blocked the wind, but once back into clear air it was a "Hoohoo!" when the wind hit. Nice and cool though.
Breabag writhed below, like the rock's turning over and over under a blanket of heather during a nightmare. It has a huge north-facing coire at its south end and is quite a spectacular sight. A night spent on top of this bugger would be fun.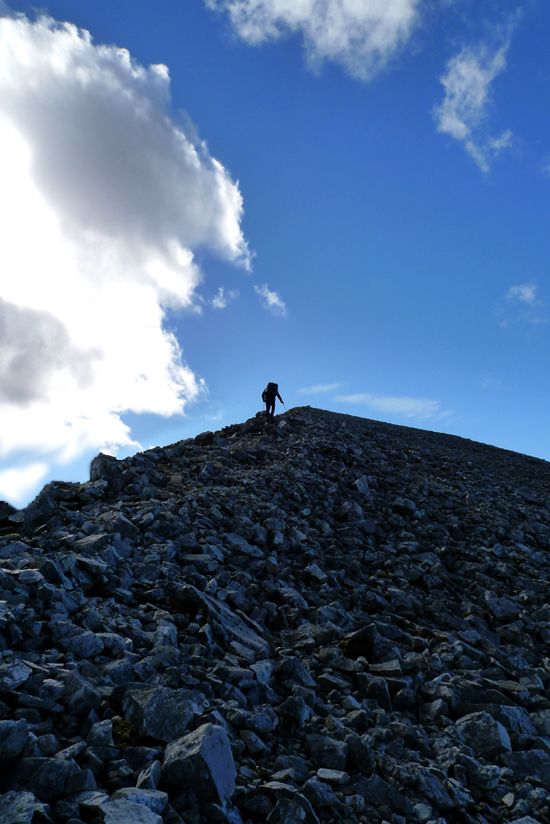 A rocky clamber brought us to the big windbreak on the summit of Conival where we stopped and got our packs off. Phil captured me with a Pot Noodle in-a-bag, tasty but absolutely no effect on my hunger or topping up of my fuel levels. Purely morale food, is that a good thing?
Mike was fairly taken by the view "It's 360 degrees…". I know if you head to our hills up here often enough you get these days, but Mike had seen his worst fears realised when they were driving up in the pissing wet and I was so relieved at that point that the Parsons's were not wanting to throw me off the crag and head home. Marian is a Munro compleater,  and was in her element, her last visit here was many years ago and in thick weather, Phil and I were simply all grins at the scene. I couldn't have asked for more, sure the wind threatened to blow my whiskers into the coire, but looking for them under that blue sky would have been no hardship.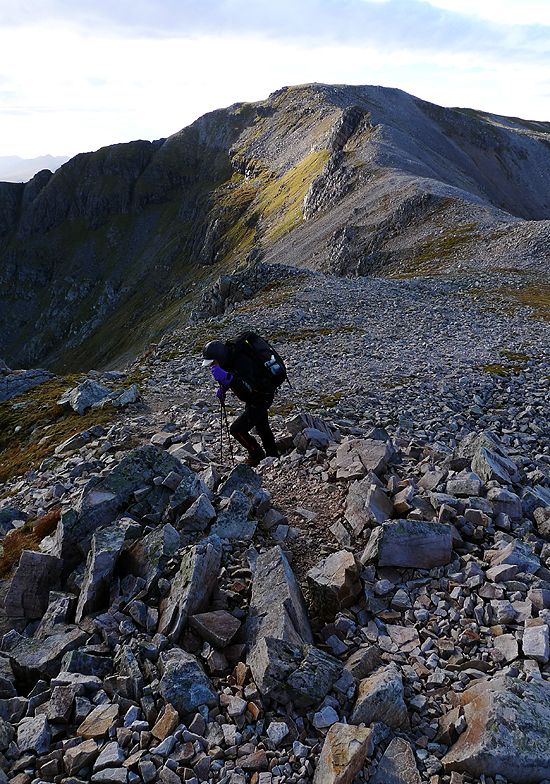 Discussion regarding our diggs for the second night continued as we picked ourselves up and headed for Ben More. I thought the caves by the River Traligill might be a fun spot, and would suit the feature, I don't think anyone was convinced by this plan and the preferred option was looking like one of the lochans in Coire a Mhadaidh to our north. It looked like a killer spot, trackless, quiet and under the huge crags of Na Tuadhan. The descent we'd have a look at from the ridge and from Ben More.
We climbed both of Ben More Assynt's summit rock piles, just in case, and scanned the maps once again for inspiration. We really did make this trip up as we went along.
I fancied the higher lochan as it would probably be more photogenic, the rest of the team favoured the lower one as it looked a little more sheltered and might stay longer in the sunlight.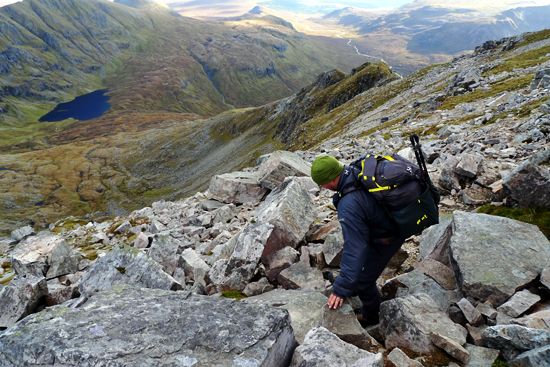 300m of height lost on scree, untouched scree at that, all just sitting there, ready to slide. We all split up and threaded our way down, I found some slabs to walk on that rested my knees a little but when the scree ended in some greasy cliffs, Phil and I split left and right to find a gap. We both succeeded in a fashion and my last move was to surf a gravel chute the rest of the way down. My shoes are toast. Mike and marian followed on and chose much more sensible lines.
The light was gone from the coire, and the lochan was deeper in it's bosom than we thought. It's a secretive place, walled in by the high on three sides and the innaccessible on the other, the cliff echoed the sound of the rutting stags and a roaring waterfall as the wind howled it's approval of both. The flat pitch near the waterfall was too exposed, and as we discussed its merits the wind whipped the surface of the loch into a waterspout and sent it careering down its length to disappear on the bank. "I haven't seen that since I was in Patagonia", we all knew that me could be in for a rough night.
be backtracked a few hundred metres to the other end of the loch and pitched the tents as best we could. I ended up nose-to-tail with Phil on a low shelf next to a burn, while Mike and Marian took a flat spot nearby.
I don't think it would have mattered one little bit where we pitched in that coire, the weather had been watching us, it had been kind, sure it was cold and we'd all been walking in our insulated jackets at some point, but there had been clear skies. It was time to pay the rent.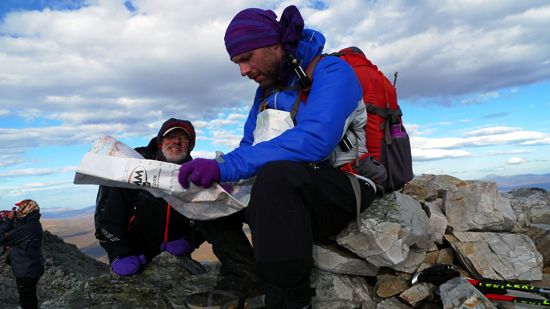 Mike and Marian were the first casualties, a pot of hot water and the gas stove sent inwards over the gear as the tent buckled under the weight of a gust. Phil suffered the same fate, but luckily his water went into the porch. Me? I ended up wrapped up in my tent like I was wearing a ballgown on a parachute jump. I re-guyed the tent and put rocks on everything, as did the Parsons. Phil had the Pegs of Justice (gear stuff later) and didn't bother his arse.
I got a nice hot dinner and was quite cozy as the rain moved in, I even got out to take a couple of shaky night shots when the sky cleared brieflybefore I sealed myself in for the duration. The rain was sharp, braaattt! went it's volleys across my flysheet, but the wind was something a little more unnerving. It was coming from the south, and the ridge above was compressing it and obviously pissing it off , because when it got its toes over the ridge it just exploded down onto us with total malice. We could all hear the pattern: a growing, loud, deeply-toned and escalating roar somewhere high above followed by a few seconds of silence the,: Bam! The roof would come down to meet me, the floor would lift where there was no weight to keep it down and the air rushed past me at the same pace as my pulse.
Like waiting for the thunder after the lightning, that roar above signalled what was to come next, and I found myself counting the seconds until the tent thrashed around my little cocoon of down and metal. Although, even the iPod couldn't compete and ended up wrapped around my shoulder by morning with a flat battery.
I had my gear ready to go, trousers, shoes, jacket if it came to the worst I'd be out of there in seconds. I learned later that we were all of the same mind, Phil had drybagged all the kit and was ready to dress and leave if needs-be. Marian slept in her waterproofs, and that made gher the best prepared of all of us.
It was a long night, and pretty much devoid of sleep. Come the morning though, it all looked very different.