This had been a wee while in the works, but people, time and weather are a fizzy brew and when the bubbles settled enough for me to get the lid off I was left with a window one week wide to get the job done. So, we were going regardless of weather, runny noses or a difficulty in deciding on which thickness of socks to pack.
The plot revolves around a feature I'm (re)writing, it's to do with mountain marathons, a bit of lightweight gear and following your nose rather than a line in a guidebook, the usual stuff. It'll make sense when it's on the page. So as I'm really just the narrator for this, I needed folk in there to offer perspective, opinion and knowledge regarding all the issues that the subject would touch on.
Bobinson was first up, as a racer, outdoor instructor and of course my buddy, I knew I would get the goods and we'd just carry on as normal once we were on the trail.
Next took a little thought, I've known Mike Parsons for a few years now and I knew that we could easily sit down with a notepad and a cuppa and I could get all the info I needed. But, I thought it might be nice if we all went on the trip together as there's that element of discovery: quotes and information prompted by events as we trekked. More natural maybe, and of course much less of me in the photies. Talking to Mike and Marian (Mrs Parsons) about something else, I slipped the suggestion in that they come up, there was some discussion no doubt, but the answer was yes and plans were made.
The place was Assynt for a route based around some of the 2006 LAMM, the time crep further back until we could go no further. We were going on the first days of October come hell or high water.
Mike and Marian came up the night before and split their journey at Aviemore, being way closer, Phil and I decided to leave from mine early on Sunday and meet them at Ledmore junction just outside Elphin. I had to do some last minute shopping on the Saturday as the test food/fuel for the trip was a no-show which stressed me out as I sat for hours in traffic, but I did get packed up okay and got to bed at a reasonable time. So when Phil and I set off with all the kit now in the one motor, I felt quite happy about the timescale, for once it wasn't late when I left.
It was dark, wet, there were other cars, roadworks, stupids and time just bled away. We nipped into Escape Route in Pitlochry and Phil picked up his replacement shoes, but pressed on a little before hunger fired a shot which I took in the shoulder. We pulled into the Ralia Cafe, hidden just off the A9, where wounds were patched with the most delicious bacon sammidges and average coffee. The bread was half toasted, half fried, the bacon was hot and smokey, with a slightly crisp edge to the strips. Oh I remember it well. Nice wee place, looks like a twitchers observation platform, worth a visit.
The road was once again out friend and our enemy and we set ourselves north as fast as Phil's knowledge of speed camera positions and my 13 year old Ford diesel engine would allow. I sent Mike a text as we left, I hoped he'd get it. Inverness was still ahead and we were supposed to be meeting in 40 minutes.
We were over the Kessock bridge and following the signs Ullapool. We were closer, and the sky was clearing a little, it was bright and only the tops were still shrouded in clouds. But were officially late for the meeting.
It's glorious country, past Ben Wyvis and Ben Dearg who was creeping down through the mist, and the when you pass Ullapool, Ben More Coigach rises in front of you in shapes that seem both alien and wonderful, you know you're in heaven. Blue sky was pressing through, sunlight streamed down, we were nearly there.
We pulled into the Inchnadamph Hotel car park, I saw Marian, Mike had got the text. They'd got a coffee in the hotel, they'd had to fight for it (Welcome to Scotland, bring a packed lunch) but it was better that waiting at the junction I hope.
There were apologies, hellos, packing adjustments, gear shenanigans, snacking and looking at maps. Our lateness had scuppered the original idea of walking in from the south. Instead we'd leave the motors here and do some sort of loop around Conival and Ben More Assynt. I was a little deflated that I'd caused this change of plan, but the lateness had meant we were now setting off in perfect weather, and this thinking on our feet set the tone for the trip.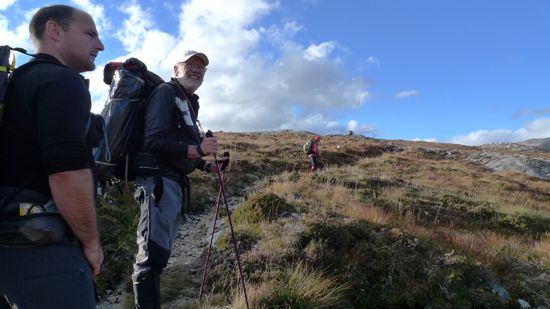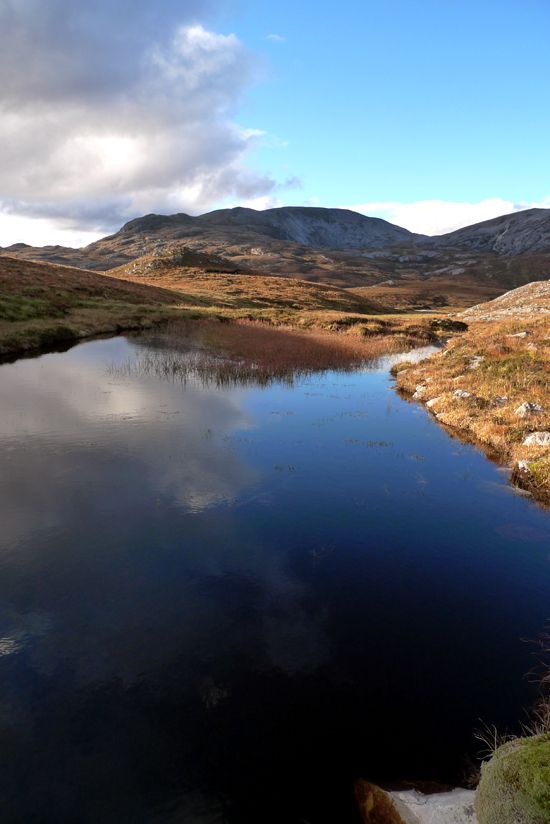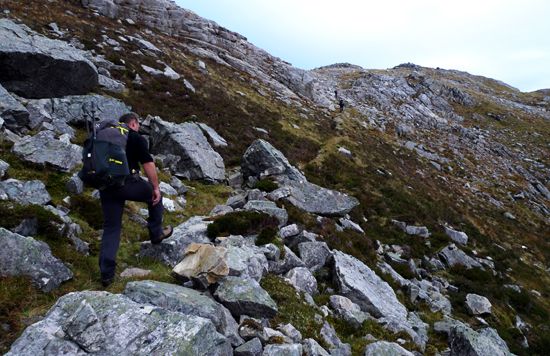 We headed out from Inchnadamph on the north side of the river, finding and following the stalkers path that curves around Cnoc an Droighinn. The scenery is just beautiful, the shapes, the colours, the whole landscape bloomed as we walked onwards and the light poured over it all with autumnal warmth.
The pace was perfect, we settled into a groove where we covered ground well and gained height easily, we bantered away and we all had cameras at the ready, snapping constantly as the scene evolved around us. The trail split and crossed the coire, soon contouring across the rocky hillside under some crags and up to Loch nan Cuaoran.
We were losing the light and the cloud was pulling in a little, we decide to stop here for the night. To the west the skyline was Cul Mor, Suilven and Quinaig with the sea fading into the sky at a distant horizon. The signs of man were completely absent. Glorious.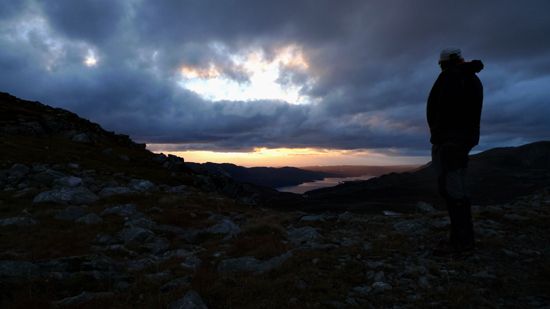 We found pitches above and to the southwest above the loch, a nice distance from the water, at 2000ft a good height to catch the first rays of the sun, but the wind? It was rising and there would be nowhere to hide anyway, so we got busy getting our homes sorted for the night. It was cold though, we all had our insulation on as we admined ourselves.
I did quite well with an unfamiliar tent, and we were all inside with stoves burning before too long. I was pleased to discover that the chocolate filled pre-rolled crepes I'd brought could indeed be boiled in their individual wrappers. I'll stop an nothing to bring the joy of the baker or confectioner to the team at camp.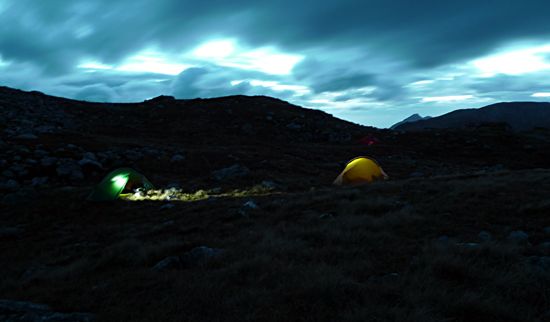 The wind battered us, and the tent was pretty mobile all night. The rain rattled down onto the fly and I spent much of the night being woken by a worrying sound or threatening movement.
We'd really only set ourselves up for the next day on the walk-in, and I did wonder about what daybreak would bring, it would be misery in wet and windy weather. Fine on my own, iPod and hands-in-pockets if needs be, but having dragged everyone else up here I was screwing my face up as I lay there snug and awake in anticipation of a guilty feeling as we all set off in a downpour next day.