My bike took a turn for the terminal. Maintenance it seems is a good thing, because under the dirt you can find such things as a crack around a third of the down tube. I saw it, I sat down and my blood ran cold.
Funds were juggled and a deal was found for the new and lighter (alright!) version. I've swapped some good parts over onto the new frame, and had a wee ride tonight to see how it handled so far. That was all fine, the trails were good the bike was fine, but it was a lovely evening to be out. The habit I've got into of packing the camera all the time is worth it sometimes.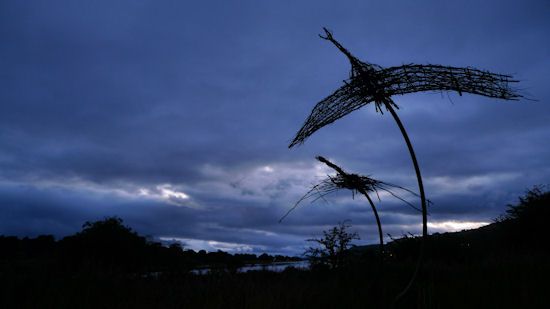 My local trails take me by the river, onto some singletrack, along the old Caledonian Railway. around the remains of industry and further onto the Kilpatricks or like tonight, back home because I had no lights fitted. The sculptures above have lasted well, accessible to neds and weather, but still intact. I like stuff like this, the naysayers can live in a dull world if they want, I want to have a wee smile now and again when I come across something unexpected and fun.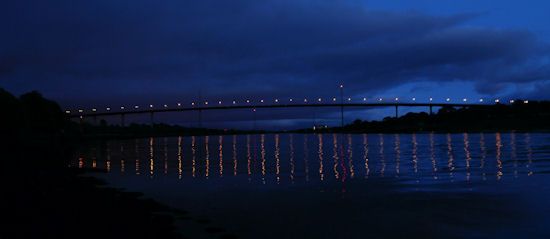 The Erskine Bridge is part of the landscape now, it looked very different before, well in the photies it does, I was 3 when it opened. You can stand under it and see where the oil rig hit it a few years ago, the repair looks like big Elastoplasts.
The lights of home twinkle down the Clyde, and on the horizon the hamlets of Inverclyde wave from a safe distance while the cloud unfurls on us like a monster roll of deep-pile carpet.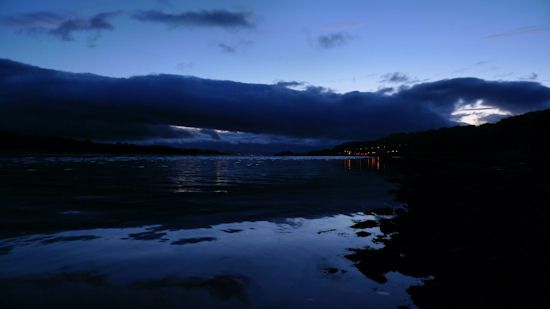 I often say it's not about hills and getting away from it all, it's just as much about making the most of what's available outside your door. I'm in no-mans-land between city and countryside, and it's really not too bad at all.