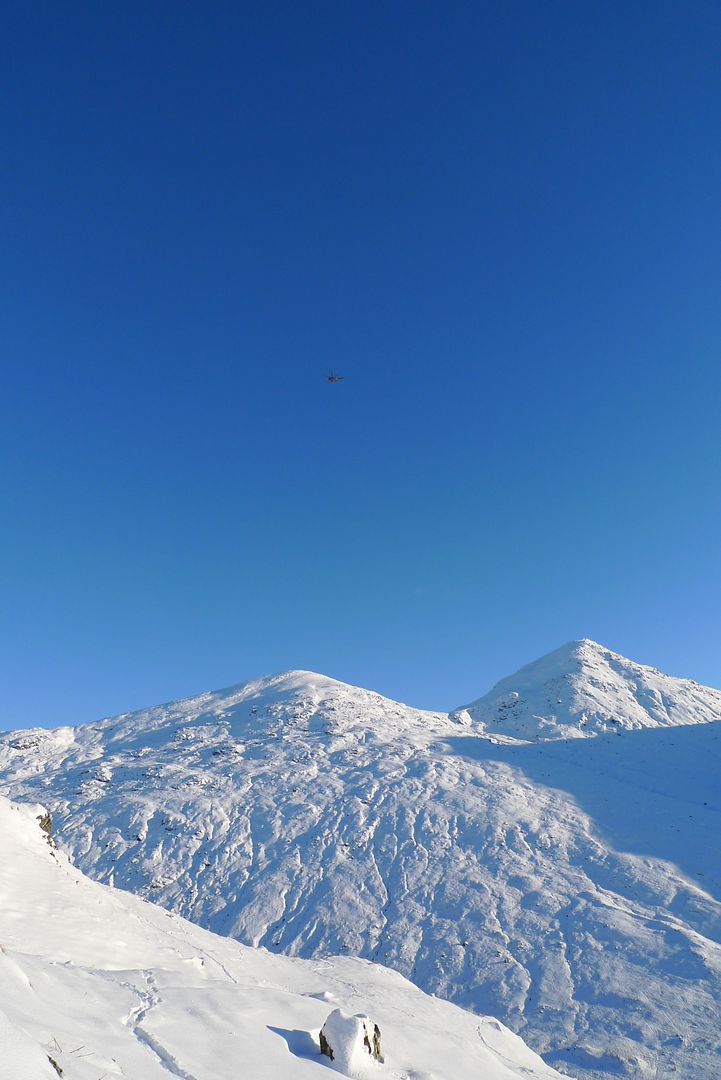 One diversion from the struggle against my personal shortcomings the other day was watching a rescue practice on nearby Beinn Chorranach.
The familiar red and grey chopper leisurely circled all the peaks, then hovered above the rounded hilltop and dropped the winchman onto the snow. The chopper circled again (above) and then landed on Beinn Chorranach to pick up the winchman again (you can just see it landing below on the left hand peak).
It's reassuring, inspiring even. I trust these people with my life without having met them, and when the Tories tear it all apart they're breaking up more than a "service". At the back of all our minds, whether we're on a hill, a Sutherland B road or a remote island, we know there's trained, disciplined professionals ready to help if the need is great enough.
When it's a bunch of contractors running the service it'll be different, I dare say a lot of ex-forces personnel will find themselves in there, but it's still going to be a company run for profit, whatever the crews in the choppers feel, back at the office a rescue will just be a product to sell.
I'm not decrying contractors, I am one after all. But I know how it works, we don't always get jobs because of talent and good looks, sometimes it's purely because we're the cheapest.  Think of that, waiting by (or as?) a casualty at 1000m and -17°C for a helicopter and crew who were the cheapest the government could find.