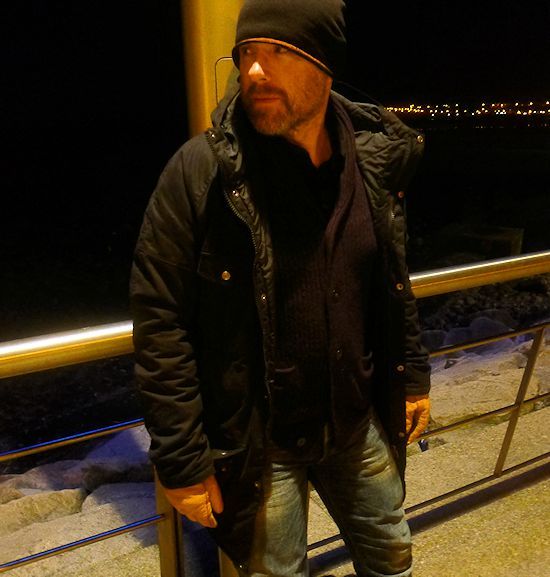 If you've met me over the past three months the chances are I've been wearing the jacket in this review. Most of the outdoor gear I have looks technical and feels technical which means I feel a little conspicuous in it anywhere below the 300m contour and consequently it stays on the peg while I head out in all weathers wearing denim and leather, which, by the way is the best way to preserve your lightweight shell jackets.
So, when Fjällräven sent through some suggestions for winter test kit I skimmed over the thigh length Greenland Parka as country wear or winter protection for hardcore dogwalkers. But I went back to it a couple of times, read more and found either boxes being ticked or buttons being pressed, can't remember which, but it was one of the two. Outdoor performance, practicality and usability, understated good looks, really? Here's a review of my favourite jacket, the Fjällräven Greenland Parka.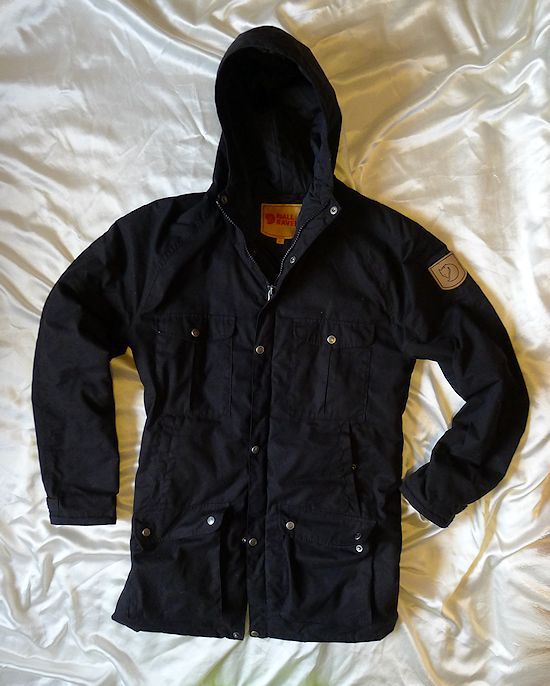 The weight of the Greenland Parka isn't a issue, it just nudges past a kilo for my large which is still lighter than some Gore-Tex shells I had back in the day, it's jacket to wear not to carry in a pack and does feel light on. It's cut to be worn as well, by that I mean it's not a baggy overcoat, it's trim and well fitted with articulation built into the arms that gives you the same movement you expect from any good mountain outerwear.
The parka has a scary amount of features too. The hood is basic, no adjustment but it fits my napper well enough and its low bulk is right for the jacket. It's gives a nice high collar when pulled down which is also nicely high at the front to keep the heat in and dip a cold chin into where the need arises, like when you're not concentrating and carve too much beard off on the wrong trimmer setting. Nightmare.
The main zip is big and chunky YKK with a Fjällräven arctic fox embossed on the puller, I only mention that because Holly likes the fox logo, especially the big leather one on the arm. The two way zip is extremely practical given the length of the parka, on hill stuff I undo the zip and bottom popper (the zip has a full length poppered storm flap) so I can make step-ups. This is why outdoor jackets used to be long, protection and free movement are both possible, why even ramblers are dressed like alpinists these days I do not know.
The arms are nicely long and have popper adjustable cuffs. Poppers are all over the Greenland Parka in fact, all the external pockets have them too and they're a good chunky variation, again with wee foxes on them.
Talking of pockets, there are pockets everywhere. And, I have used them all. Inside there's a zipped pocket which is placed a little lower than you might expect and I found out why, one is that you can access the pocket when you're wearing a seatbelt in a car and also it's so that the pocket contents don't interfere with the external handwarmer pockets when your hands are in them. It's a little thing that makes a big difference.
Also inside is a bigger velcro flapped poacher/map pocket with your instructions for applying the Greenland Wax to the outer fabric which increases wind and water repellency. I have the wax but I've never used it, the G-1000 polycotton outer fabric is a great fabric with a decent shower resistance, I'm well used to it's properties from other Fjällräven kit and I'm happy enough with it, I just don't take it into heavy rain. But, wax it and you could if you want.
The outer pockets are a joy. There's two high on the chest with single popper flaps and centre bellows pleats, two mid-height with poppered slit entries and microfleece lining to warm your hands and two at the bottom with a square cargo-carrying design and double poppered flaps. It's like having a utility jacket, family days out just got simpler when I take this parka.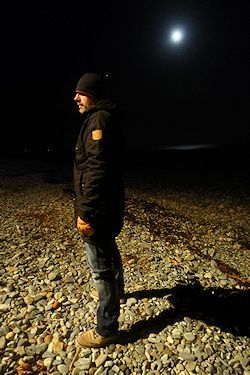 The parka works for me from regular days over a t shirt to properly cold days where there's just enough room to layer up underneath. It's got warmth all by itself as the inner has a layer of quilted synthetic insulation under a nice soft-touch polyester lining. It's a good level of insulation, not too warm for walking and it's also easy to wash, no thick padding to endlessly rinse, destroy or worry about which is important for me as the parka gets worn all the time.
The weather resistance is good, wind is never a worry, showers are deflected and the fabric dries fast if you do push your luck in it. I don't want to say it's a perfect all-round "everyday outdoor" jacket as Fjällräven describe it, but other than maybe a slightly more developed hood I can't find anything on the Greenland Park I'd change.
I wear the parka most days and it's going to age very well, the G-1000 makes sure of that. Its looks won't date, you see similar designs in nasty fabrics and terrible cuts on the racks in the high street at the start of every winter and the Greenland Parka will still be there blowing a raspberry at them  for years to come.