Always nice to see something different in for test , here we have the Abisko Trousers from Fjällräven. Fjällräven are a Swedish brand and looking through their range they still retain a lot of Scandinavian character in their designs, the kit doesn't look alpine, it looks outdoor which is everything from alpine to backpacking to bird watching. It also means that it looks a little different to the current norm which is kinda nice.
The Abisko's have a lot going on when you look closely. But, before you get to that there's some DIY to be done, you have to adjust the leg length. The Abisko's come with very long legs indeed with no hem and a mini sewing kit get yourself sorted out. I wasn't sure if the fabric had stretch, shrink or whatever so I just turned them up about 3″ without cutting them and Wonderweb-ed them into a 34″ inside leg. It turned out the fabric behaves itself after multiple wear and wash cycles so I could have cut-to-size with confidence, but what I have now is a nice big double-fabric cuff around my ankle which is actually really good in mud, grass and snow so I've no intention of trimming it now, especially as the Wonderweb is holding. Besides, if I even put a hole in the pants and need a patch I'm carrying the extra fabric with me.
Still on the fabric, there's a mix of two kinds here. The darker fabric around the knees, seat, trim etc is non-stretch G-1000 poly-cotton which has a nice light canvassy feel to it. The other fabric is a stretch nylon which matches the G-1000 in weight and feel, they do feel like a pair of trousers, not "zoned" at all.
The fabrics are good performers, I've had these in rain, snow, sun, wind and a sleeping bag or two. Moisture beads well at first and doesn't saturate the fabric meaning showers can be ignored as long as they don't escalate, I've had these plastered with snow a couple of times and never put my shells on as they dry quick after the showers stopped.
Wind resistance is good, despite the light feel of the fabric they stop a wintery blast which is nice when you roll the dice and decide to wear shorts underneath instead of longjohns. But, there's plenty of room for longjohns if you need them, the fit is not slim as such, maybe tapered is a better word. Person shaped with a bit of room.
The person shaping is all-over, the Abisko's are very 3D, the seat has a curve to it and the knees are well articulated. The waist is good, low at the front and high at the back which is very comfy to wear, it sits lovely when you're carrying a pack and when crouched cross-legged in a tent it helps keep your baselayer tucked-in and your kidneys covered. The crotch has what is often called a diamond gusset (an extra piece of diamond-shaped fabric that allows full leg movement, including high leg lifts), here it's more of a slice-of-lemon shaped gusset, but it's no less effective for being a fruit base design
In general the ergonomics are understated but very effective, it makes the Abisko's very wearable, even when you're sleeping.
There's pockets, none at the back which is good, but there are two nice big zipped ones for your hands and storage. Down the legs a little bit we have a big cargo pocket on the right side with a poppered flap and an internal mesh pocket which was apparently design to fit my phone perfectly. There's no expansion gussets on the pocket, but it's sewn in with a little slack to give it volume and it's made from the stretch fabric so there's plenty of capacity in there. On the other leg there's a smaller pocket which looks descended from the knife pocket on hunting pants (showing a little of that Scandinavian heritage?), it fits a GPS or phone, but it'll take a Buff and snack bars as well. It's cut from the G-1000 fabric and has volume gusseting.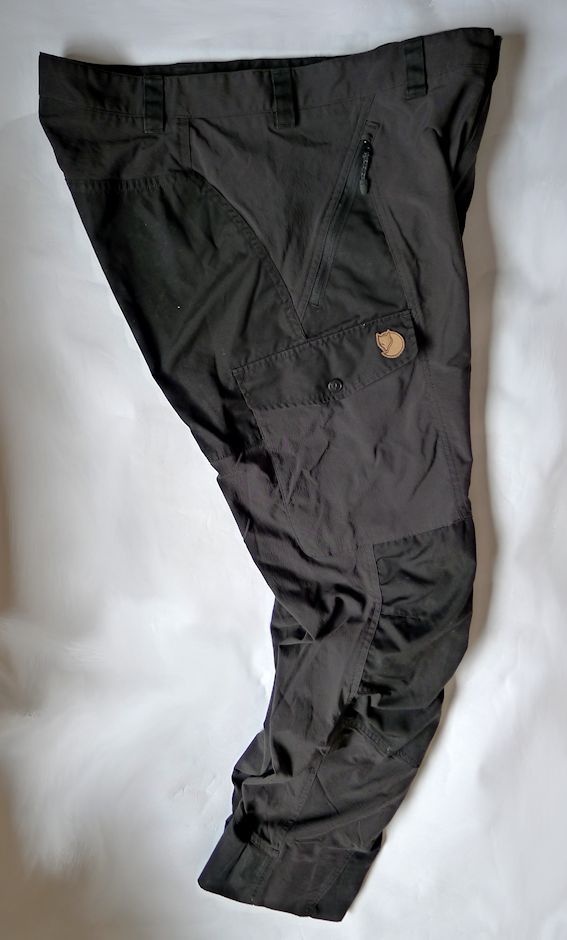 The front closure is done well, the zip has a big flap behind it with a single button at the top and an extra offset internal button (see the buttonhole below, you can see the slice-of-lemon gusset too). The waistband is well finished with tape binding the sewn edge for a smoother feel. This is a finishing touch you you used to see all the time on outdoor clothing and it's something that's disappearing. The finishing in general on the Abisko's is very good. They're a complicated pant to make and it's done very neatly indeed.
One thing just out of sight below are the instructions printed onto the pocket bag inside, instructions of how to waterproof your Abisko's with Greenland Wax. Don't see that often.
 I love my techno outdoor pants and the Abisko's tick all my boxes. The fit and mobility are brilliant on me and the flexible leg length will address one of the most common complaints I hear from folk looking for outdoor pants. The detailing like that seen in the waist shaping makes a real difference, the Abisko's just blended onto me like they were bespoke made, that's a neat trick.
The functionality is good, the pockets work, maybe the left pocket could have been bigger so I could get my glasses in it, but I haven't been stuck because of it so it's not a show-stopper.
The fabrics are good, perform well and are nice against the skin. There's some pilling starting to show at high-wear points so I'll be watching out for any developments there over the longer term.
Since they came in these have been my go-to outdoor pants, even in situations where I might have been better in more regular softshell pants, wearer comfort made the choice every time.
They might seem a little innocuous, but the Abisko's are a looking the more obviously techno trousers straight in the eye and aren't backing down from the fight.
Something different, something that works, got to be worth a shot.