The snow transforms the crags and although I was losing the light, nothing was going to stop me getting up there.
I couldn't park of course, every space was full and every foot of verge had a car on it and every gate had some arsehole's bumper up against it including the Overtoun access gate where ranger super powers mean I can always get through and parked.
There was enough space for me to squeeze through, just, and the looks I got? Well, if you don't want me driving an inch away from your expensive metallic finished paneling don't park like a dick.
It was mobbed. Huge groups, no masks, no social distancing, dogs running around jumping and sniffing one group after another.
It was like looking at a Petri dish with trees.
I took a right away from the heaving masses and into clearer air, deeper snow and more accessible joy. I'd be better on the crag edge, it would give me a chance to check the gates were shut as well.
I'm not flippant about what we do up here, there's deer getting in and eating the trees so if someone leaves a gate open, we shoot the deer, that's the transaction.
So it's up to you man in the wet-out puffa jacket with the carrier bag.
On the lip of the crags was just magic. It was dull but that didn't diminish the view and the feeling of being in amongst it, and over it too, even at this not very fancy altitude, it makes me glad, always.
It was bitterly cold and getting colder too, I could feel it on my cheeks, just above where the hair stops.
Fog was creeping in, Donut Hill was becoming an island and the forest was being swallowed as the grey oozed westwards towards me. It just made me grin. How can all this be five minutes from my door.
The voices ahead in the murk pulled me out of my wee dwam and then the tone of them had me raising an eyebrow. I walked on to see what was happening.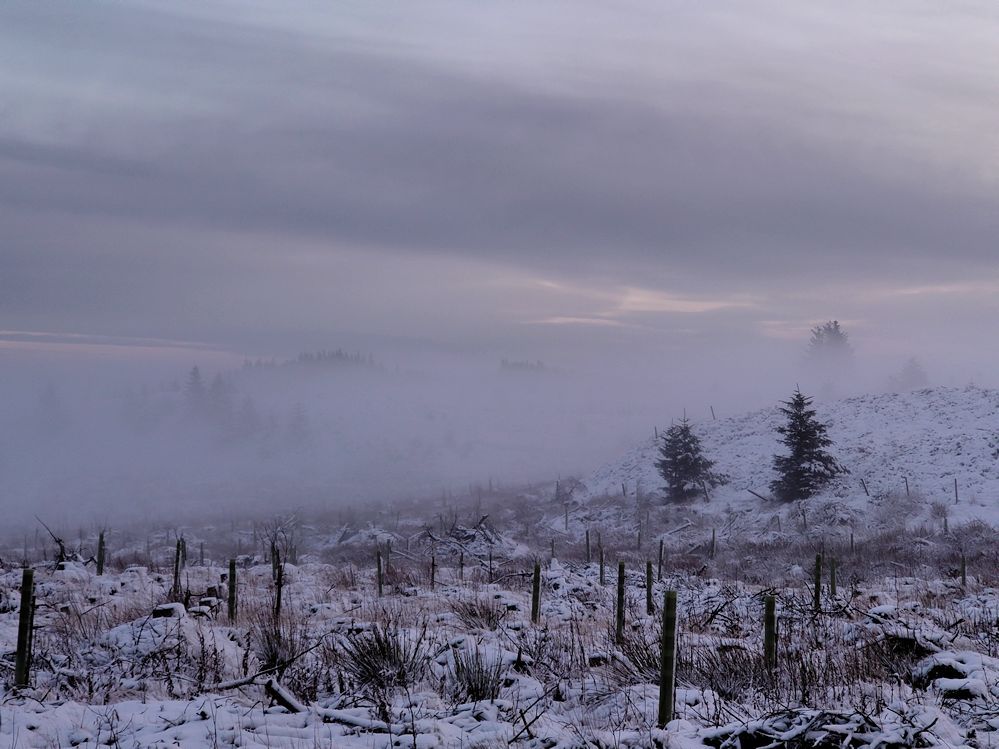 There were three folk at the highest part of the crags ahead and uphill from me and I could tell there was something amiss. There was a bit of shouting, the trio were spaced out with Mr MountainJacket at the front, Miss NoPack in the middle and Dr Terror at the back, clinging, as it turned out when I got closer, onto the snow encrusted fence.
Oh. I thought. Ah…
I got a bit closer.
"You folks okay?"
No, no they weren't.
Turns out none of them were local, none of them really knew the crags, none of them knew the route they were on at all, but one of them had seen someone up here from the path below and thought it looked nice so they thought they'd have a go.
What had happened here was that three strangers in lockdown had banded together to survive the Lang Craigs. Christ.
Not as funny as you'd think. Dr Terror was just that, terrified. He was hanging onto the fence in the murk and gathering darkness in a light jacket looking like a casuatly on legs.
Miss NoPack was happy enough, but worried about Dr Terror but not to the extent she wanted to wait and help him or turn back with him.
Mr MountainJacket wasn't giving a shit, he was walking ahead and seemed quite prepared to leave the other two and continue his expedition.
"You folks okay?"
"Do you know the route and how to get back down going this way?"
This is me being the chatty local more than a Woodland Trust ranger here. There are four ways down from the crags between here and there end.
The first is easy missed, a wide zigzagged gully, the one I'd climbed up not too long before. Full of snow and hidden wee rock steps underneath but hemmed in the first part and after that a slip would see a shorter slide or roll. It's literally the safest route at that moment.
Second is the narrow buttress. I only do this on dry days, it's a scramble at the top and likely deadly right now.
Third is the giant's footsteps around 1.5km away, a well hidden short gully off the crag edge followed by a broken buttress with short, steep grass sections. I wouldn't risk it there and then without metalwork on my feet.
Last option was the end of the crags, around a mile or more of extra pointless walking with an unpleasant end through the tightly fenced quarry perimeter walkway. It's shite and I refuse to use it, they can chase me all they want as I cross the open land there.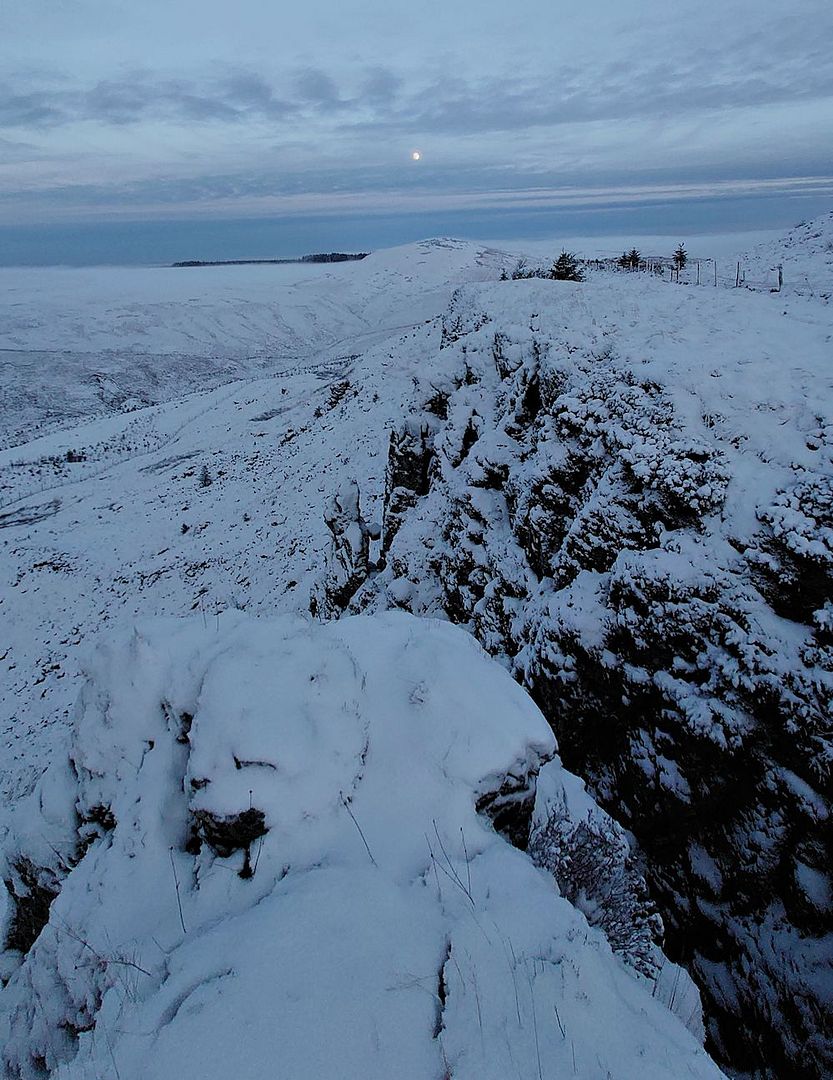 Even Mr MountainJacket looked a little uncertain now. None of them had any idea about any of this.
The maps are indistinct, the Victorian fenceline leads you over the edge in places. It's not funny.
I don't care how urban you might think this is or how low it actually is, in full on winter mode, the terrain right here demands respect, planning, knowledge and skill.
Look at the photie above, it's not a soft option, even got a wee pinnacle with a chockstone. A mistake up here is no joke. We've had the MRT out before, we've had helicopters.
Dr Terror started working his way back along the fence, he was going back the way they came and wasn't waiting for the others or anything else really, he was off.
Miss NoPack wanted Option 1, especially as it really was getting dark now. Mr MountainJacket was brave, he'd driven across two council boundaries and the Erskine Bridge to get here but here knew he was in trouble.
I walked them to the gully and set them on their way before I legged it back to see where Dr Terror was. Behind me in the gloom I saw them at the run out at the bottom of the gully and going towards the gate. They were safe.
Dr Terror was far below on the main track. the speed of panic had carried him fast and far. I'm just glad it kept him upright too.
I stood in the dark and looked down on the now empty Lang Craigs and I did a very loud exhale of breath.
There's two things.
One is the Lang Craigs. It's not a soft option, weather can make getting off the waymarked tracks a whole different experience. A dear friend once explained the concept of SMJ to me, sound mountain judgement. It stops you getting into situations, it takes you left instead of right, it makes you think, it makes you look before you don't leap. It's common sense, it's experience and aye, it's what I've learned and earned and what I didn't see this day. I saw people walking into trouble.
Laugh all you want, but I know this place better than the route to my own fridge, and on the crags in winter you're in mountain territory and you need the skills.
Second is all this is taking place in Tier 4 lockdown. I mean wtf. That there's folk traveling from all over to be here is one thing and then there's letting stupidity guide them towards an avoidable incident that will involve others, manufacturing interactions that need never and should never have taken place.
I should never have met them, I should never have had to guide them off the crags. but imagine if the timing had been off and things have gone differently, how many others might have been out there that evening instead of being home safe.
This is one reason why covid is still here. Some folk just don't give a shit, "I'll be fine" is all they need do do what they like where they like. We're all fine until we're not, it's not always our choice when or where that is.
I was so angry. I think I still am.
I'm still smiling though. This is and will always be my happy place.
But, I do fear where we're going. The added footfall of the last year is adding too much pressure to the environment, I feel that a lot of visitors are coming not because they want the outdoors but because that's all there is.
I think being there will develop a love and an empathy for the outdoors, but while that's growing within you, can you park your car properly?
Also learn navigation, buy a headtorch, read some mountain books, don't wear black head to toe… But mostly stay home, stay safe and let us get this nightmare finished. The hills will be waiting.