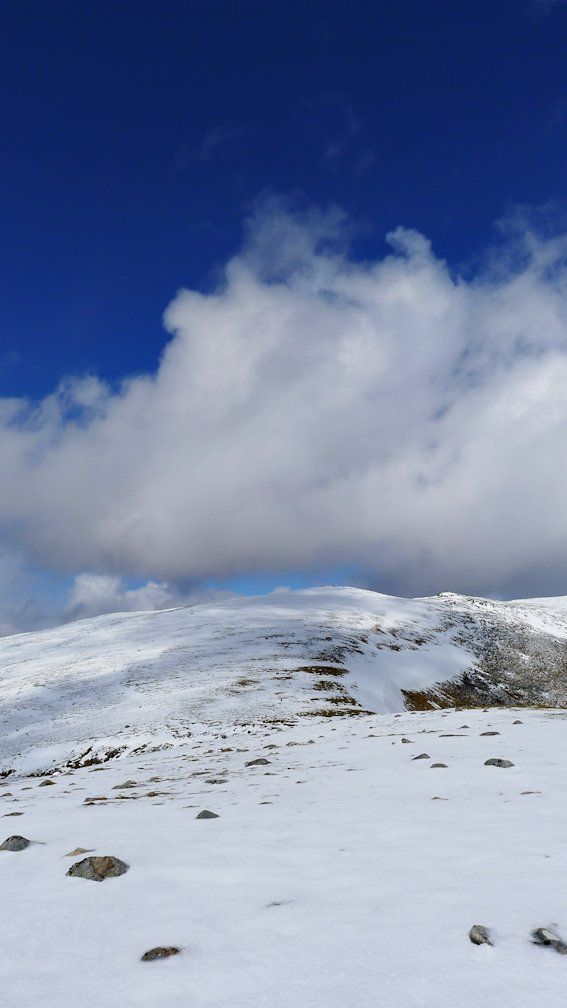 It was just as well that Gregg's is on the way to the station in Dumbarton, the tea trolley didn't appear until after the train had split into its Oban/Mallaig halves at Crianlarich. I'm sure the whole carriage was jealous of my bag of tasty bakery fare.
The three Australian girls didn't care, they were jumping from one side of the carriage to the other, clicking away as ever better stuff appeared at the windows. I was pleased for them, the Arrochar Alps looked stunning, all sunlit and snow capped, they'd picked the perfect day to go and see the Harry Potter Bridge at the other end of the line.
I'd planned to read my book but I couldn't peel myself away from the views. It's different to the road, when the rails take that extra bit of height or run on the other side of the glen it changes everything and I was grinning at the familiar as it looked like it had put on a new t-shirt or brushed its hair. What a journey this is, what a wonderful place this is.
As we swung away from the road onto the Moor of Rannoch I could see towers of white grinding across the hills ahead, the snow showers that the forecast had spoke of. It was so bright though, the sky was so blue, I couldn't see these misplaced blocks of winter having any real power left in them.
At Corrour Station it was bright and breezy and it was very nice to be back after the memories of last years trip been stirred up in Trail mag and on here recently. It's a wonderful spot, so many places claim to be a "gateway" to this or that, but Corrour really is a gateway to wilderness and adventure, and when the train leaves it's a gate that swings shut at your arse.
It's nice to be packed and ready, for once I'd been completely set for leaving having admined everything the night before, I walked off the train, slung on my pack and hit the trail. A fine trail it is too and at first through hills I feel know well having spent nights on their summits that live with me still.
There was a chill in the air, I had my hood up and my hands in my pockets as I strode on by the lochside and I stayed just nice. I met a couple on their way back to meet some folks that had come off the train with me. They were all climbing Beinn na Lap and as this pair were as late as I normally am I wondered if their friends had waited? That tea time train home wasn't going to wait for any of them.
The bond villian hideout that is Corrour Shooting Lodge is visible from far away and up close it draws the eye no less. It's like an architects doodle pad made real, so many shapes in stone and glass with log fire chimneys running through it in clusters. £30,000 a week to hire it for your family get together, a selling point is that you can land your helicopter nearby for maximum anonymity and security. Last week in August anyone, we could chip in?
And then there were no tracks or trails, it was heather and peat hags with eye watering sunlit snow fields ahead. A newt scurried away from my unexpected footfalls and a fall of snow was so gentle it didn't even suggest I put on a shell. It was still early afternoon and I was in no hurry at all.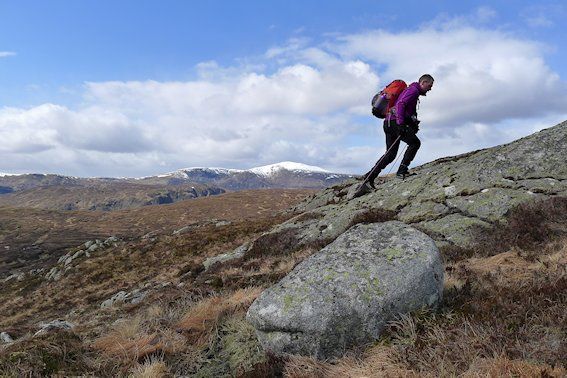 The snowline was reached and passed. It was colder up here, the wind was stronger too amplifying the cold, I was glad I'd put my gloves on. My plan had been to camp on the summit, but the summit of Beinn Eibhinn which was only a few hundred metres away was hardly higher than where I was but there was no shelter at all from this wind. I had a dithery moment.
While I was dithering my faze froze and my legs started to freeze up, bloody hell it was cold. I decided to camp here, in a little depression on the ridge next to some rocks. I think any extra security I was getting pitched here was imaginary, but I felt happy with my decision for the moment, it was still 1012m so that was good.
Pitching the tent was a nightmare, it whipped around like a hooked marlin and I swear I've got dyneema guyline scars all over me from the battle to get the thing attached to the ground. I did get it fixed and tight, but the wind was pushing at it right away, distorting the shape and pulling at the pegs. By this time my hands were gloves full of frosted fish fingers and I had to get inside and get a heat whatever the tent was planning for itself.
It was a relief to get inside and get wrapped up. I admined my gear for the night and wrapped my sleeping bag around me as I fired up the stove. It was bright outside, there were still huge tracts of blue above me but that wind was vicious.  I pulled by Buff over my face as I willed the pot to boil a little quicker.

I was dinner time, probably, I was hungry anyway, so I had my dinner. Pasta, oatcakes, cheese and a coffee with the last of the Greggs, a yumyum. What joy there was in that line up.
The tent was stuck to my back the entire time I was eating and I wondered if I was holding the tent up and the guyline had gone, but it was fine, when I slipped into my sleeping bag, just to see what it was like the tent stayed up, it swayed, shook, rattled, but stayed up.
Spindrift was blowing in, it was coming in the gap between the fly and the inner and beginning to coat everything, including the tent inner. I pulled everything in from the porch that I could and zipped up. I was we bit tired, I'd been been up early to catch the train and my plan of catching the tops in the evening light retreated as I lay in my bag. That wind is picking up I thought, and my face is frozen. I felt a little uneasy, I'd been expecting winds around 15/20mph which is just a gentle shoogle of a tent and this was way past that. With the added constant rattle of spindrift inside and outside the tent I was getting a little twitchy.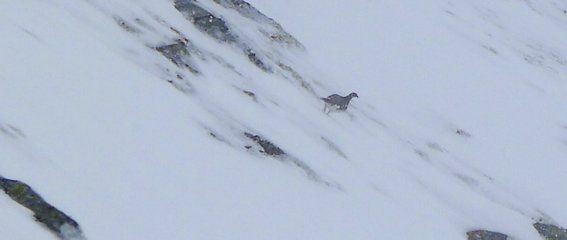 Music saves the day and my little iPod speakers are worth their weight in gold. Is that still a good phrase to use, is gold still considered the most valuable or desirable of materials? It seems a bit dated reading it back, but what else do you use, stick platinum or titanium in there and it just looks as if you're trying to be smart, so I don't know, I'll go with gold until the EU directive gets published on the matter.
Another cuppa, Turbowolf fighting admirably with the tent noise and I felt in a better place as I warmed nicely under many inches of down. There was a little croaky quack from right outside the door, a sound that brings delight every time I hear it. I grabbed the camera and unzipped the doors as gently as I could but the little bugger was on to me and was scurrying away by the time I had him in my sights. All the ptarmigan are nearly fully brown now, the poor sods must wonder what's going on with the weather.
I shivered my way back inside, brushing off snow and spindrift, which was getting ever thicker in the porch. There was no visibility outside at all and fresh snow was falling. The wind howled, the tent shuddered more than ever, I sunk deeper into my sleeping bag and closed my eyes. That was when my iPod died and it was as if the volume of everything else instantly doubled.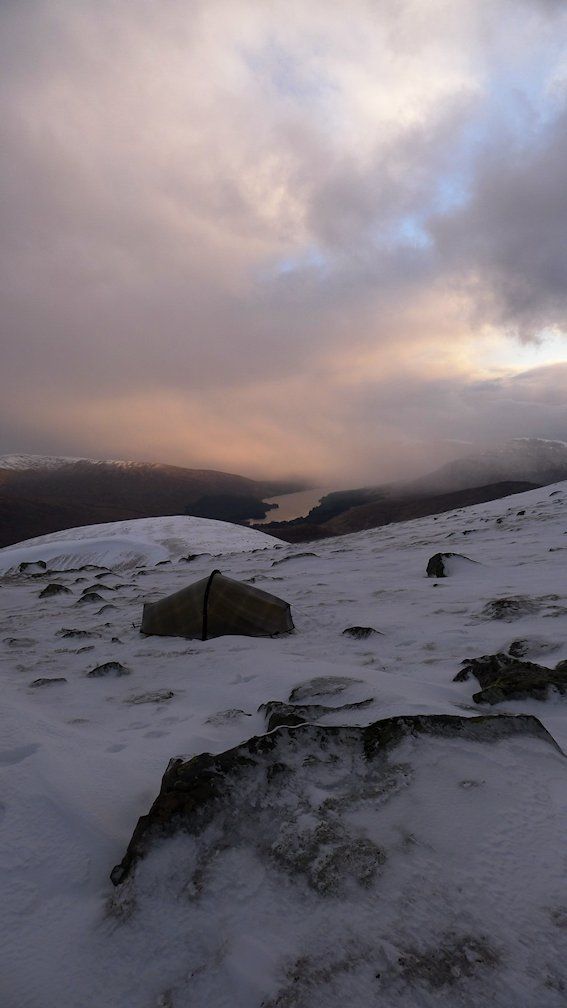 I went outside once, just to see what was happening, columns of snow raced across the mountains as the setting sun lent them an undeserved warm glow. I hid inside again. With my weight off the floor of the tent, snow had begun to bank under the floor at the back, I was now sleeping in a U shaped channel.
In the noisy darkness I read my book, World War Z, which distracted me for a while along with a packet of fruity Mentos, which it occured to me are just round Tooty Fruities sized to definitely choke you if swallowed, unlike Tooty Fruities which might only possibly choke you. But, pressing the book against a tent wall that wanted to come in the sleeping bag got too much and I decided to just hide from it all.
I was fully dressed apart from my shoes, I had seriously thought about retreating to a lower site, but the tent was holding, I just didn't know if my nerve would follow suit.
In the early hours I peaked outside, the sky was clear and there were stars, I could see them through the spindrift that hurtled past and into my face. I slipped back inside, zipped the sleeping bag over my head and wished it was morning as the minutes ticked painfully by.