It was bright, it was after dawn. Gritty eyes couldn't focus, but with one hand eventually freed from my reluctant sleeping bag I unzipped the door and peeped under the flysheet to see windblown whiteness. I slumped back into my bag.
I'd been asleep, for how long I don't know but I didn't feel rested, just tired and hungry. I shifted and rolled over a few times but I wasn't getting any more shuteye. I found my glasses, and pulled on my down vest as I sat cross-legged with my sleeping bag wrapped around me. It was bloody freezin'.
The porch had taken some snow in the night, everything was buried, including my stove and its windshield that I'd left set up, so that was about 9″ of spindrift had made it's way in or over me in the night. When I got out later on I could see where I'd been lying as there was no snow stuck to the inner where my shoulder was and a big wedge at the back of my knees and head. What the hell, I was dry and warm enough inside and I never lost a single peg or guyline despite the incessant pummelling. World's l****est tent?
I had porridge and a cuppa and I felt so much better. My shoes were frozen solid so I took out the insoles and heated them in the bag beside me as I boiled up again. It was looking better outside, some low cloud rolling through the glens and patches of blue above as the sun was rising higher and bouncing off of an increasing number of peaks near and far.
There was a wee wave of positivity went through the tent, I wanted to go and see, that summit next door had block the east from view since yesterday evening. I threw some bits and pieces in my pack, wrenched on frozen laces and staggered into the day
It wasn't long after 0800 and I had the place to myself. The wind was a little less fierce, but it wasn't bothering me anymore, I was wrapped up and it was now so bright above and reflected from below that I had my shades on. The slope was easy and wide with traces of footsteps from the distant pair I'd seen the day before, what the wind had left them and went for me I don't know.
I wasn't ready for arriving at the lip of the coire, so it was a giggle out loud moment. It's steep sided, deep with a little lochan and in perfect winter guise with a huge broken cornice hanging into it like an unconscious drunk's bottom lip. It was simply stunning. Ben Alder just across the glen looked like a fat lump compared to my little summit, Beinn Eibhinn took the win.
I wandered the edge, marvelling at the views and that gravity defying cornice and finally stopped at the cairn for a look at the route ahead. The plain hump of Aonach Beag was around 1km away with a little bit of ridge between us that would be needing an ice axe and maybe crampons. Which were at home.
I'd made up my mind not to go all the way, I'd just wander over to the edge of the summit ridge and have a wee look. I was in trainers with quiet a shallow grip which I was working with but I wasn't keen on pushing my luck on a properly steep bit with sides that tailed away a little steeply. This was nice enough after all, the views were clear and to the west I could see to the horizon under well broken cloud.
So much white and blue brought all the other colours out, the heather and trees glowed while the sunlit rocks looked so much less grey and warm to the touch. I was so distracted by everything around me I never spotted the moisture on the lens. Ah, what the hell.
The ridge got nicely defined and I found myself taking a little more care. I found myself going a little further too. The ridge started to drop and I was definitely turning back here, I started to drop with it, digging my heels into the snow while thinking it really was time to turn back. There were a few rocky outcrops to clamber over and around and the coire spread out at my left shoulder as I reached the level col between the two hills. I guess the trainers were working out after all.
The climb to Aonach Beag widened until I had no sense of definition at all, I was walking on white towards a little cairn that seemed to grow rather than come closer. It's an odd place, a kinda plain place in the middle with the next interesting place so very close by. Geal-charn. It wasn't far at all, not much height, not much distance and if I hadn't camped where I had it would have been a no-brainer to nip over and descend into the glen for a nice low level walk out. But the train tickets in my pocket worried me, if I missed that could I still get the sleeper 90 minutes later? Ah, dammit. I shuffled, chewed on an extra long bit of frozen moustache, emitted an audible "Ach"and headed back to camp.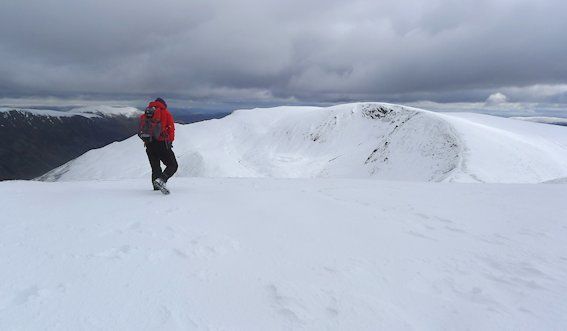 Like a curtain pulled from the east, the cloud slipped over and the light dimmed. I felt like I was being shown disappointment and disapproval. But Geal-charn wasn't pulling at me, Ben Alder was just a shape in the sudden gloom, I wasn't playing and giving in, I was happy with my lot and I was heading back.
I stowed the camera and tripod and started back. I took my time, I had a nice set of footprints to make the descent and ascent easier, but I still took diversions because eyes were elsewere along with my thoughts.
It was around a mile back to camp and I floated along in a daydream, lack of sleep, a state of calm and relaxation, don't know. I was still bitter and blowy, but it was only when I was close to camp I really came back to earth which was just as well because I walked across the edge of a snow covered lochan which creaked, cracked and had me taking a sharp left back off the ice.
I got back in the tent and shook all the snow off the inner so I could sit up properly. I'd been away for hours when it had seemed like minutes, by an amazing stroke of luck it was now lunchtime. Stove on, a chunk of snow dropped into the little bit of water in the pot and all was well. I could see the walk out from the tent, it really doesn't look far but I knew that the station was still hours away. I had hours to spare so I sat for a while, had chicken pasta and a cuppa or two.
Mountains aren't about seeking a challenge for me anymore, although I'm still quite happy when they are, it's this stuff that I love, the slow motion of enjoying just being there. Cheap supermarket coffee sachets taste like the nectar of the gods up here and I'd feel weightless even if my rucksack were full of bricks.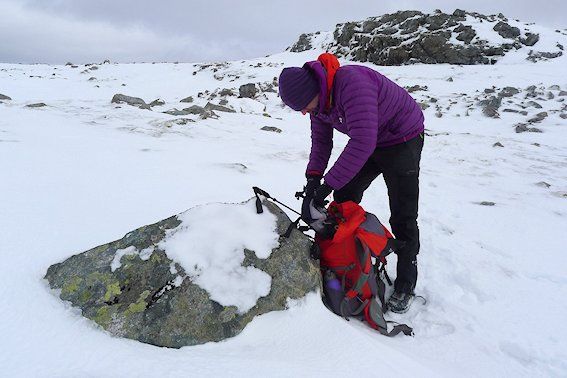 I broke camp and packed up. I put the tent outside as I knew the snow stuck all over it would melt as I descended and I've lost a mobile phone that way before, plus I wasn't sure just how dead my iPod was so I wasn't risking it.
This camp site had been a trial but I still gazed back at it several times as I left, I'll keep the memories of the previous night in sharp focus for quite a while I think.
The descent was easy and slow under a slightly brighter sky. I took a different line right down to the riverside where a thin path snakes along in a mirror of the twists and turns of the water. Time spun away from me again, I really was away with the fairies today. The river was chattering to itself and me all the way, sometimes it would raise its voice, sometimes just whisper. Water is a fine companion.
I sat by the river and took my stove out, it was warm here and the wind was just a murmer. I washed my pot and mug in the rushing frothing chill that squeezed through the rocks and I had the most acute case of deja vu.
A hill I'd been gazing at since I'd arrived has a very special place in my memory, it's Beinn na Lap. Some years ago after an attempt the week before I walked in from Fersit to camp on the summit of Beinn na Lap with my Laserlite, my first proper summit camp and my first solo trip with my new tent. That trip changed everything and as I sat on the rocks by the river I realised that I was mirroring that previous trip, just over the ridge I'd sat on sun warmed rocks of the same colour and texture, boiling the snow melt that ran into the same loch as it did today as I thought about the miles ahead on my long walk out.
I've come so far in many ways and others I've gone nowhere, and that's a good thing. I'm a big softie and I got all wistful sitting there mulling it over and I never even noticed my gas run out. It was fine, warm enough for a hot chocolate and I could get another cuppa at the station while I waited for the train.
I'd missed this on the walk in, a tractor which had been abandoned near a tree plantation and had been claimed by the trees, or as I half suspect had been left there by some art-minded individual to provoke questions from the likes of me at a later date.
Whatever, it made me smile. Nature wins every time, given enough time.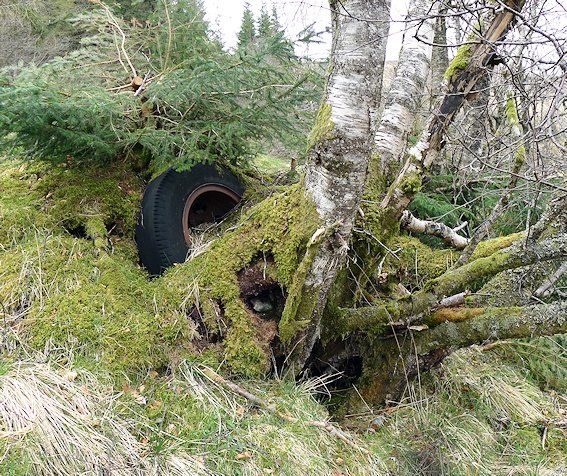 This memorial stone sits past the lodge and Sir John was something of a rarity, a Tory who didn't hate Scotland. He did a lot of good stuff, Pollok Park in Glasgow is neither private nor a housing scheme because of him and he was a founder of the National Trust for Scotland as well as being involved in environmental causes which were ahead of their time. Tories today should read his biography and be ashamed. Bastards.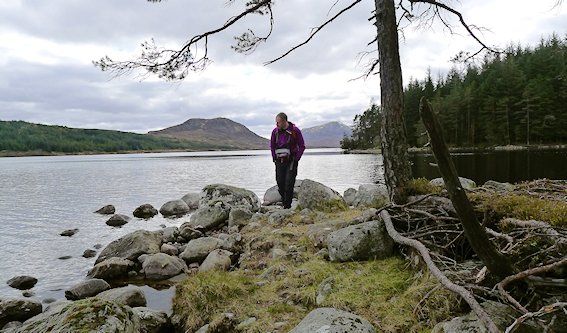 The walk out was on the private road to the station from the lodge and it was beautiful. I've never been on this side of the loch as it looks as if the track is hidden in trees, but the trees are lovely and spaced so light passes through and there are views to be had most of the way. The track stays by the water for a good while and little beaches or almost islands demand visits from the passerby. I had time to kill and I spent as much time off the track as on it, I'd go back and just walk around the loch, take the girls and have a picnic.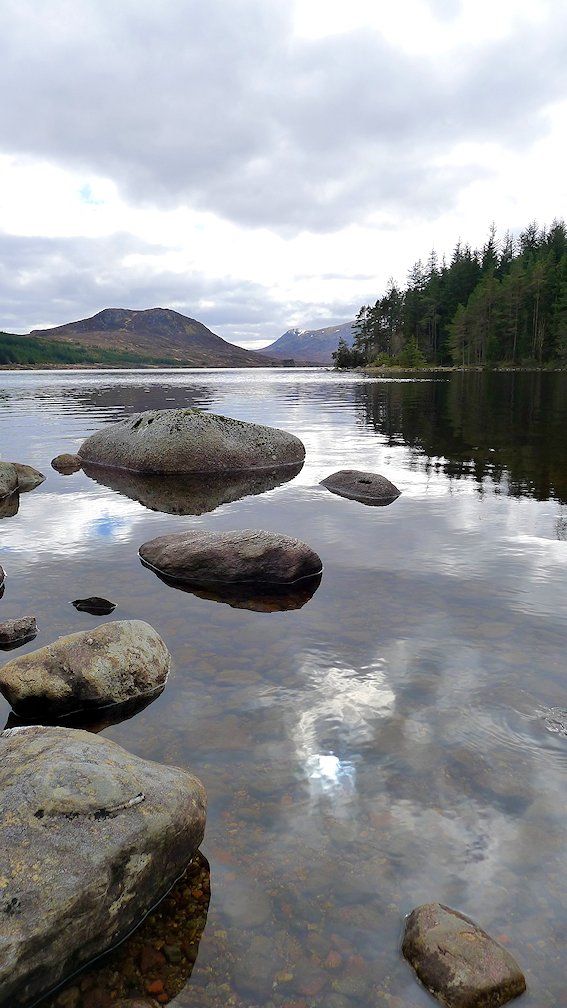 I had almost an hour and a half to spare when I reached the station. It's out in the open where it sits and I felt the cold creep back into me as I walked towards it, I'd just sit inside and pay for my seat with cuppas and maybe get some dinner too, it was about that time.
"Closed for refurbishment" Shite, you're kidding. No, the whole place was locked an empty, I hadn't even though to check before I'd left. There were a bunch of folk heading for the door when I'd got off the train the day before, if I'd been slower to get on the trail or maybe looked over my shoulder I might have seen them turning back and been forewarned.. maybe saved some gas.. climbed Geal-charn… No, I'm pretty sure if I'd climbed that I'd have been late for the train, 90 minutes? Touch and go I'd say, but no matter how I played with that now expired dilemma in my head I was still stuck on a frozen platform for over an hour with no gas, just a bottle of snowmelt and a packet of energy chews.
I dug out my down jacket and to my joy found some jerky, chewing that would heat me up. It was chilli flavoured so it made me cough too, but you can't have it all.
A couple wandered off the hills and into the station to catch the same train as me and I was damned glad as the banter shortened the wait. They never had any gas either which was the only downer.
We were joined by one other prospective passenger before the train was due and I set up the tripod to take a dramatic mountain/ train/ purple jacket/ going home shot. Unfortunately the train pulled into the wrong platform and as I hurriedly tried to get myself reset all I got a blurred frame of one of my feet crossing the plaform. My new pals found this extremely amusing and it served me right for trying to be a smart arse.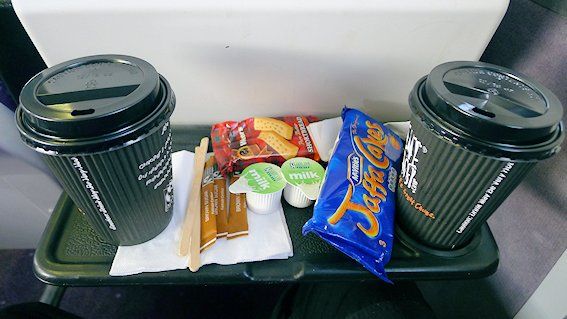 The stewardess came around and to my dismay had no meat or vegetable based consumables, indeed all stocks were low, so two coffees, Jaffa Cakes, shortbread and Kettle Chips had to do me.
I had my book, and although the views were stunning and bathed in evening light, I was tired, I was hungry and I was looking forward to being home. The mistakes made by the authorities during the early phases of the Zombie War occupied me for many miles although I did keep one eye on my rucksack in the luggage rack every time we stopped. Just in case.
At Ardlui there was an very elderly gent in old-style black woolen suit and tweed bunnet making his way from the train to the stairs very slowly and uncertainly, there were folk on the platform and no one went to help him on the steep stairs. I wanted to help, but we were leaving, I suppose the other folk were waiting for use to leave so their train could head in the other direction on the single line, so they didn't have time either.
I hope he was okay, you don't think of frail or elderly folks living in out of the way places. I wondered if he has a hard life, if he gets enough help? I still wonder.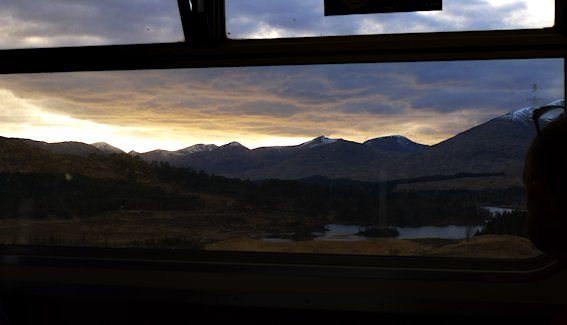 I was primed at Helensburgh, I was on the edge of my seat at Cardross and standing by the door with my pack on before we'd reached the platform at Dumbarton Central. As we slowed through the rows of lights two familiar faces met mine briefly as I shot by. Once I was on the plaform Holly broke Joycee's grip and ran towards me arms in the air and shouting.
In a weekend full of moments to remember, that was the perfect one.