I met Ali from Terra Nova last week for a catch up on some of the news from Terra Nova, Extremities and Wild Country and she had some samples of the winter 2012 range from Extremities some of which make me grin widely.
I was taunted by the acrylic Knit Beanie there, it fits really well and I think I should have been allowed to keep it, look how happy it made me. Talking of photies, they were all taken on my phone and are therefore a bit rubbish, but we'll make the best of it.
First up are the mitts below, these are Hot Bags. They're windproof shelled and insulated with er, Novaloft (name subject to change) insulation and are light, listed at 85g and they are light in and on the hands. The fingers are pre-curved and there's adjustment at wrist and cuff  to keep them snug.
I liked these.
Now there's no grip on the Hot Bags, but you can fit grippy-palmed GTX Tuff Bags over them if you're wanting waterproofness and reliable grip on things with handles. However, if you just want waterproofing over the hot bags or just your hands then the best option will be the new Top Bags. 48g mitts in the same waterproof laminate that they use in Terra Nova bivi bags. The production cuffs will be longer but will retain the same wrist and cuff adjustments.
Shell mitts are brilliant, the warmth over thin liners is surprising as is the dexterity, looking forward to seeing both of these guys.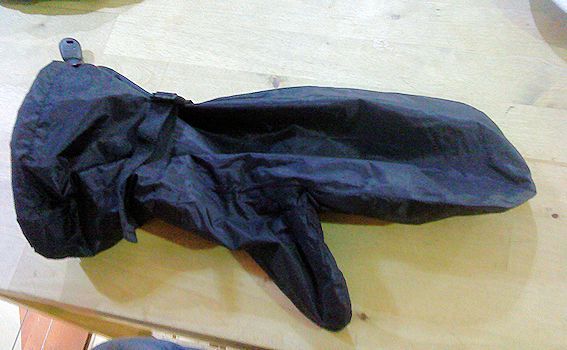 They're doing a sort of A/B with a lot of the gloves, a full-on version and a stripped down version of the same model. It means lighter weight and a cheaper price for the stripped down version, so I'm not seeing the cheaper on as a second choice here.
That's the Super Munro Glove GTX below. Gore Tex lined, Primaloft filled and leather palmed, the classic combo. Leather's great on your hands in crap weather, stays grippy when its wet.
Next to it with the grey stripe is the 194g Munro Glove GTX, a little less fancy with lighter weight Primaloft fill, elastic wrist instead of adjustable and it's 50g lighter.
The Super Corbett Glove GTX and Corbett Glove GTX are below, like the Munro's, the Supers get the extra adjustments. Here there's different insulation (I'm saying Novaloft again, just in case) and there's no leather on the palms. Both models are lighter than their Munro counterparts by 40/50g.
You'll notice all these gloves have the finger loop for hanging them the right way up to stop snow getting in. Or rain.
Less obviously techy maybe, but just as useful are the Storm GTX Gloves and Mitts below. Still Gore-Tex lined they come in at similar weights to the Corbetts, the mitts are 119g, but are just a little more basic, elastic wrists and simpler construction. They'll keep you warm and dry, so what the hell.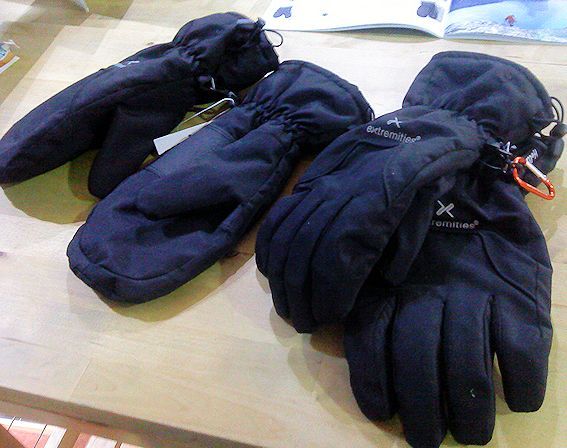 Last is this quirky bugger, the mitts of my childhood, the Windy Convertible Mitt.
It's a fingerless glove with a mitt-style cap to seal your fingers up cozy once you've adjusted buckles or pressed buttons or whatever. Your thumb can sneak out too, you can see the opening above, it works fine and isn't restrictive at all. 
It's cut from Wind Stopper, a felty feeling and quite thick version with a little stretch to it. There's a PVC palm on there to for some grip. The mitt bit Velcros out the way and there's a loop between the first and second fingers to let you pull the glove off easy.
Great for school and the mountains.
Haven't used Extremities stuff in ages so it was nice to get an update. Some stuff due in, so more coming up.