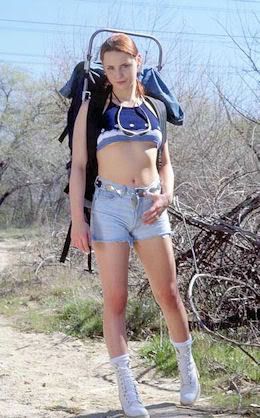 This isn't a retro thing, this just came to me when Bobinson, Craig and I were looking at Haglöfs LIM packs the other day.
For all I love the features and the carrrying comfort of the LIM 45, I have often expressed the opinion that it looks like a burst couch. D'you why? It's an external frame pack.
Stay with me here, the harness is attached to the rectangular aluminium frame that gives the pack it's shape, it's strength and allows the wearer to move and flex without pulling at the main compartment of the pack. And why? Because the compartment is hung off of the other side of the aluminium frame.
The load carrying and load bearing part are separate, like you only get on a proper external frame pack. I used one back in the early '80s and never had an issue, so what happened?
They look clunky, and even the current ones from the likes of Kelty look horribly dated, but as a tool for carrying loads is has a lot of advantages, a drier back for the wearer, the ability to tie stuff on all over if needs be, the possibilties of volume adjustment and a modular approach are huge, and on non technical trails the sticky-out bits aren't an issue.
Maybe internal frame packs are just sexier looking and easier marketed, so fashion rather than performance dictates choice once again.
Haglöfs took some of the advantages of an external frame and hid it inside the LIM packs. Once you know though, the way the pack sags a bit when loaded, and the compartment hangs off of the frame, it's just so obvious. There's plenty of other packs out there are taking wee elements from external frame designs, Gregory, Golite, Osprey, Berghaus, but none that I've seen so far have gone so far as the LIM.
I'd love to see a high end manufacturer having the bottle to come up with a unashamed external frame pack for the modern backpacker.