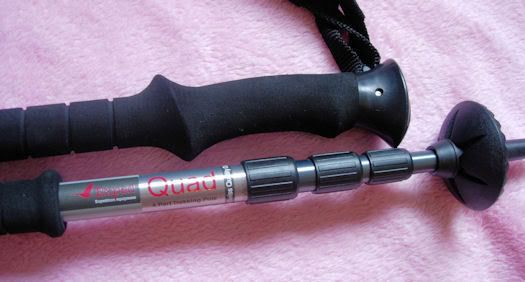 Pole armageddon continues here with a left field entry from Exped. These are aluminium, 7075 seamless in fact and that means there as hard as nails (mountain biking teaches you about aluminium).
They're a bit quirky in that they're split into four sections (Quad, you see…) and consequently they pack down to 21″ but still extend to plenty much.
The top two adjusters are the standard twisty/expanding widget affairs but the bottom section clicks into place with the spring loaded locating pin you can see in the photie. This is a good idea, it means less faff and less chance of not getting one joint in three tight enough. The pin is a nice secure positive fit as well.
I'll be watching how that wears as it's a feature of their improver and much lighter poles for '09.
Talking of weight my scales are locked in the bathroom and won't come out, but these are heavier than all the carbons, you'd expect that. But aluminium is where it's at for most pole users, so it's good to see something up to date.
The adjustment is very smooth and the sections glide up and down, but there's no length markings. I never read what the numbers are but I probably use them to match the length of a pair when I'm out, I don't know, it's subconscious. Mind you, it's prbably better to set a pole up to comfort or terrain rather than a notional optimum length. Interesting, I'll see how this works out.
The holding on end is spot-on, with a nicely shaped handle and soft but wide wrist loop. The foam material from the hand grip extends down the top section for six inches to give you a proper grip on short steep sections without fannying about shortening the poles. I like the feature, the Mountain KIng Carbons have it too, but not too many poles out there have it.
They feel good in the hand and Exped don't exactly screw it up too often so I'll use them with confidence and I'll report back.