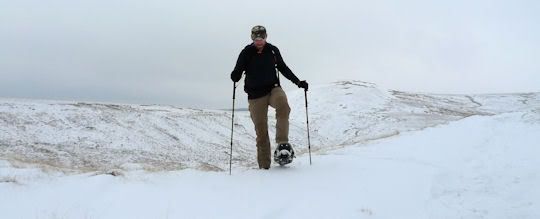 Bobinson got some Red Feather Treks in for test from the US and has already had a shot. Finally I got a chance, strapped a pair on and had a wander about the Kilpatricks.
They're easy to fit, light and after a few installation steps, walking was quite straightforward. I was mostly on easy angled slopes with soft snow cover of various thickness, and that was no problem at all. Uphill on steep ground was more interesting as I went between using the intergral crampon and walking sideways (all that I know of snowshoeing I've learned from watching Charles Bronson in Death Hunt).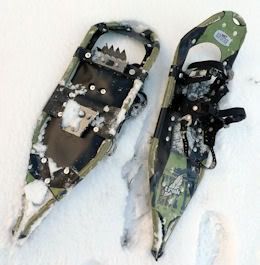 Downhill on steep ground is a little hairy until you get a handle on it, but I'll work at it if the snow keeps up its side of the deal and stays where it is. Going over ground which is a mix of deep snow and prominent grassy clumps was great, I just floated across. In general, progress was very good when I got into a rythym with the poles. Crossing a snow-covered boulder field raised an eyebrow, but my foot is free moving and hinged inside the cage so twisting an ankle would be more difficult that it looks.
It was great fun, maybe not so handy for general hill use but for a plateau crossing or a long approach they'll be magic.
Hopefully I'll be back with more before the winter's oot.
The following text is from the Trek's swing tag. It's done nothing but endear me to them and fuel the grin.
What you hold here in your hand is freedom. Aerospace grade, powder-coated aluminium and TX35 vinyl freedom, compadre. You just take these bad boys out and fire up a mountain. Hike until you're scared about finding your way back. Do this with reckless abandon and unbridled exuberance if for no other reason than you can.
Wouldn't get that in the UK would you?