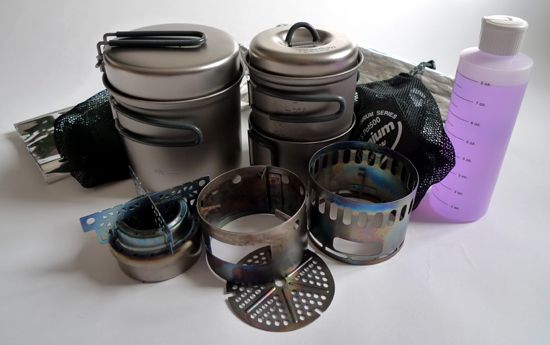 I was flicking around the 'net looking at bits and pieces, I fancied a new pot, a big one like my Optimus Terra Weekend, but lighter. The options aren't that inspiring, most have short unisulated handles, which I am not keen to go back to, and the nice looking Tibetan pot with the long handles has been out of stock everywhere since 1978. I knew Backpackinglight.co.uk had taken on Evernew in the UK and as it turns they do a model the perfect size, with all the features that I wanted. 
But, I've also got a mag feature coming up later in the year, the premise of which really needs a change from my usual roaring gas stove, so after a chat with Bob about the burner side of things, not only have I bought myself the nice new pot that I was after, in for test I've got the Evernew stove system, some cookwear and also some of BackpackinglightUK's accessories.
You know me, I like fast and easy, a cuppa in three minutes or my left eye starts twitching. So like getting a GPS in, this is the right thing for me to be doing, a different pace, unfamiliar methods and kit to get the brain working, all-new is all-good.
Above is the Titanium 900ml pot, I know it's a good size for me as it's pretty much what I use anyway. The wee deep lid is either good for you or it isn't, me, I think it's a handy wee thing, but the plastic coated handles are a must-have. The short handles that you get on most other cookwear just don't come close. I reckon more folk don't do it this way at the welding has to be better due the the leverage exerted on the join with a full pot, so rightly or wrongly, long handles say as much to me about a manufacturer as they do about my un-burnt fingers. The volume markings are handy, the lid is a nice fit, there's no spout at one side to piss-off the corrie fisted and it really is light at 124g.
The quality of the titanium is something that Evernew are keen to point out, and there is truth in the spin. With material that thin (the pot and cookset flex easily in your hand) you have to have confidence in your material and your processes or you're going to have a big pile of unsellable mishapes in your factory store.
The Titanium Solo Cook Set below is a great wee thing, coming in at 148g for the whole package. The 400ml mug slips onto the 750ml pot, the mug has insulated handles as does the pot, but where the mug sensibly has mug-shaped handles, they're the long kind on the pot. The burner fits inside, with Trivet or DX stand, and this makes it a great compact system.
I like the idea of this, in some ways it takes me back to my single pot/no mug days of a few years ago in it's pack size, but it's the best of both worlds here as the mug is pretty much invisible.
Above is the Ultralight Titanium Alcohol Stove with the optional Titanium Trivet potstand already fitted. It's simplicity itself, well made and light 36g and 15g respectively. I really am looking forward to setting this up on a summit somehere and seeing how I get on, the boil times on BackpackinglightUK look fine.
The Ultralight Titanium DX Stand below is an add-on or a stand-alone piece. You can use it as a stand/windshield for the burner which looks like giving good boil times or as a wood burner, as it has the grate and enough slots to stick in fuel. At 56g it's another bit of unnoticability.
I think the Solo Cook Set will suit the burner in it's various combos better that the 900ml pot due the the width and capacity, but I'll try the various combinations and see what turns out best.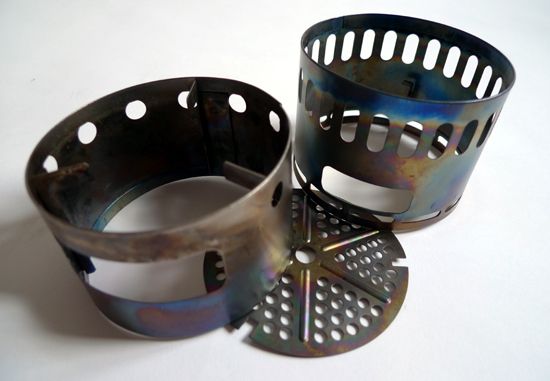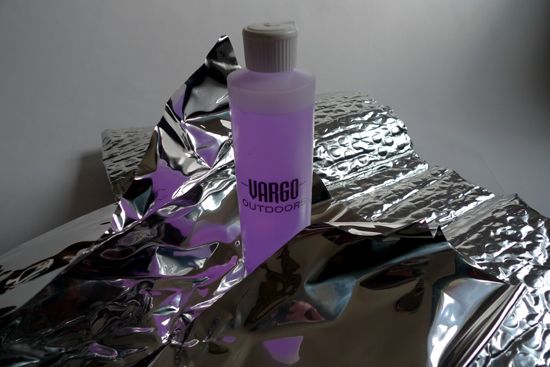 Bob also sent some cuttings of his Pot Cozy material and a Super Thin Windshield, both of which are rather nice and should help me get the best out of the Evernew kit.
I know I always bang on about faffy stuff, but I think this'll be fine once I've done the intial admin on it all. It's actually, I have to say, kinda good fun.
I had to go and buy meths (praise be for a GoOutdoors in Clydebank) and I got the wee Vargo bottle with the imperial measurements on it to take on the trail.
Ha, it's purple. More of this stuff as we go.