Prologue.
 Tredz who have two bikes shops in Wales got in touch with me last year with a view to doing some reviewing for them and far from being patronising, asking me to sign a contract or giving me a humorous budget to work to as many of us will be familiar with when dealing with shop reviews, they were instantly easy to get on with and have been great to deal with. I wanted to go for crossover kit that could be used for various things and the Endura base layers came up, its something I've looked at in the past but never used and that's what we went for.
So, good folks, kit from a different brand and my first ever review for a shop. Which is coincidental, what follows is the same nonsense as usual.
I've been finding that synthetic  is no longer the 80's throwback to merino's 21st Century Schitzoid Man and more often that not, I've been in polypropylene in recent times, so the when the Endura Baa Baa Merino Long Sleeve came in for test it was a perfect timing to give me a nudge to update on a long term favourite fabric.
The fabric is a nice weight, exactly what that is I can't tell you, all I've got is "pure merino" and "100% pure merino wool". No fine/superfine/gsm or indication or its origin, so I'm going purely on feel and perfomance here, which maybe isn't a bad thing. Although, it is 200gsm or probably less comparing it to other merino.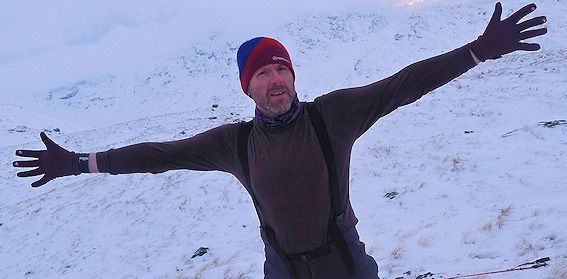 Silky smooth straight out of the box, this is a lovely shirt to pull on. Next to skin comfort is instant and lasting even after many washes. The fabric also has a good amount of stretch to it, which is almost entirely two-way, ie it stretches easily one way but not some much at right angles to that. Sewn together properly, which this is, it means great free movement and good shape retention as well. Merino does slacken off in use, a thing I always take into account with sizing a top, but here on the Baa Baa a large stays a large, so I haven't sized down.
Moisture handling is good here, I can't base this on anything other than observation and a hunch, but the Baa Baa seems to dry quicker than I'm used to with merino. It still has all the regular qualities that you expect from merino, warm when damp, the power to vanquish smells, but the drying time does seem good. It could be the fabric weave (knit?), that can make a big difference, but I'm happy whatever.
The fit is slim, or athletic if you write official descriptions and sits well on me, comfort but close as a baselayer should be. Body length is good, but not great. It stays tucked in most of the time and does have a slight scoop to the tail to help, but I would have expected longer on what is designed as a bike shirt. The arms too are just okay, another inch would have been better, but at least I don't have to fish a around trying to find my watch, it's right there at the edge of the cuff.
The cuffs are wide and low profile, good forlayering and wearing with gloves. The hem and neck are well finished too, the neck with a slight bias for the riding position as you'd expect, so a little lower at the back of your neck that you might be used to.
The seams are all soft flatlocked and the washing instructions are printed on to give a chafe free insides. Apart from the unusable small hangloop at the back of the neck. It's what scissors were made for.
It's a great top is the Baa Baa. It's bike specific, but when you sit on a bike you don't change into a mutant, so really it's person specific, the only real difference to an outdoor top is the slight change in the neckline. The fit is excellent, the seams are well placed to allow the fabric to stretch the right way such as the under arm panels meaning its a joy to wear when you're active.
All the powers of merino are here, warmth and cooling when you need it, stink defiance and what I think is an excellent drying time.
All over the world outdoor folks are outdoor folks while here we're hillwalkers, climbers, mountain bikers, backpackers etc. I've been/am all of those and more besides, so outdoor kit is outdoor kit, the brand name doesn't limit it to a single discipline.
The Endura Baa Baa is an excellent top, it's aging well and has to be worth a look.