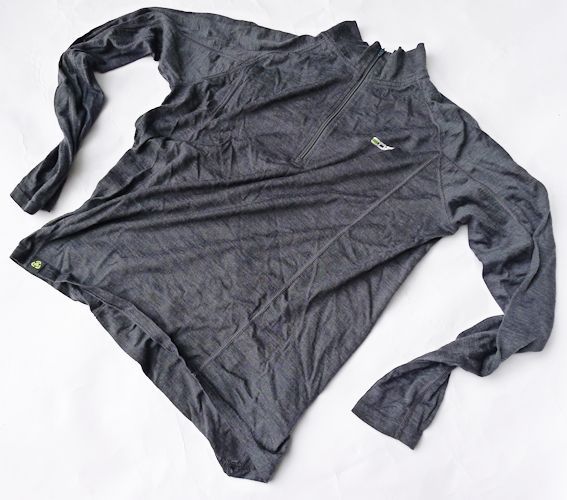 It's nice when something different stuff comes in for test and I must admit that EDZ had previously slipped under my radar. They're based in Cumbria, selling direct from their own store and a few specialist stockists and have a range which is pretty focused including amongst other stuff, base layers and light shells including a couple in the under-used EPIC water resistant fabric.
I've had a couple of baselayers on long term test and first for review is my well worn 200g merino zip neck.
Fit is everything in a baselayer, too loose and the fabric won't perform, too tight and anyone but an athlete will feel self conscious in daylight. EDZ have taken a sensible route and made the fit slim but not tight with a good length on the body and arms for an average punter. This middle ground cut means it's great on its own as it looks fine and it layers well too as there's not a lot of excess fabric.
The top is paneled with a raglan sleeve and all the seams are flatlocked, but the stitching still retains a good bit of stretch to match that of the fabric. The sleeves have good articulation built in at the shoulders and at the other end the cuffs pull up over my elbows no bother.
Other details that make the difference are the neck construction, the inner seam where the collar is sewn on has tape over it. This might seem like a frivolity but it helps the neck keep its shape after many washes, protects the neck seam from wear and also stops the stitching under it plucking at the hairs on the back of your neck. It happens, I've had the pulled hair spots to prove it. 
The collar itself is a good height to bounce off sun and wind, and the zip although not covered on the inside or at the top is smooth enough against the skin and chin, but bear in mind my rapidy whitening growth covering that latter area which deflects all attackers. The zip's what you could call a  third-length affair, the zipper reaches below most rucksack chest straps on me, so it's a good length for venting.
One very welcome detail is the drop- tail you can see below. The front tucks in well on me and the rear goes right down and definitely adds a little insulation when the winter wind blows at your nether regions. It means that the top stays tucked in which I like in winter and also should mean that the top will still work for a variety of back lengths for a given size.
It's merino which means a few things, it defies your personal stink attack upon it for an extended period and it remains comfortable when damp. The variety used here is 200gsm which is a do-it-all weight working in winter and in summer when it's not too hot. The fabric has a soft feel in the hand and a good stretch to it and it returns to shape after washing very well. When I first pull the top on there's a little prickliness against the skin which quickly disappears, this is something that I get from various merino tops to varying degrees which I assume is something to do with the merino or the fabric construction. It's also the same thing that a lot of folk say is the reason they can't wear merino, I wonder if it's a personal thing or if a lot of folk would find the sensation fades away given alittle time? Anyway, I digress.
It's a very wearable top, it looks good, there's a little more blue in it than the photies show, it doesn't look overly sporty either which is nice for outdoor days with the family or whatever where you you'd feel a fool heavily kitted up. But, it's good in the mountains and I've had this layered under allsorts in all sorts of weather, I've slept in it, fitted pipe in it, cycled in it and lounged in it quite happily when I got home as I was quite happy and too damned tired to take it off anyway.
It's wearing well, seems to be tough, no holes at the belt buckle spot yet which is always nice. I know synthetics are catching or are equal to merino in a lot of ways now, but there's something about a merino top that's still got that indefinable Ahhhh.
EDZ Onezie coming soon.