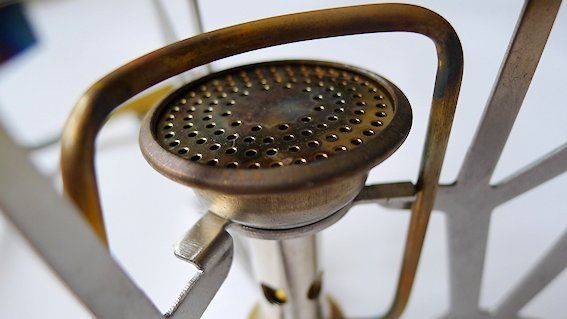 This came in for test ages ago, but it's been back in use again so it's high time it got a write-up, it's the Edelrid Opilio gas canister powered stove.
The Opilio is quite a spidery looking thing, looks like you could crush it under a full pan of water, but it's actually a tough wee bugger, those legs take a good bit of effort to flex and the construction on the whole is excellent.
The legs fold away flattening the stove down quite well, I know, I should have taken a photie of that, but it is flat inside its little bag at the bottom of the post. So although you can't tuck the Opilio away inside anything but the biggest pots, it's flat shape does tuck away well in your rucksack.
The legs have quite small feet but the big spread between then makes it very stable, the only trouble I've had was on soft snow which is an issue for most tent cooking scenarios. At the other end of the legs there's a nice grippy surface for your pan, the supports have serrations and a flat contact angle for maximum grip and a 6″+ contact area.
This means you can get big multi-person pots on here, but the burner is quite small so I think it's better for smaller width pots. If it had a bigger burner, like the one you see on Optimus/Brunton/Vango there would be a better spread of heat for bigger pots.
But the burner has a pre-heat coil which is just what you need in winter, where this type of stove excels. Gas canisters hate the cold and also don't like to give up all their contents, canister top stoves burn the gas as it evaporates and is sucked into the stove above. In a remote canister stove the same applies, the gas creeps along the tube into the stove, but add in a preheat and you're laughing as you can wrap up the canister to keep it warm, which you can do with any remote canister stove, but here you can also turn it upside down as the preheat will evaporate the liquid into gas for combustion. Although, be careful doing this, you can get flaring from the stove as it settles into preheating the liquid.
The pre-heat works well, the tube is a good size with a good surface in the flame and the 3kw burner roars away happily boiling around 800/900ml of water in a standard time of under 3 minutes.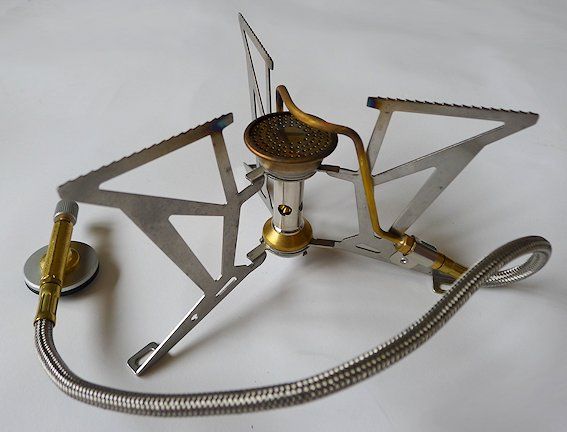 The tube from the canister to the stove is stainless steel braided for protection and is a decent length of a foot. You can disconnect it from the stove at a nut on the leg, but it's not much bigger packed attached so I leave it attached, less faff and there's so much potential for leaving yourself cuppaless if you break something or lose your little spanner.
At the other end the canister the connection is low profile with a simple knurled aluminium knob for flame control. I've have made the knob bigger or put a deeper pattern on it for use with gloves, but with the control so close to the canister I suppose there's a limit to what you do there and still have finger clearance.
At 174g it's coming up for double what most canister stove are these days, but you're lying if you see you can feel the difference in your pack. It's small and flat for tucking away and in use it's great. If you get it on a good surface it's super stable and gas usage seems to be fine to me, I've long given up trying to be scientific about that stuff, conditions vary too much and I'm always using near-empty cans to sooth my environmental conscience. In winter is where it comes into its own, the flame stays strong with a warm or inverted can.
The small burner works fine, but a bigger burner would be better for bigger pots and would probably suit the stove footprint better, a small pot leaves a big gap to your windshield and that's BTU's going into the tent porch that you could be using to make your cuppa faster.
The bottom line is that the Opilio is a great winter stove, the stability it has in a small tent porch is soothing to the temperament. It's light, it boils fast, packs well and it's very well made.
What's not to like?