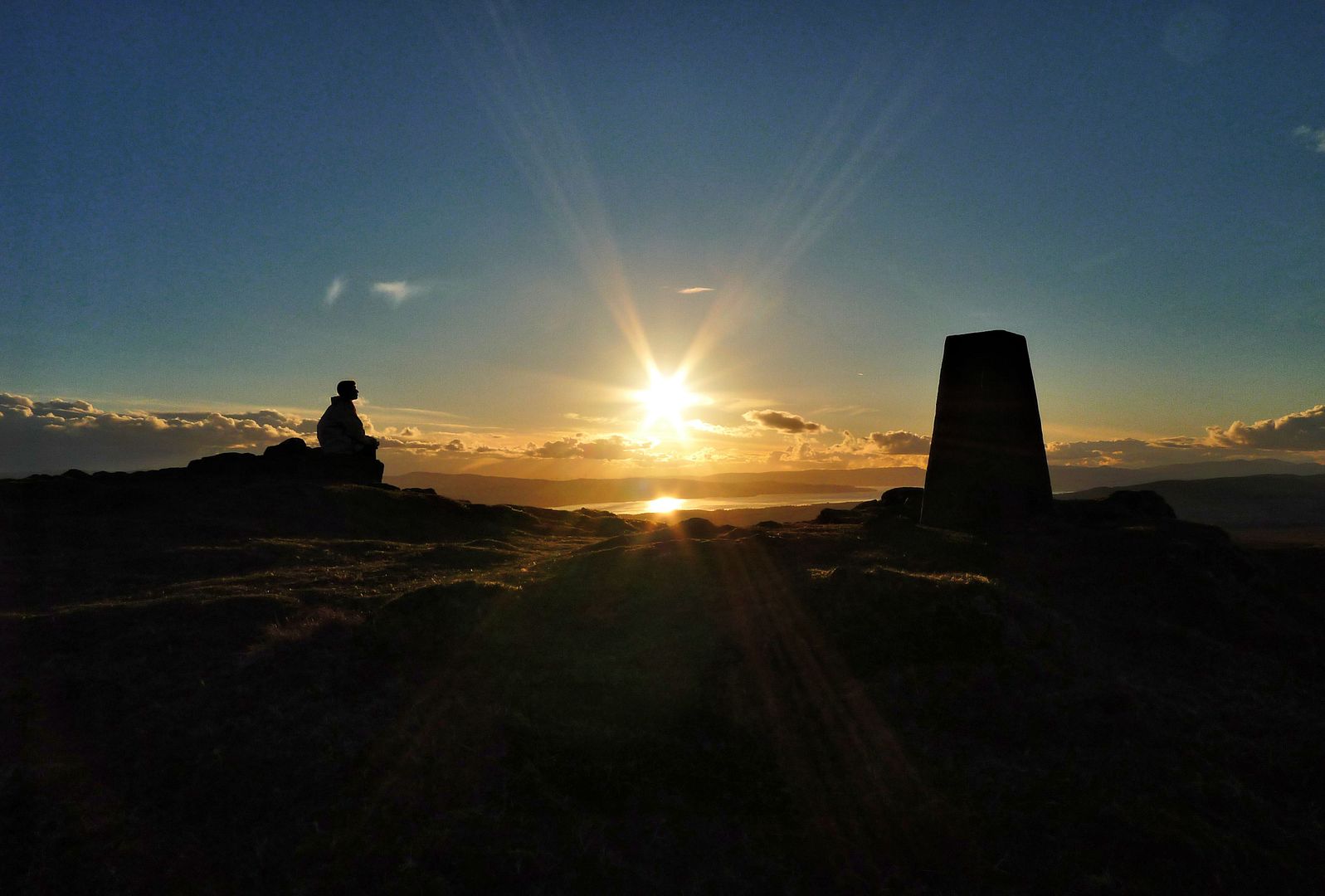 It's been quite a productive week. I hit a lot of markers for work, we had a cracking day out to enjoy a lunch that had been bought for us in Stirling (note to future self, do a post on that, mind the Loch Katrine part) and by Friday lunch time there was no way I was achieving anything else of note beyond someone actually paying me so I decided to throw some kit in my pack and head out into the glorious bright day.
Most of the kit was actually still there from a couple of days back, but some new bits and pieces had arrived for TGO reviews so I swapped out the regular for the unknown and made myself an absolutely stunning roll with chicken strips, home mixed spicy mayo, crumbly cheese, beetroot, tomato, some herbs and spices and fresh leaves from the windowsill. I was thinking about it the whole way up.
The way up was still unknown though, but I had been thinking about climbing the Kilpatrick Braes again for a while. As much as I'm always in the Kilpatricks, I never climb them from Old Kilpatrick itself. It's become very busy on the way up from Station Road in OK including the usual SUV's on every verge at any angle you can think of but there's also the mess the forestry made at the top of the climb with the environmental vandalism of wrecking some old crags to make a marshaling are for their tree ripper vehicles. I could have cried or punched a lumberjack the last time I was there and that emotion has lingered so I've just avoided stoking it and haven't really felt I'd been missing out. I can get everywhere from the Lang Craigs if i'm prepared to put the miles in.
But, if you don't go you don't know and enough had passed for me to update myself in a less emotional state. So I thought I'd just walk out my door, skip along the canal, shin up the hill at Old Kilpatrick, cross country to Overtoun and home via the cycle track. A decent loop and plenty of light to do it in.
However, Linda was just passing and I got to knock a few hundred metres of tarmac off the distance as she dropped me off along the road a wee bit.
As the day extended beyond its initial premise, those saved minutes were something of a gift.
Tarmac gives way to gravel quite quickly and folk pass me coming downhill, many smiling, most with a hello and then the usual smattering of stony faced bastards. I greet them all with enthusiasm.
I stopped for a breather at the high corner, it's a long and unvarying ascent and always feels more than it is. The views are great, I can almost see my back windows above and it was warm but not too much so, I wasn't breaking sweat, I was just cruising along, quite happy with my lot. Plus my sunglasses were on, oh that bright, bright sky.
My first potential stumbling block was round the next corner. I walked head down, arms straight with clenched fists like I was reporting to the headmasters office until I was right there and I looked up. It was different, the old quarry was still filled in but the huge marshaling ramps built from freshly quarried stone that had buried the ridgeline were away and the natural look of the skyline had been restored, a bit, it's not what it was but it is better.
I suppose I was sort of glad, maybe even pleasantly surprised, both in a muted fashion, but I still have that lingering sense of sadness for what once was.
A little further on the large grassy area that was kept cropped short by grazing sheep had changed once again. When the sheep were taken off the grass grew wild and the migrating geese I saw there each year never came back again. Now the grass is short again because its under the shadow of a freshly planted conifer plantation. I hope the geese like their new pitstop wherever it is.
Loch Humphrey was another km ahead and was a deep dark choppy blue set into the golden fuzz of the moorland that spread like a carpet to the horizon. The wind was sharper on the more exposed track high point but by the water was warm and calm again. I lingered, but this was supposed to be my half way point, I should be heading home.
No chance, I was feeling fresh, it was a beautiful day to be out and the KP's were all mine.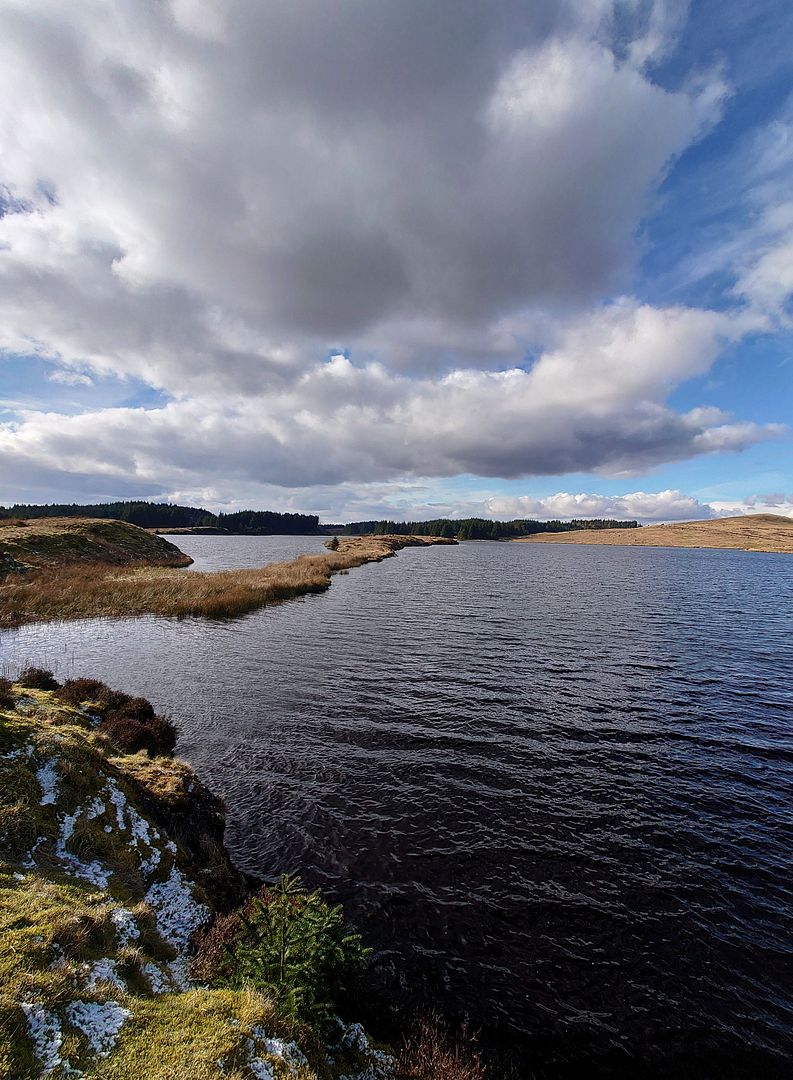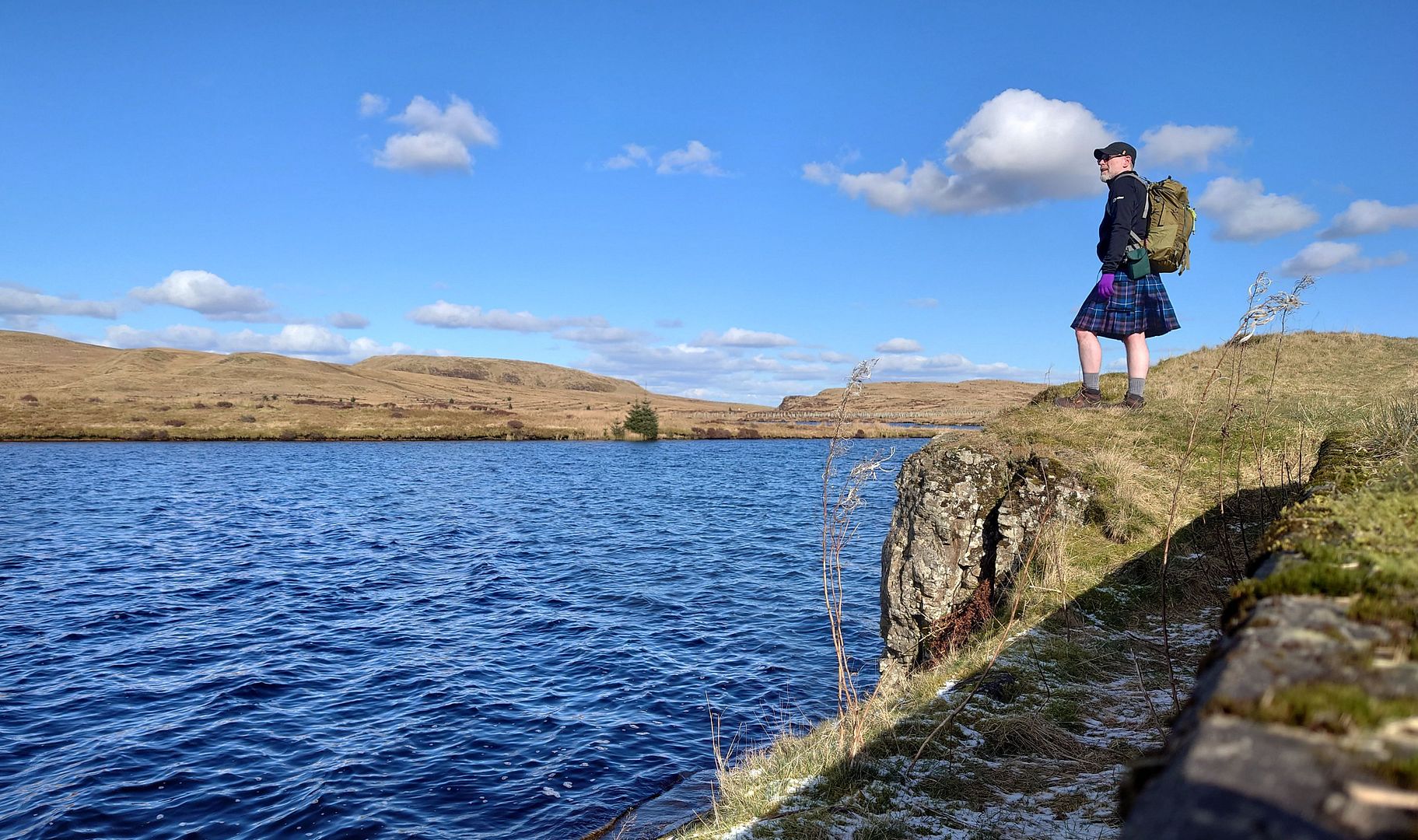 The going was dry and firm, much of the ground was still frozen although the dusting of snow was largely gone. It made for pleasant and sprightly walking to the trio of volcanic plugs that are Little Duncolm, the imaginatively named Middle and the boss itself, Duncolm. I'm pretty sure folk only climb Middle Duncolm because that's where the path goes and they think it's the highest point. While it's nice enough the first thing you see once up there is the next highest top along blocking the view and then you have to descend and reascend steeply to get there. The path down from Middle to the coll to it's big pal has deeply dug steps like they've been huffily stamped in during countless bad tempered descents. Ha.
There is another way up for the locals though. A barely visible path winds around the side and takes a rising traverse on the west of Duncolm to pop you out just at the trig pillar. This path splits lower down and takes you to the Whangie too. Oh, another day.
There was snow on the horizon, to the south and east more than the north surprisingly but fresh falls across the Arrochar Alps and Ben Lomond were trying to set that straight.
Looking straight west a very familiar shape pokes up in front of the Cowal skyline. Little Donut Hill right there, soaking up the sun.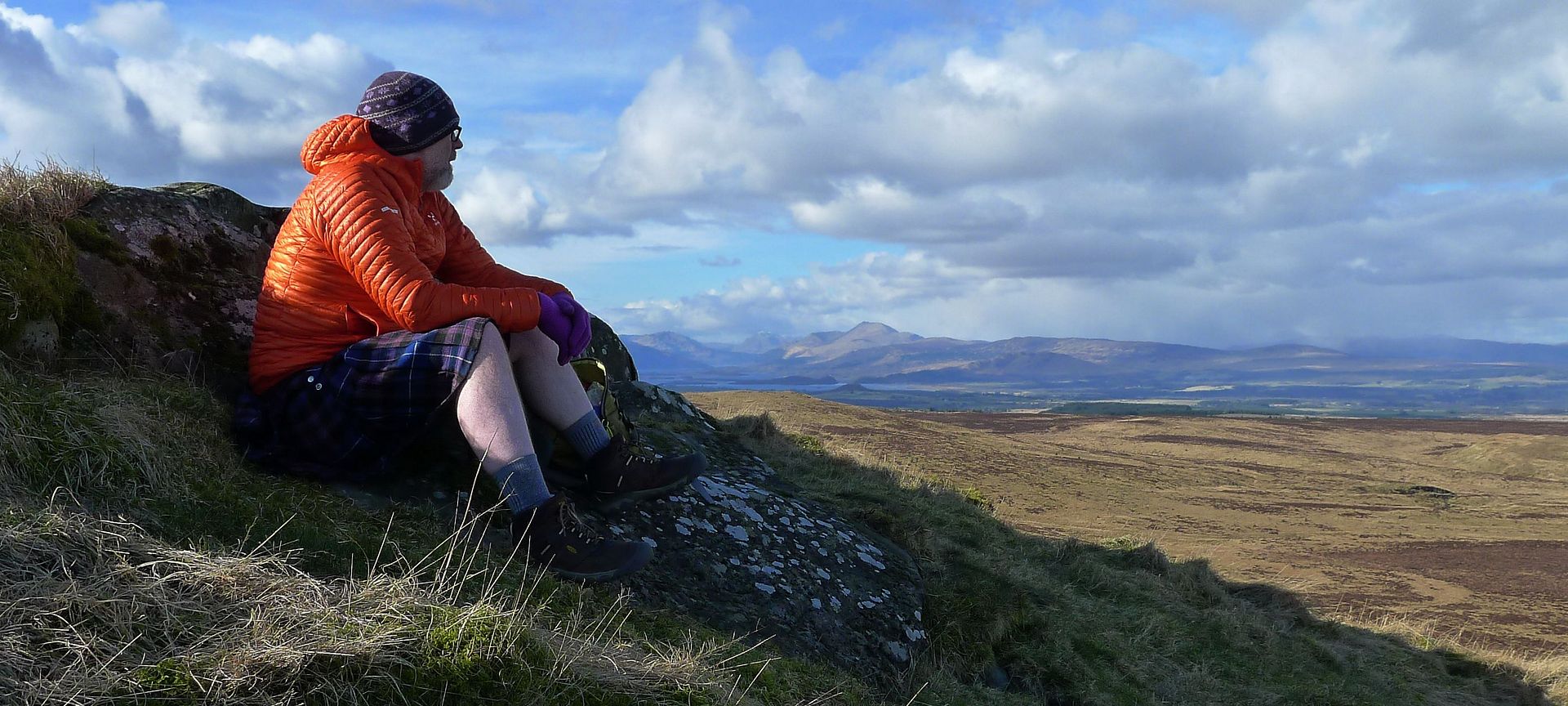 It was windy and cold up here so I found a corner to hide and finally break out my gorgeous chicken roll. I poured a cuppa, pulled on some insulation and sat.
It was glorious. The passing clouds chased shadows across the Campsies, ravens played in the breeze and I was alone for the whole time I was here.
Complete peace. Ah, if only you cold hold onto that, keep in a wee bottle and let some out now and then, just when you needed it.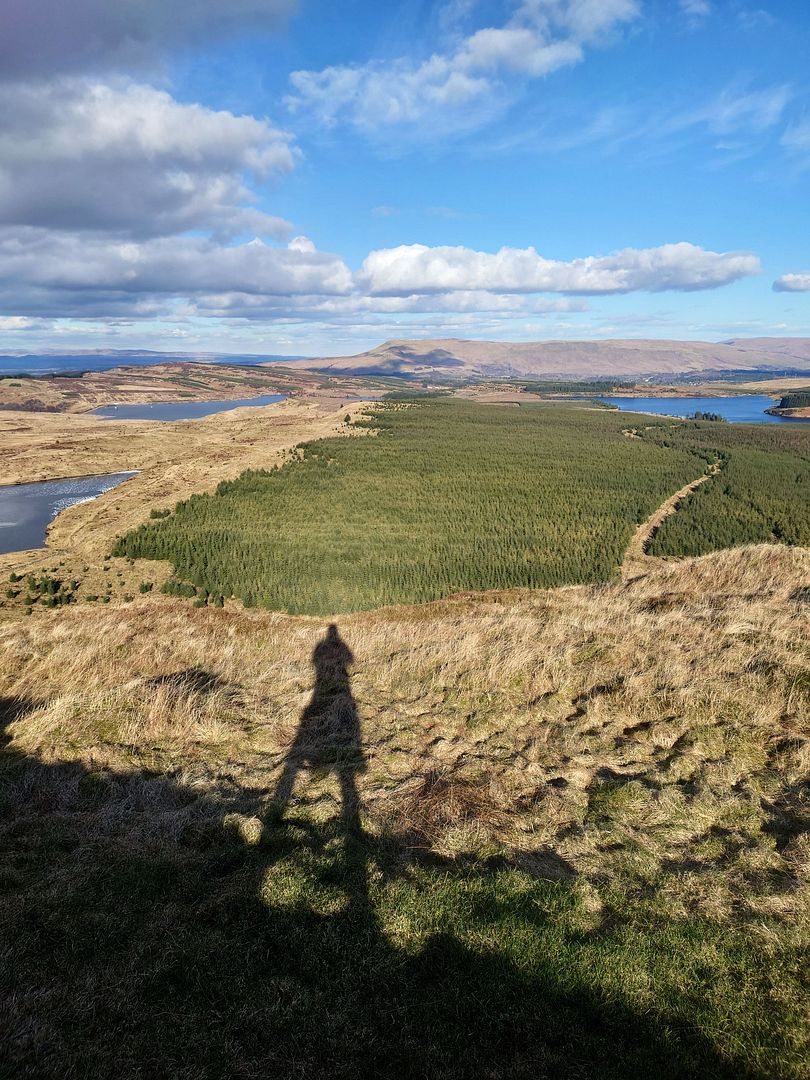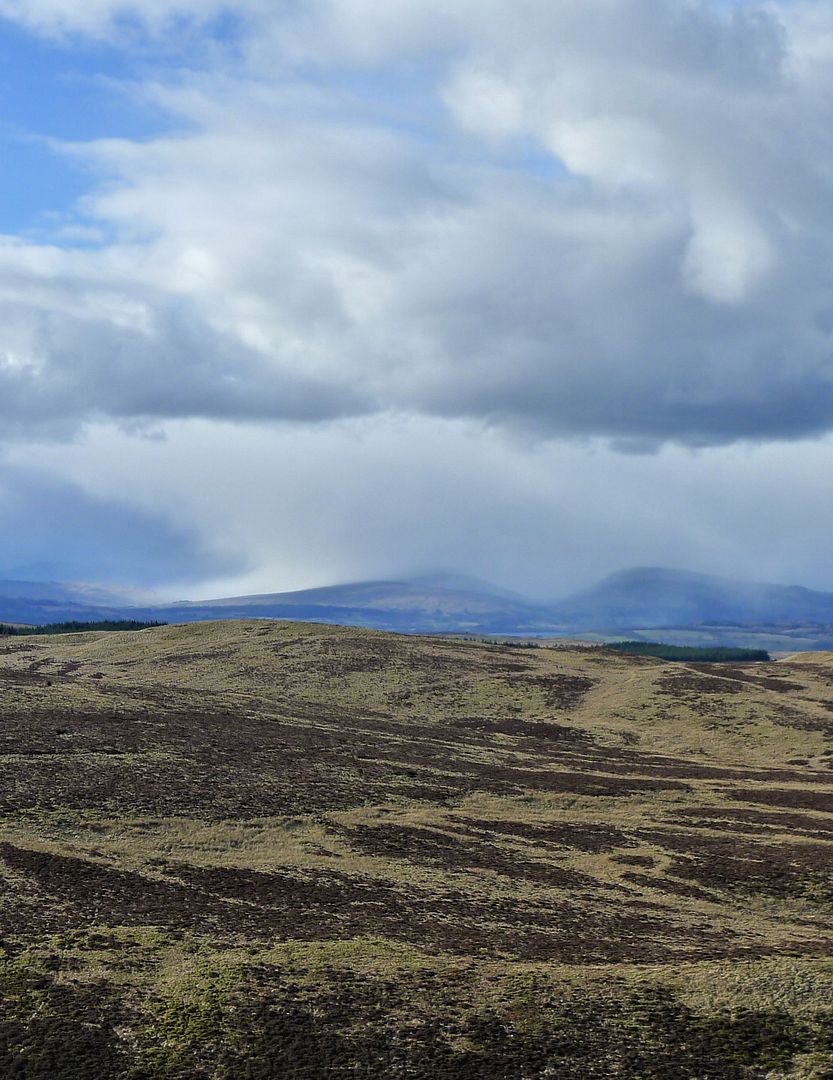 I stood up and wandered around and then my phone went. My bubble was a little burst, until I saw who was phoning and I was happy again until I realised how cold my hands were and the phone didn't recognise my finger as a living thing with enough electrical activity to operate the answer call icon. Time to go.
I jogged down, hands balled up inside my gloves to speed their reanimation. Out of the wind and the sun I warmed and the flutter of anguish was soon gone. I saw fluttering to my left and two raptors were looking for take away. I saw one swift swoop to the ground and then a second attempt before a wee rest on an outcrop as something had obviously got away. I was so close and they didn't care at all.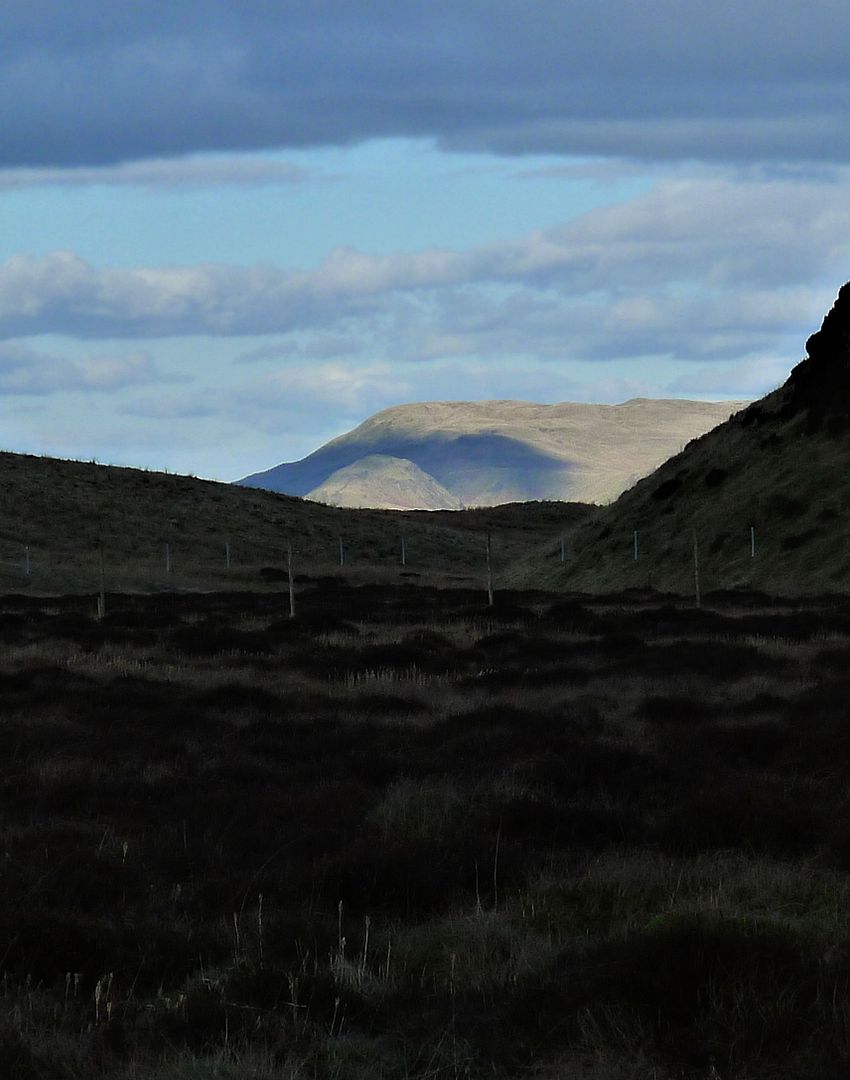 Dumgoyne rarely shows it's shape from the south as it's set so low against the plateau behind but a lucky passing cloud stuck it's wee nose right out for me to see it.
There was a lovely basalt er, I don't want to say snotter but it seems to be the right words for it. It's growing a pointy moss beard. Gallus.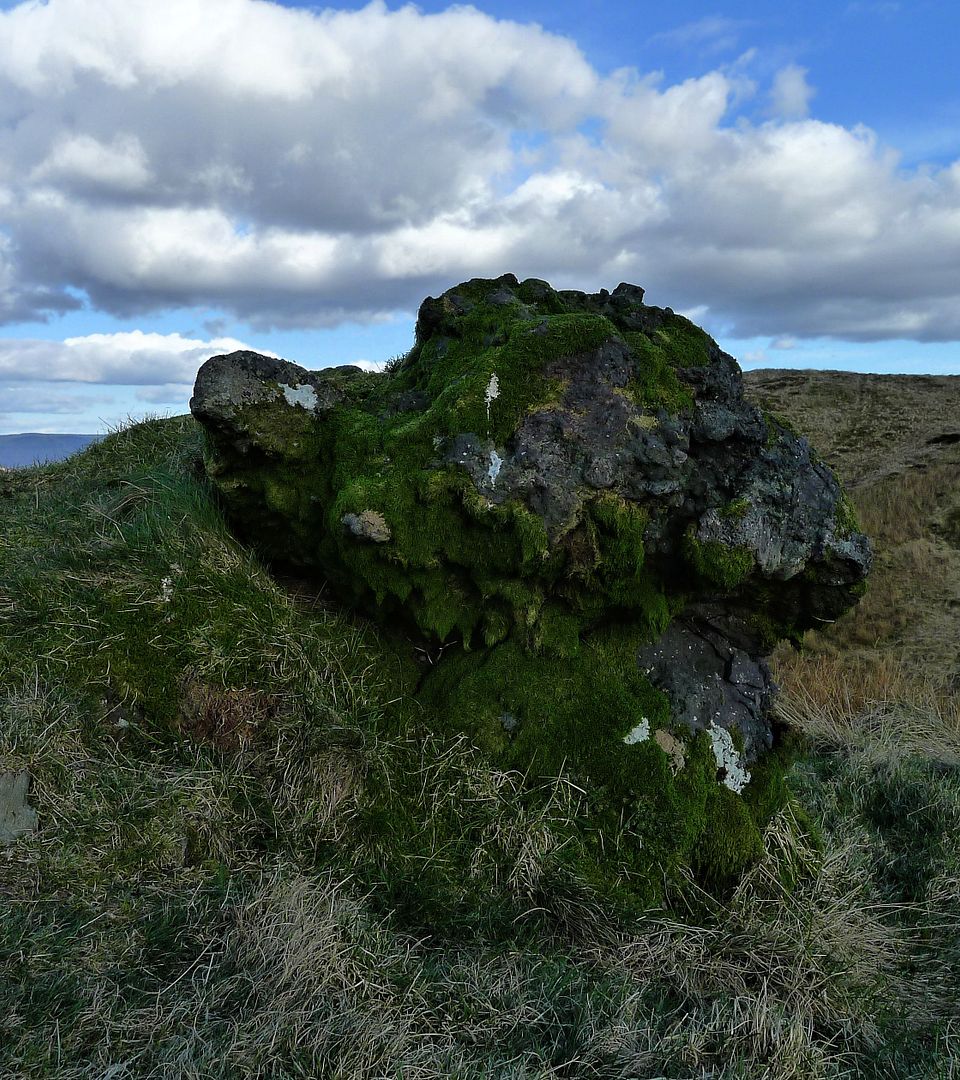 You could say it's desolate, but on a day like to day where the ground glows with the warm winter light, the sky is full of movement and colours and your eyes are wide open it's wonderful. My heart was glad to be there.
I carried that positivity back down to Loch Humphrey where I had thought maybe to descent to OK and get the train that one stop home that I probably wouldn't have to pay for, but without breaking stride with still fresh legs I took a hard right to follow the bank of the loch into terrain that hadn't seem my feet in a few years.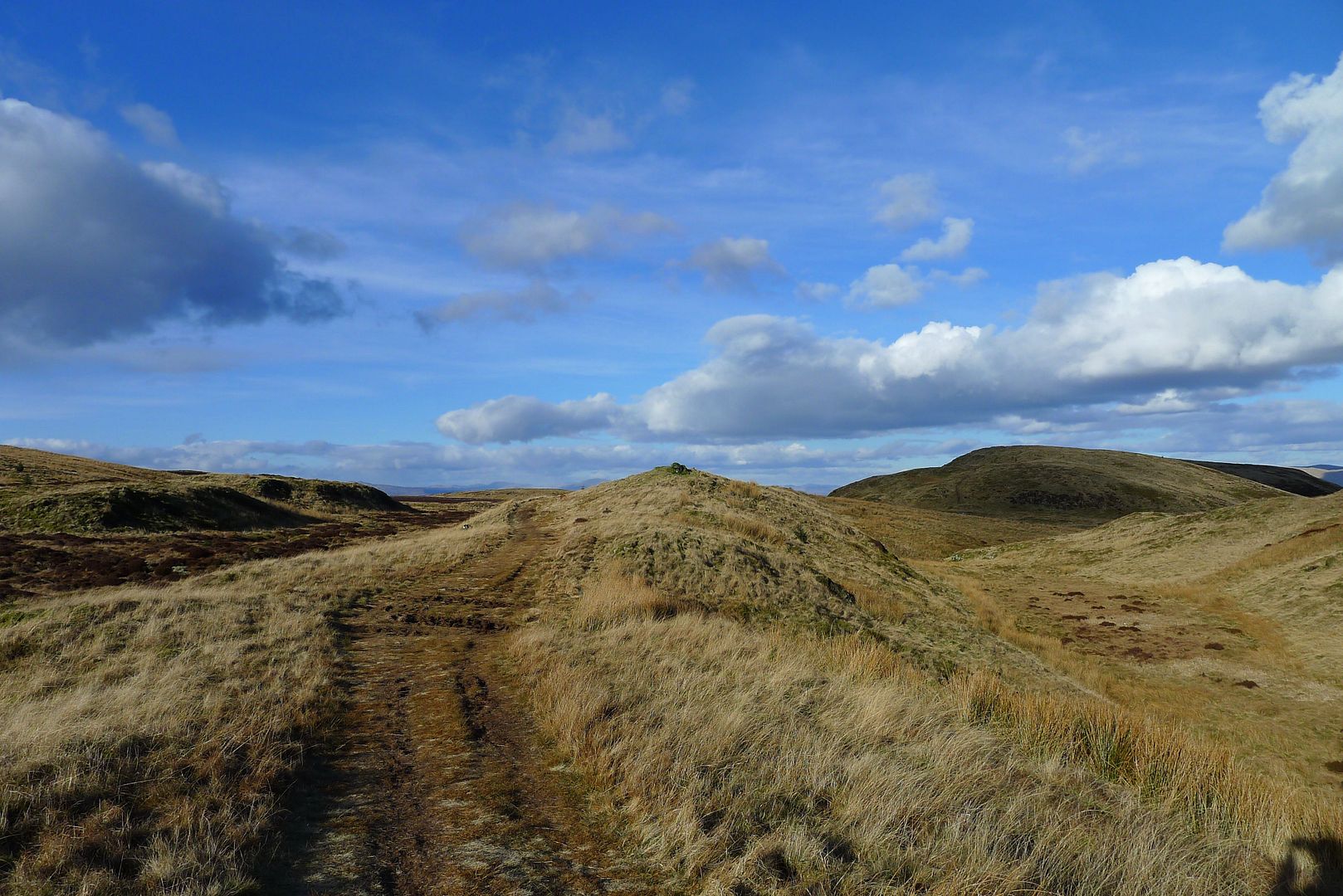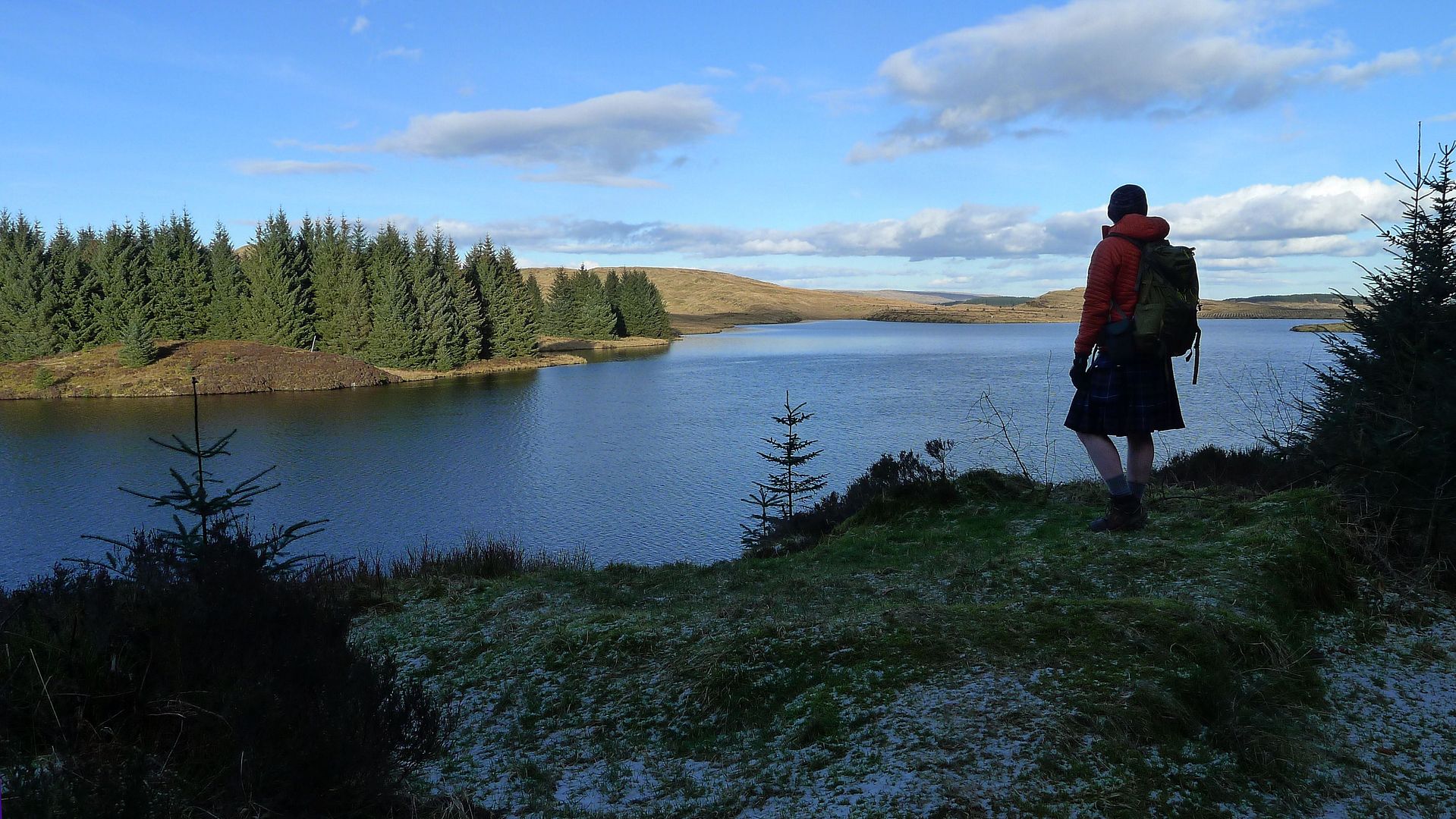 We used to walk, run and ride here, me and the old team, years back. It's almost unrecognisable now. The rough singletrack has given way to gravel paths and that too has now given way to the grinding of forestry's steel tracks.
The further west you go along Loch Humphrey you go the worse it gets, the ravaged remains of the plantations are painful but the missing pockets of natural growth hurt more.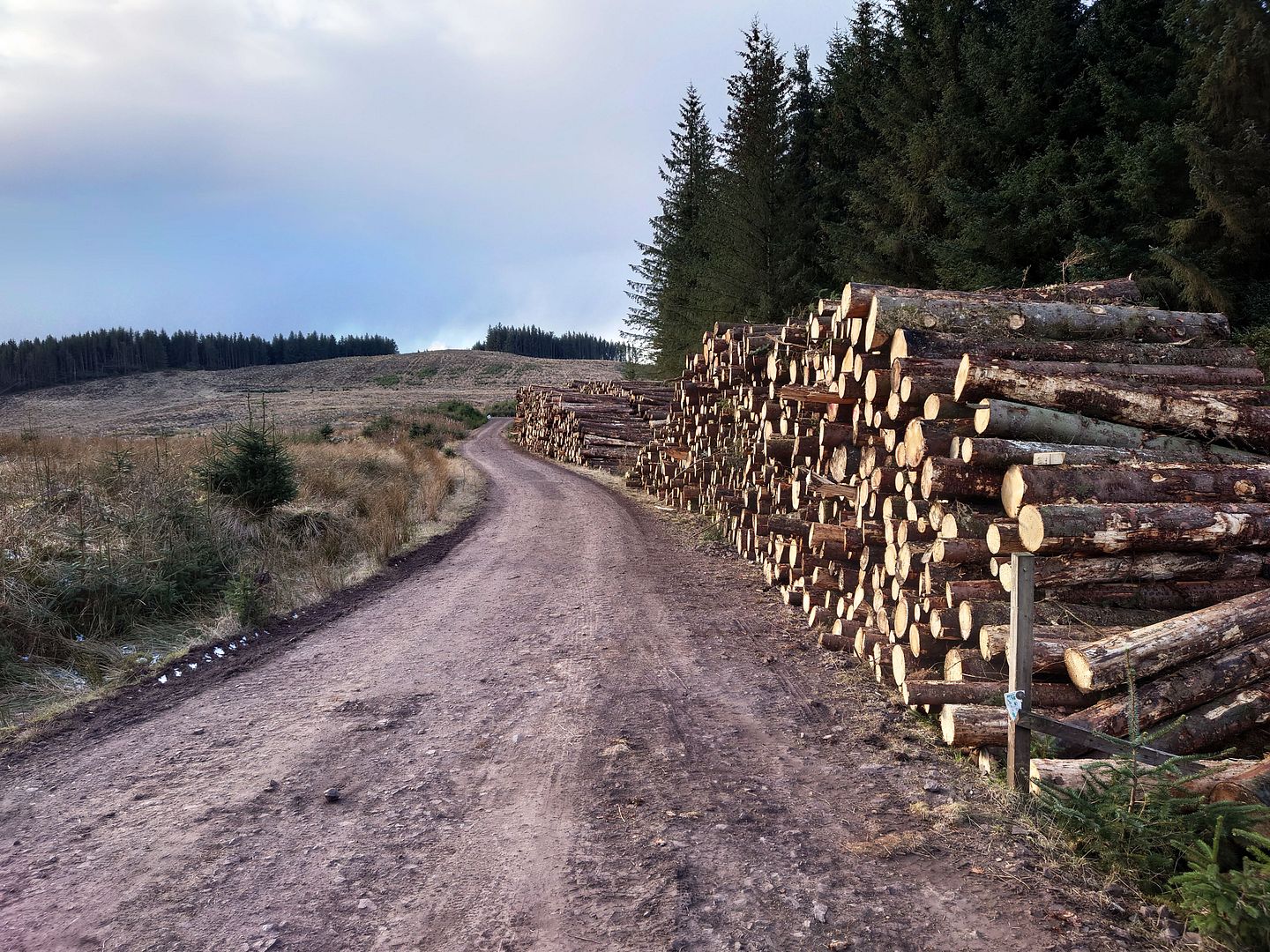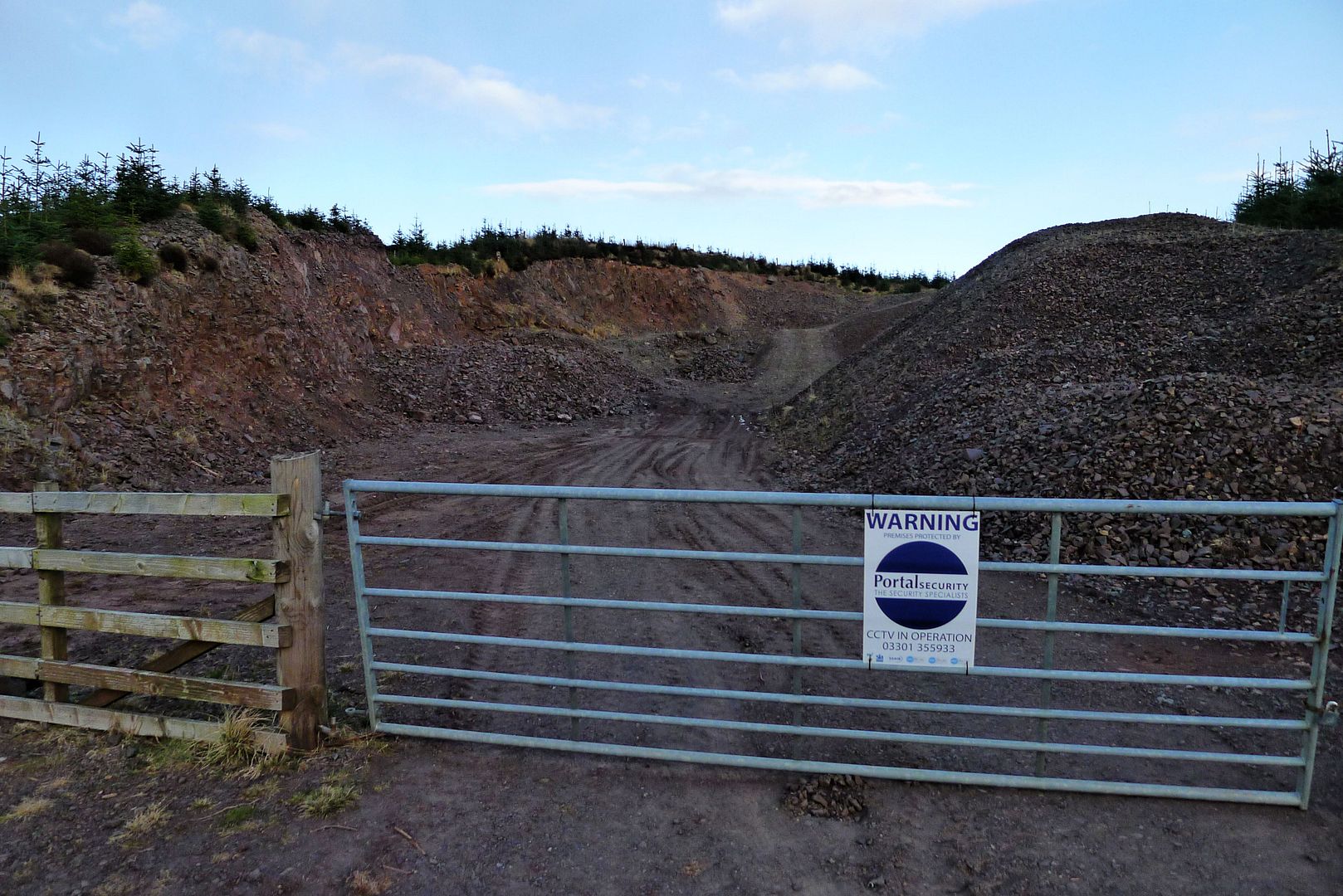 Where this quarry is was a less densely planted area which was thickly carpeted in moss which would come up to your knees on your way through to find the 376m top of Darnycaip. I'm sure this is much better though. For someone.
I can see the old trails in my head. So many happy times and so many faces that were with me that are now so far away. This trek has cemented those wonderful times into history, nothing now remains but memories.
If ever there was a lesson in why doing stuff is good it's been this. do stuff, make memories. Aye.
Here and there little bits remain, literally now off the beaten track and left to overgrow. I think I'll detour to find these when I'm back, it'll make me smile.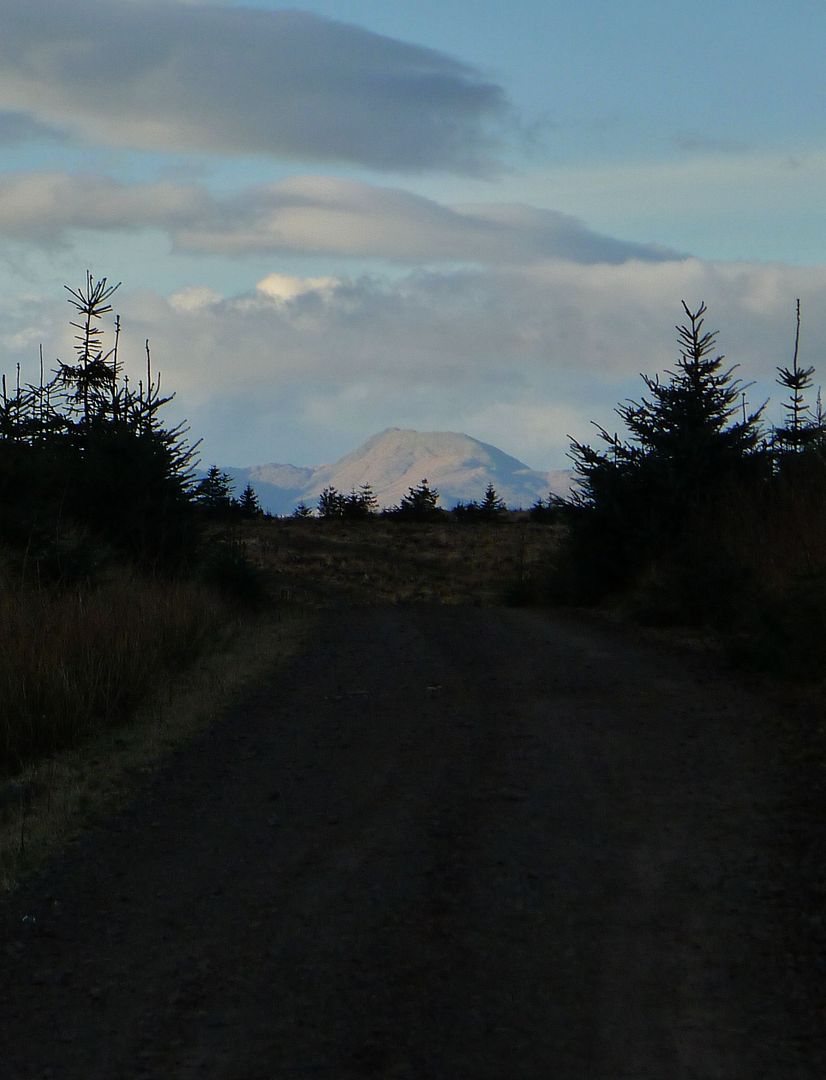 It was nearly at the Black Linn reservoir and Ben Lomond loomed serenely ahead. I'd climb the track to the crag edge and head down from there.
Snow flakes started to drift down and golden light was slipping past the crags onto the Luss Hills and catching Donut Hill too. I saw geese by the Black Linn and went for a closer look.
They waddled off as I pulled out my shell jacket and slipped it on to deflect the snow and rising wind. When I slung my pack back onto my shoulders it wasn't even a conscious decision, I just headed straight for Donut Hill.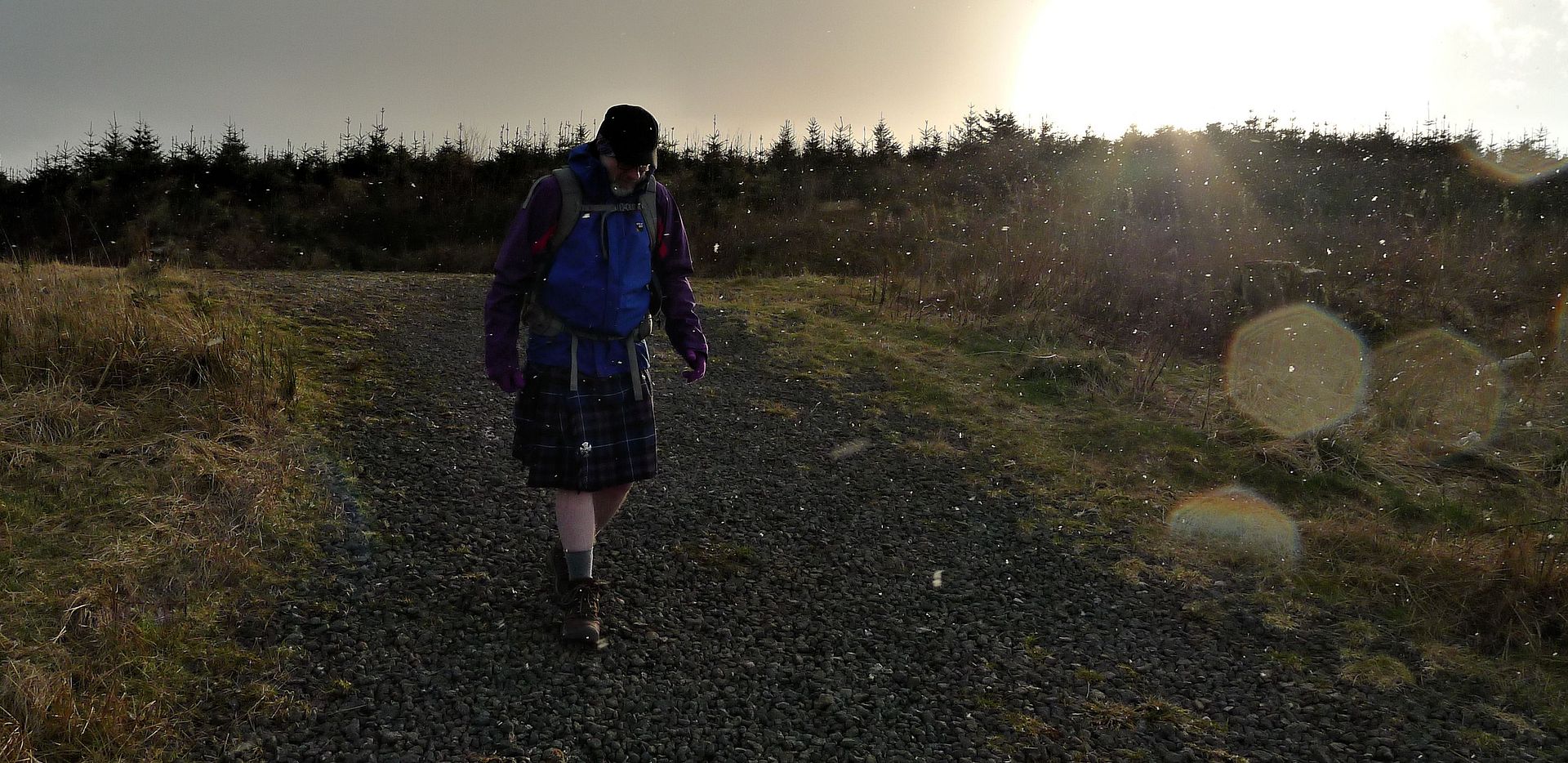 "Loving the kilt!" was the warm and cheery welcome on the cold and windy top. From there the chat went on in every direction as the sun slipped down.
The light was gentle, warm and subtle tones as snow fell to the north and the sky above absorbed any heat that remained from the sunny day we'd been enjoying.
It was cold and there would be no glorious sunset, a muted splash of gold as the sun hit the clouds just above the horizon was a sign to descend rather than wait hopefully and just get even colder.
The angle was downhill but the mood was not, there was enough light for easy walking and once on the familiar tracks of the crags it was warmer again and banter smoothed the way to the gates.
At the car park it was pitch black and the stars popped out one by one. My new pal was safely in her car and away on her way home and I walked downhill from Overtoun with a pool of LED light to follow through the darkness.

Friday night is normally cooking night but Linda was on a special mission tonight at a try out in Glasgow with Sheboom, the fantastic all female drum group so it didn't matter if I was a bit later back and Holly was eating at Granny's so all was well.
…phone rings…
Ah, so Holly's at home waiting for dinner now?
Luckily I was walking pass the M&S Food at the BP garage in Milton at the bottom of the hills before the sprint home on the flat of the cycletrack so a meal deal for two plus accessories it was.
Me and Holly dined like microwave kings, Linda came in after 9 needing toast, enthused and deaf from 3 hours of drumming and I had done 22km with nearly 700m of ascent walking from door to door.
This was a good day.