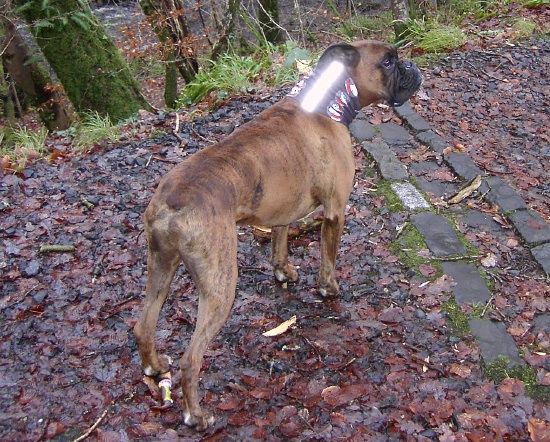 Buff burst through the door just a wee while back, and as a dog-less individual I enlisted some assistance in testing the Dog Buff in the shape of Toastie and owner Rachel Shipley.
Rachel is the Access Officer for Inverclyde Council, and is out there with Toastie making and keeping paths open and tackling ne'erdowell landowners who would have as all as serfs in a fenced compound.
Toastie took to the Buff well and didn't try to scratch it back off, and as you can see in the photies, the stance is more than just a little gallus.
Rachel said that the reflective strips works well, "…handy when you've got a dog so well camouflaged against autumn leaves!". As you can see, Rachel's got a good point. I for-see a future for Toastie as an assassin or at least as a water bailiff lying in wait for sneaky salmon stealers.
Maybe dugs won't appreaciate a Buff on the same aesthetic and performace level as us lot on two legs, but from an owners point of view, as a location beacon on the street or in the wilds with that reflective strip, it looks like a winner.
It looks like a good unrestrictive collar, and when the frost appears I can see it as a great dug ear-warmer too.
Aye, why should people be the only ones who get to dress up to go out and play.