I was swinging my poles and feet in a reasonable fashion up the steep start of the track up Ptarmigan ridge, time was getting on, but there was gaps in the cloud and this had seemed like a good idea an hour before.
What if the snow disappeared completely and I didn't get to climb Ben Lomond in the conditions that reveal it's cheekier side? I was packed and away in a few minutes.
The first people I passed in their descent were dressed in a fine assortment of 1950's college student garb, tweed, gabardine, scarves and slicked back fringes. Their mixture of leather shoes that allowed them to skate down the steep wet grass and European accents that were hard to pin down completed the slightly bizarre scene.
They tumbled past me in good spirits and then down onto the road, no doubt the dry cleaners in Drymen will have a queue out the door this morning.
The next two couples I met stopped me and questioned my motives and ability to tell the time. What can I say in these situations? "Yes, I know. I want to see what it's like descending in darkness, hill fog and snow cover with green and red LED's". No, so a simple "Yes, yes, I'm fine"" has to suffice.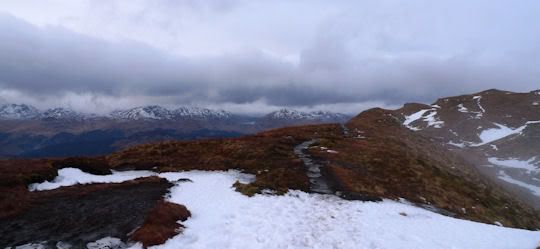 It was warm and I was glad to be gaining height and getting into the cool wind.
Here the track is steep and the long unbroken slope down to the treeline above the lochside always gives me pause for thought as I pick along the wet and slippery boulder strewn track.
It was here that I met a family. Maw & Paw, junior and juniorette, and baby being carried in junior's arms.
I stopped dead.
Being a parent changes you in so many ways. In times past a glib or crass remark after passing by would have been the order of the day, not now.
As I'm talking to the folks at normal pace I'm also looking at the scene in "parent mode" (I think this may have been attack mode in my olden days), the little baby was about Holly's age, they were all dressed in clothes for an indoor shopping centre expedition, not even for a walk in the park. Junior was holding the baby on his shoulder and her wee trouser legs had ridden up and her legs were bare. I felt sick. With all the recent events people are still risking not only their lives, but those without a say in the matter that are depending on them to make the right decisions.
For a second all I saw was Holly in peril and threw my rucksack down, swung my ice axe through the air like Zorro's blade, picked up the baby and took her to safety.
Parent mode lets you play through such scenarios before you make the right choice on what action you take. They were hesitating, so I moved to the side and ushered them by, pointing at the shower rolling down the loch towards us. I could have gotten into a debate of some sort, but I was sure that keeping them going downhill was more important than an exchange of uncertain length and outcome between us that could keep the baby high on the hill for even a second longer than necessary.
Paw seemed interested in how much further it had been to the top and how long it would take me…I was in so much inner turmoil I've no idea what the answer was that I gave. Hopefully something ludicrous and off putting.
I stood and watched them go, Paw took the baby from junior and sorted her legs, they moved quickly away and out of sight into the trees above the road.
I turned and wandered upwards again, my mind was elsewhere, my heart wasn't in it. Time and distance passed unnoticed until I met a young couple at the top of Ptarmigan. They'd turned back as it was getting late and the going was rough a bit further up, and "What's the point in this fog?". I'd wandered into the cloud and barely noticed.
I stood on one of the little tops and ate a porridge bar, put on thicker gloves and had a drink. The clouds lifted.
My mood lightened, I pressed on as the light faded. The snow was deep in places and iced in others, by the time I got to the foot of the SW ridge it was clear that I was going to need crampons and extra layers.
I had a hot cuppa while I sorted my gear out and enjoyed I dealing with an unfamiliar occurance, a hot-spot on my heel. So I could use the Grivel AirTech Lite crampons I'd had to wear boots, not big boots, but the Grivels just wouldn't fit anything but a pair of Montrail Torre GTX's. I'd gotten these back in '07 and quietly ignored them as they were boots, and Montrail had dropped them as Columbia spring-cleaned the range. So, I was breaking them in straight out of the box. A touch of Spenco on the offending areawould prevent the rubbing becoming a blister and I was good to go again.
The Torre's actually turned out to be okay, I'll try them again with the AirTechs, at least they'll fit me now.
The ridge is steep, it's narrow in places, rocky in others, but all of it still plastered in snow and ice. In rapidly fading light and strengthening winds I made painfully slow progress. 
I kept on thinking back and wondering if I should have played that meeting with the family differently and were they alright. The summit came and went and I descended into the fog with seeing the girls and getting a hot dinner the only things on my mind.

As I slipped out of the clouds and onto thinner snow and ice I stopped and took off my crampons, took a photie and as I was packing up I took my ipod out and stuck it on.
I chased my torchbeam down the trail with the sound of Saxon taking me by surprise as Shuffle Songs does it's wonderful thing.
"Stop! Get out! We are the Strong Arm of the Law!" I don't know what the wildlife made of my singing, but I could see the lights at Rowerdennan and that meant the motor and home.
I sang louder.