Sometimes I hit a wall. I suppose you might say it's stress, but I know now when I have to step out of regular operations because I'm going to achieve nothing at best and do something stupid at worst.
I'm not being cryptic there, I mean like lifting a customer off the floor by his neck because they tried to avoid paying me one time too many.
Aye, that Christmas Eve in Govan is one for Tales from the Toolbox.
I am being serious here, I have learned that mental health is something fluid, precious and unpredictable. So rather than stare at a screen or fret about this job, that job or the lack of numbers coming in compared to the ones going out, I've learned to take five so I don't just stop in my tracks.
I'm lucky in that I do lots of different things, I can head to the hills and be there in minutes, I can pick up a guitar, I can turn on the PlayStation and play with folks I've known for years or just open a book to read or sketch in.
But today I needed to burn energy, or should I maybe say transfer it.
I had important paperwork to do and the screen was white noise, I'd been putting it off and now I had a barrier to all reasonable thoughts or approaches towards it.
I swung by my folks for a cuppa, and while looking for something else I found myself looking at my long neglected mountain bikes. Dusty, handlebars loose and turned flat so they could be stored easily in the garage. They were a sorry state and I felt a mixture of sadness and guilt as I tried to separate the hack hardtail I'd sprayed matt black to hide on hike*a*bikes from my Kona Dawg full susser that I'd ridden down the West Highland Way years back.
Hoses and cables caught on levers, pedals scraped on frames and flat tyres flubbed along the tiled floor. Oh deary me.
The hardtail seemed the best option but one of the brake levers was properly broken and fixing it even if the part could be had wasn't something that I was looking for in my life right now. Bleeding 1st gen Formula hydraulic disc brakes is no fun at all my memory told me very plainly.
The Dawg is more complicated, more to go wrong, more to adjust, suspension to have to set up again, oh but the brakes feel good, here now, the chain is running smooth, hmm, the tyres are holding air.
I put flat pedals on the Dawg and went hunting for clothes.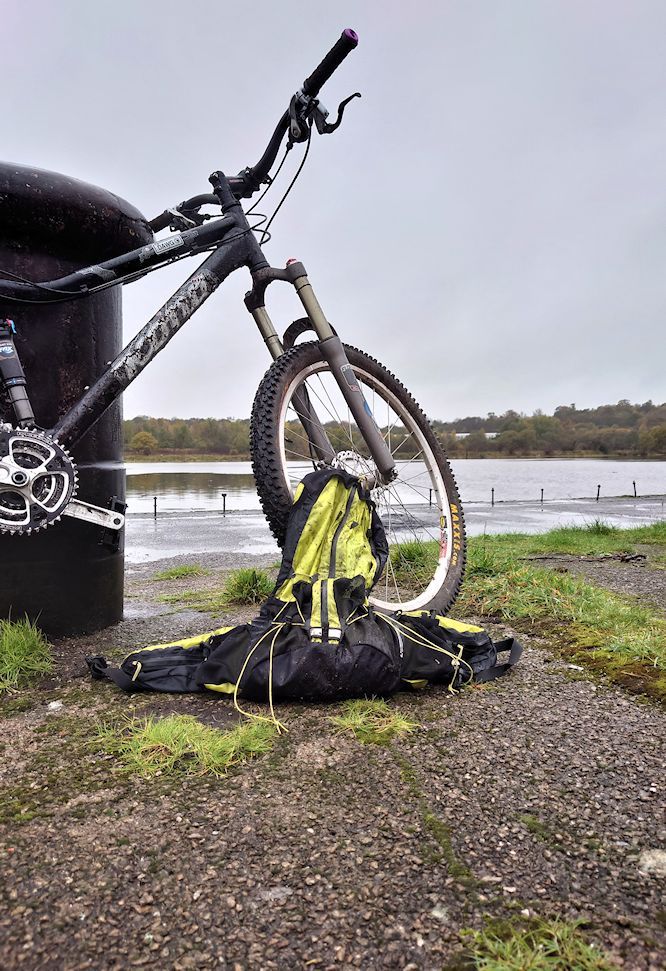 Old Karrimor bike pants in Epic fabric, remember that? The next best thing in waterproofing that actually wasn't. Great fitting trousers with perfect articulation though, if now a little tight… A Karrimor windshirt which would be fine in the rain over what's this in this old rucksack… a Woolpower long sleeve zipneck. Are they still in the UK? It's the weirdest top, but it felt great on even though it and everything else was definitely on the fusty side.
I topped off with a definitely out of date Giro helmet and bottomed out with old Salomon XA's that I fully expected to lose the soles of while I was out.
On my back, a pre production Terra Nova Laser race pack. Which was and is brilliant.
I was wobbly, no other word for it, but I did tune in pretty quick, it was literally just like riding a bike.
The joy was instant, as was the rain in my face, the smell of leaves and the sound of passing air as I swooshed through the wet autumn afternoon.
I flicked through the gears, I raced through puddles and enjoyed the fluttering in my chest as I slithered though mud and leaves that snatched at the grip of my tyres.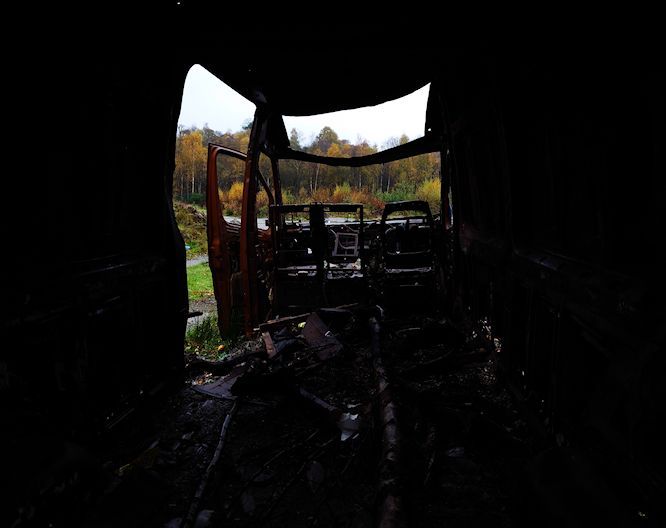 I was a few miles up the road before I knew it. I felt okay, no, I felt great. My legs had tightened, my arse knew it had just been in the saddle, but my grin had command of the situation.
I checked over the bike. the rear suspension had lost pressure, or as it turned out later I hadn't set it properly. I faffed with that as I drank my water. I have missed this.
But today I needed to burn energy, or should I maybe say transfer it.
This was the plan all along and it worked, I knew it probably would. I tore through the riverside trails, a little emboldened after a few incident free miles on the easy paths. I lost the back end and caught it, ducked under a branch as another tore at my sleeve and spat out mud as I reached the tarmac at the trails end.
My legs had tightened, but so had my head. I spun the tarmac back home, much happier and not tired at all, I felt and still feel as it approaches midnight: good.
That's not a permanent state, I don't think it can or should be.
I saw some fun stuff while I was out, I enjoyed the ride on it's own merits, I have a bunch of drying washing and I now have a bike ready to go again.
I can't see me hurling down the crags like I used to, but I'll be out when I can.
Paperwork finished and submitted.