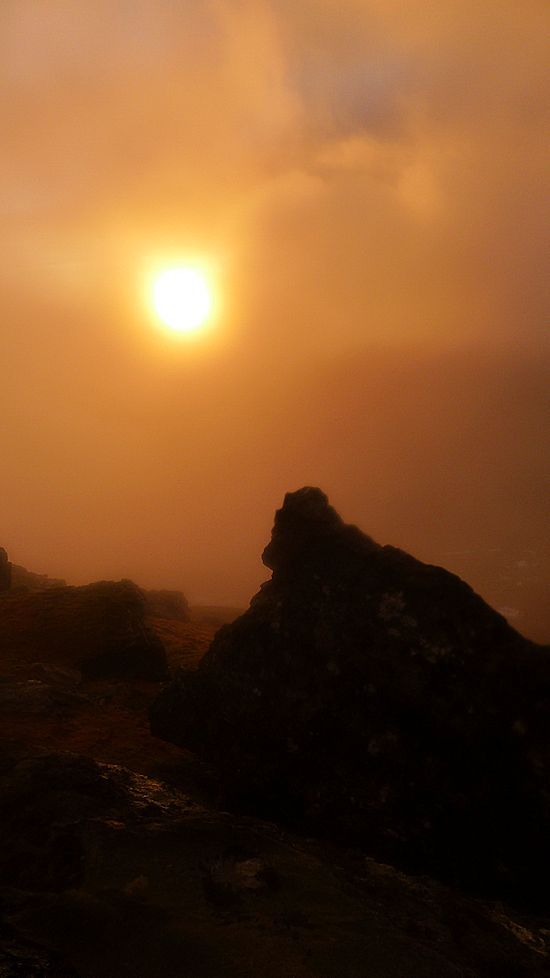 There was no reason other than I wanted to go. That's the best reason.
The first steps are the hardest, starting with the one that hits the floor beside the bed. The ones leading away from the motor are a mix of anticipation and dread. I knew how much this was going to hurt.
I was breathing hard and the wind was keeping me cool when I met David who was descending. I was glad of the rest and he was an enthusiastic soul, hopefully still is after my barrage of local information. I left with cheerfulness recharged and a chill about my body, I stopped and layered up next to some rocks which had deep crevices all through them. I skipped around peering into the dark drops as the clouds whipped by above in shades of pink. Cold, a bit breathless and having fun.
The wind was ever stronger and with a little dampness in it too, a sharp dampness at that, rocket powered drizzle is like having your cheeks wire-brushed.
Some snow, quite frozen too, some bog and quickly passing views as I strode with as much conviction as I could muster above the crags. A sharp descent on rock was done in the manner of a drunken, fat, middle- aged lady in high heels getting out of the back of a taxi. Though I did keep a hold of my handbag.
The sun was over there and I was here, I was happy for both of us. Swirling clouds lit by pinks and yellows glowed like neon against the dark wet rock as I winced into the wind to reach the trig point. Haven't been here in years, nice to drive pass the obvious places, but what the hell it's all Macfarlane country around Arrochar, honey I'm home?
I hid in a corner, the bramble jelly had stuck together my roll with it's other contents of ham, apple and cheese very well. The first coffee tasted of relief, but the last little bit went cold when I was taking photies, the second coffee tasted of joy and went down quickly, the third coffee tasted of coffee which I was quite glad about as that's what I'd actually put in the flask, not any of that other weird shit I was talked about a second ago.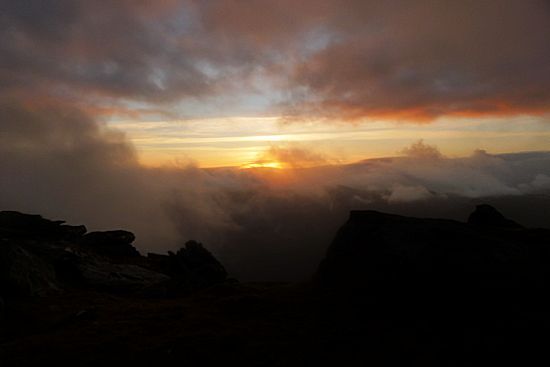 I was enjoying the fuzzy fireworks but my hands were frozen. My mitts went on but it was too late, I knew I'm be all wobbly lip and teary eyes if I didn't get moving soon. I got moving, downhillwards.
A truck came out of the forest in the dark to my mild alarm as I thought he was on the road at first and I'd lost my bearings to a worrying degree. More unexpected lights were at the landslide on the Rest and be Thankful, they've charmingly illuminated the the trouble spot with uphill facing arc-lamps. When the hillside is approaching your passing vehicle as speed you'll be able to enjoy the experience in hi-def.
Yes, legs are a bit tight, and I should have drank more water, but I'm good tonight.