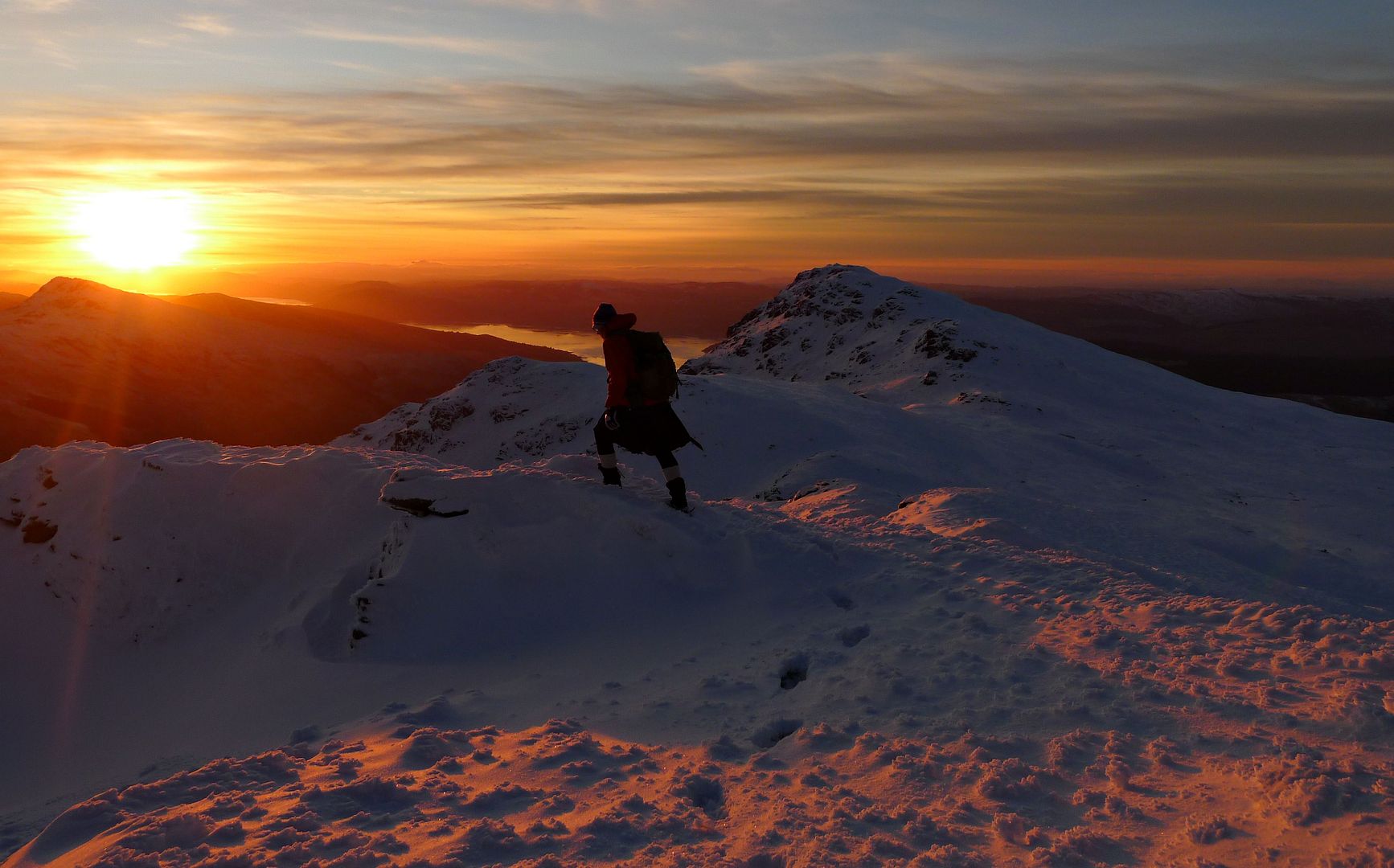 I'd been out earlier in the week, it was late when I left so the day was always going to be short and as seems to be a seasonal norm now my unexpectedly post covid legs and lungs just weren't where I thought they were going to be. 2022 had been a year of physically rebuilding for me with weight, diet and fitness all addressed, so many miles me and Linda put in. I was coming into winter the readiest I'd been in years until the two red lines changed that plan.
But as fun as it was being out, my pace was slow and as conditions and darkness pressed down on me I stopped short of the summit and wandered back down below the snowline to sit with a cuppa and ponder.
I wasn't despondent, but I wasn't exactly resolute in going forward either. It was a "is this it now?" moment. A mental limbo of sorts maybe. I had however just marched up Ben Lomond in a kilt and crampons which as a mixture of mischief and research had perfectly hit all my spots and I'm still smiling about it now having worn a kilt on three days out of last weeks' seven.
A couple of days on and I was feeling okay, I had some fresh review kit in and the weather was looking excellent. There was no doubt I was going to go but as I packed and piled some clothes on the bed I eyed the kilt again and it made me smile. I had enjoyed the experience of wearing it and there was less wind forecast, so what the hell.
The hills of home dressed like a native? The Arrochar Alps it was.

I swapped around destinations as I went by them. A sea level start was out, I wasn't wanting to push hard because daylight was short twice in a row so I headed towards the Rest and Be Thankful and ever evolving, permanent and reality defying roadworks. Ben Donich hmm, Beinn an Lochan err, Beinn Luibhean aye, it's an old favourite. I parked up and looked at the shiny new deer fence half way up the NW slope I like to shin up. Was I in the mood to cross a deer fence and trip across the plantation in a kilt and slightly tired legs. No is the obvious answer.
Butterbridge was the next stop and the delightfully rough and overlooked Stob Coire Creagach is just across the A83 racetrack. Brown and yellow grass, bare birches then dark grey crags with pure white fingers reaching through and around them from above.
I had a little flutter in my chest: caffeine, excitement and I'm admitting to a wee bit apprehension too. It's not a tall hill, but it's steep and it looked simple awesome, every inch the winter mountain.
There was a spring in my step as I left the tarmac and headed up the side of the burn.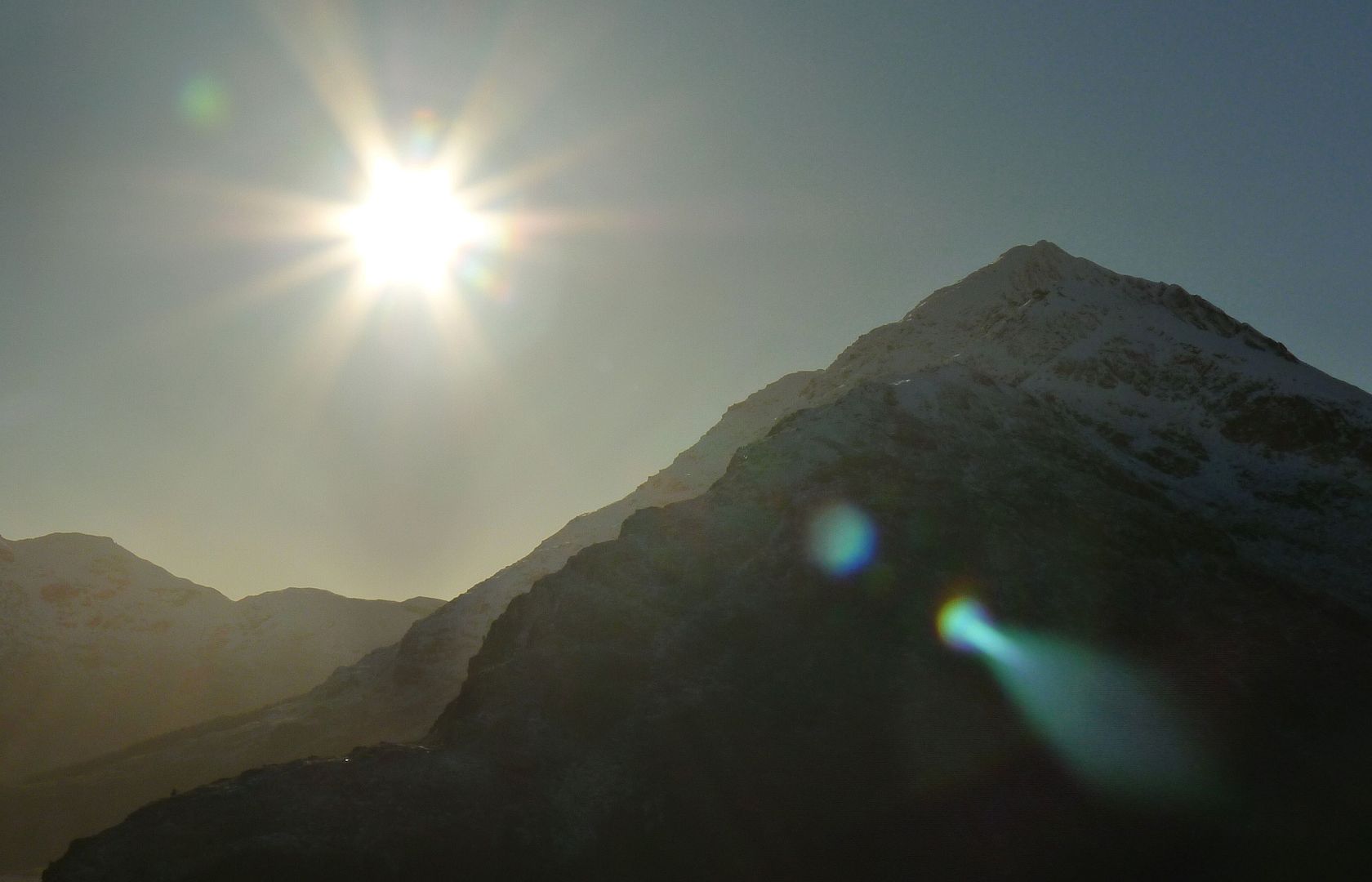 It's hard work. There's no path, no obvious easy line and the happiness of your ascent is very much down to your eyes, your judgement and your map. It's steep all around, plenty of dead ends and unending fun because of it all.
The views are pure magic too. Unusual angles of familiar peaks and the broken Arrochar Alp terrain all around you too. Add to that you will likely see no one else all day and this is a hill to treasure.
Seriously, in my life I have met one other person up here.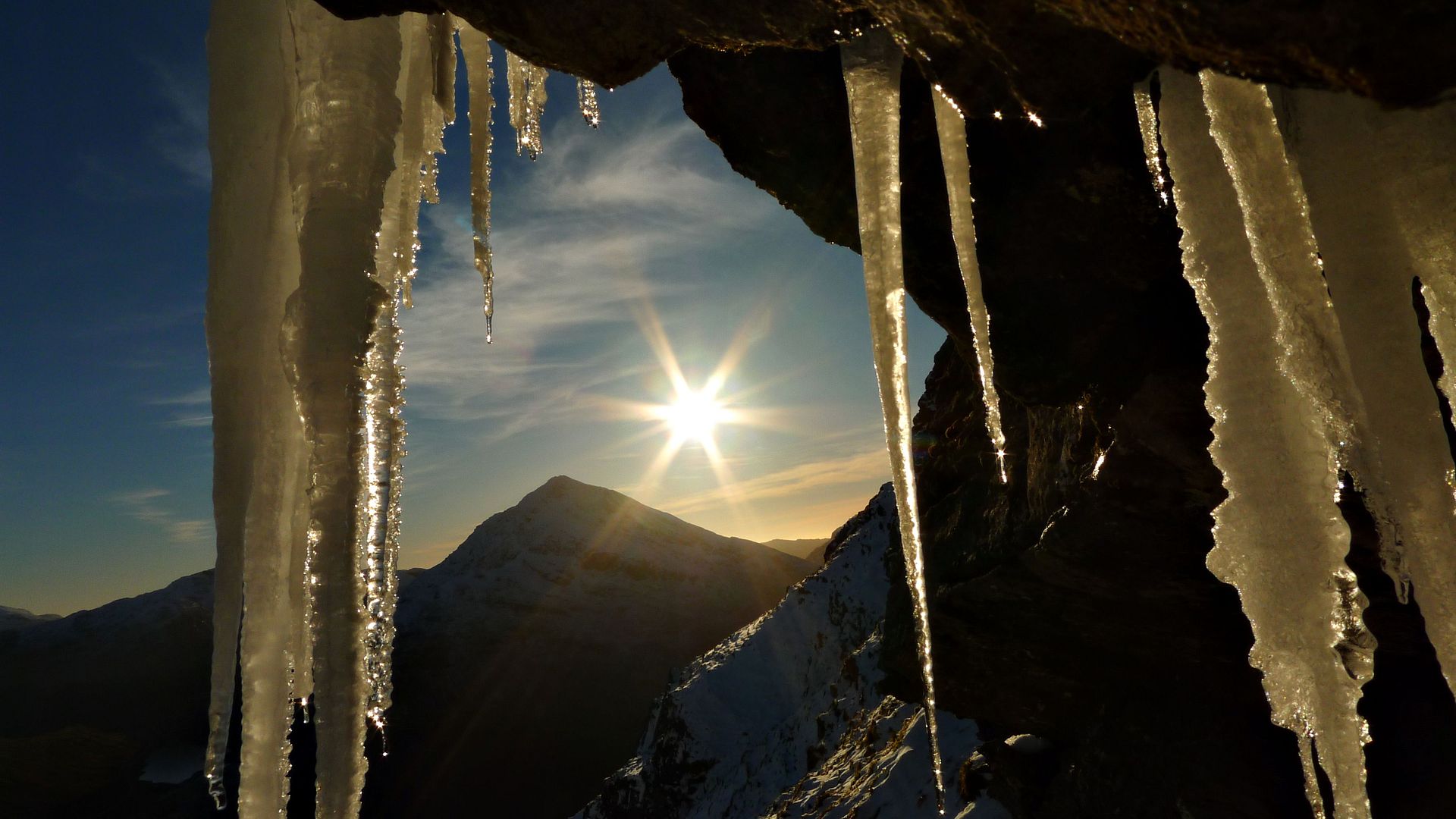 It was getting constantly icy underfoot, the snow was firming up as I got higher so I found a sun trap for a cuppa break and gear rotation. I'm not an idiot so I've got merino longjons under my kilt. I messed with a few different ideas and this seemed like it would be the best and after two trips I'm liking it. I have them folded up above me knee when it's warm lower down and this hasn't proved uncomfortable, restrictive or annoying yet. When the wind has picked up or the temperature is low enough for me to really feel it I'll roll them down to the the top of my socks or down to my ankle under my socks if I need to. I had mini gaiters too which works great with my steel Kahtoolas, sealing up the boots and keeping the snow out.
Rolling your pants up and down might look like I'm paddling at the beach in the 50s in my slacks but it's been a revelation how comfy it is. Uphill in a kilt on rough ground is less restrictive than in any trousers I've even worn, temperature control is quicker, better and easier too. It's just an incredibly pleasant thing to be doing.
I know it has limitations, especially in the wet and high wind and I definitely was approaching my low temperature limit eariler in the week, but still, I can't deny the facts from actually doing it.
Anyway, if it all went wrong my OMM Kamelika's were in my pack. Aye, I'm no' daft.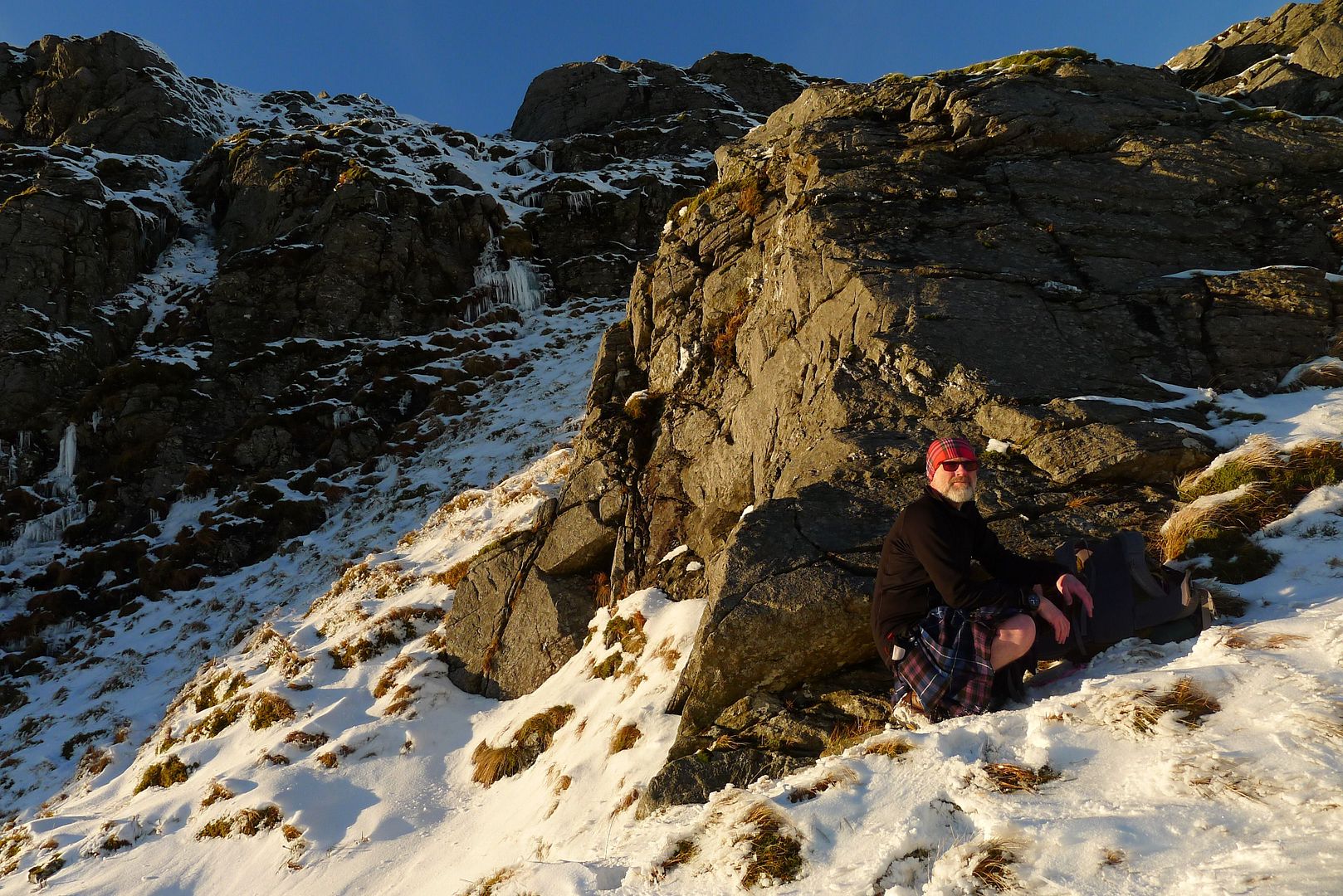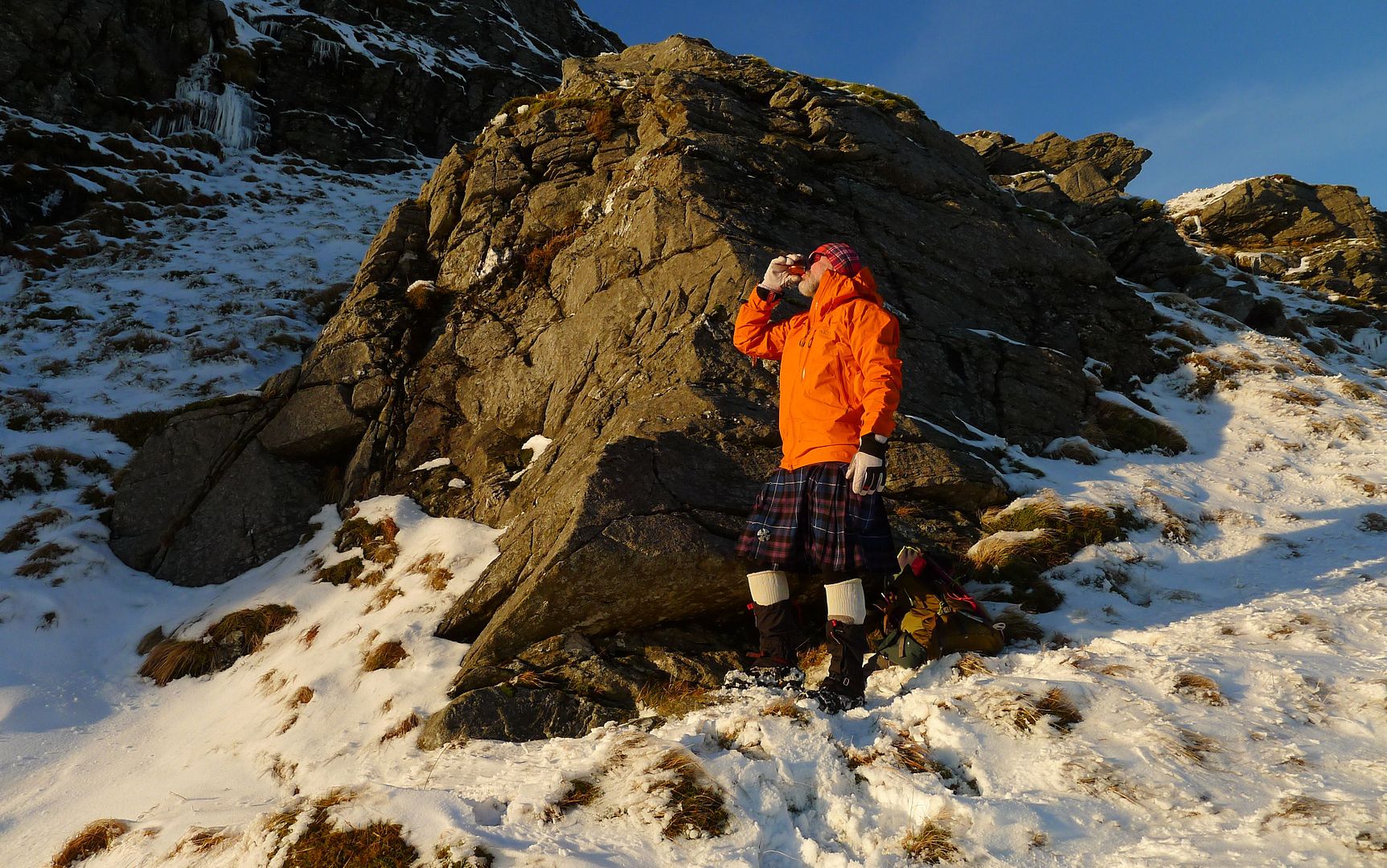 2023 Gore-Tex and Victorian clan culture redux highland wear? Yes please.
The way up was round the left of that crag and onto a lovely smooth snow slope. It was crunchy most of the way from there, even with the modest altitude. You might even say it was perfect.
He's a happy looking bastard that guy anyway.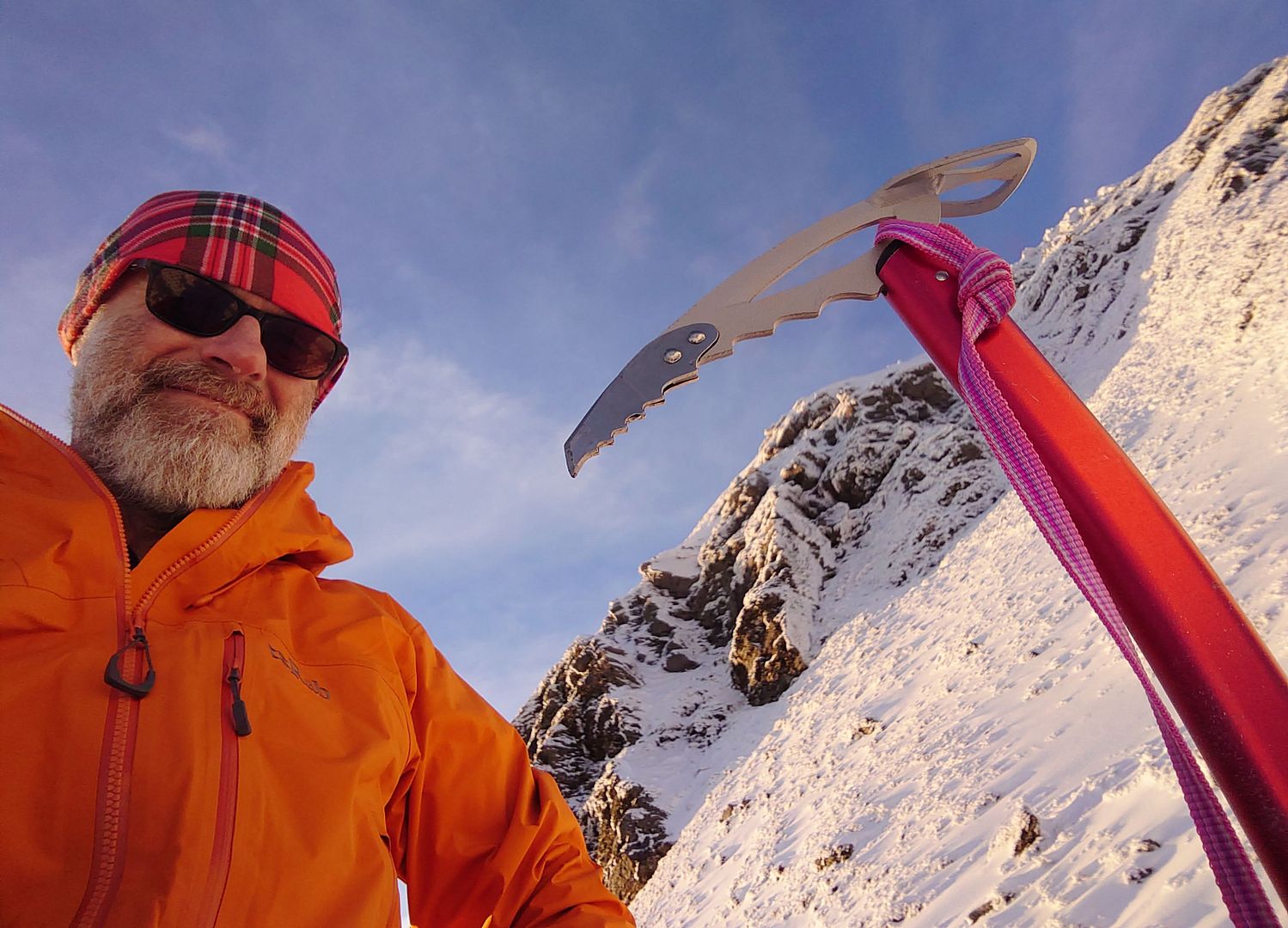 I was already losing the light, despite probably making good time in jumble of crags. I probably made as many genuine stopping to look at the view moments as I did stopping to look at the view to actually catch my breath moments.
Time wasn't important, I was loving every step. Every whisper of wind was a word of encouragement, every crackle as ice crumbled from the rock after a day in the sun a musical note, every drip from the end my nose was, well, wiped on my glove. But if I'm doing it there and not on a paper hankie while I'm at home I must be winning right?
The show and ice was sculpted and formed by the weather and changeable conditions. My footsteps were the only ones other than occasional animal tracks. It was all new, fresh and clean. Quite beautiful.
The rock's grey took on some of the lowering sun to maybe grudgingly shine a little golden brown out towards me. It's okay, you don't have to wear black all the time, if anyone's on your side it's me. Shine away.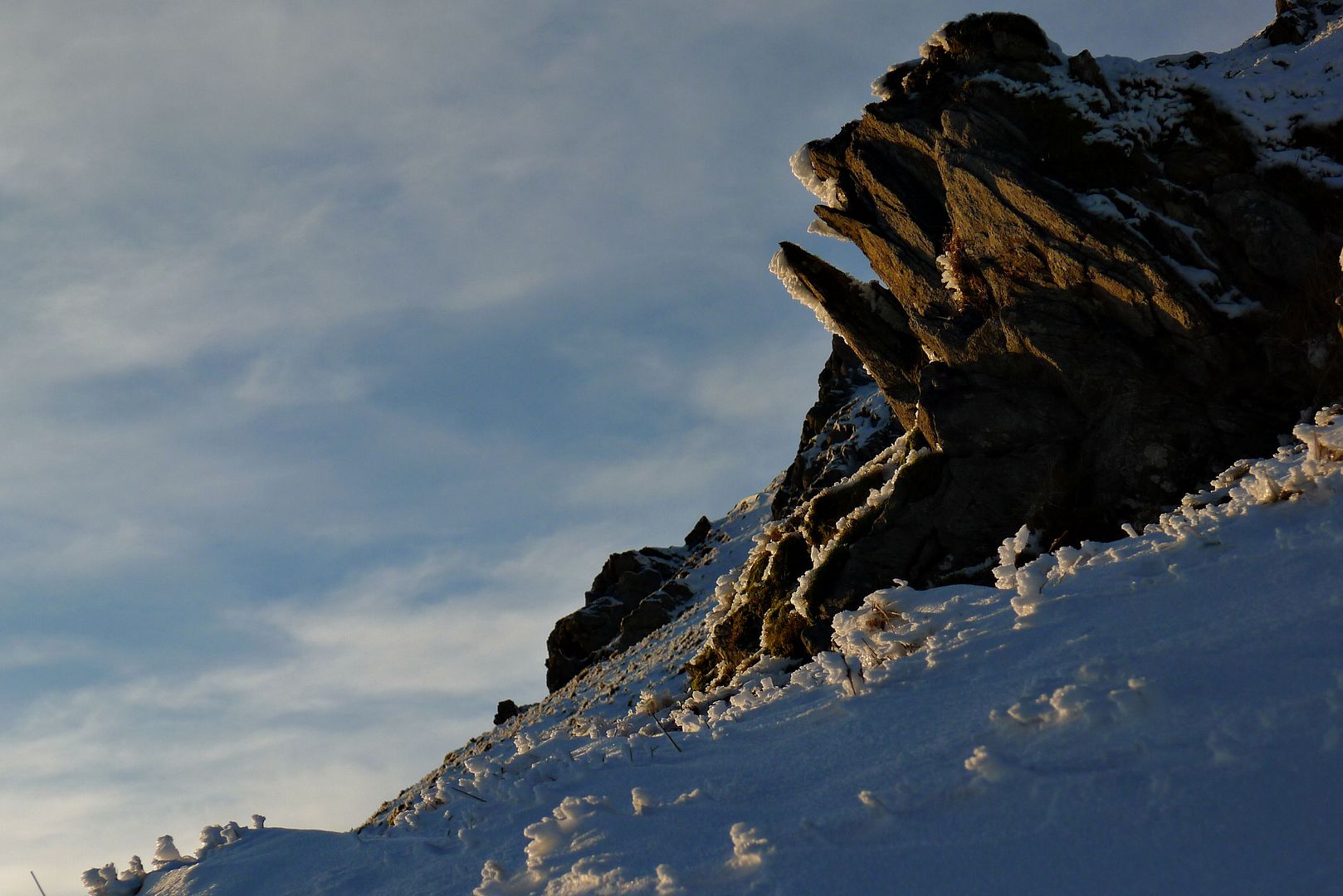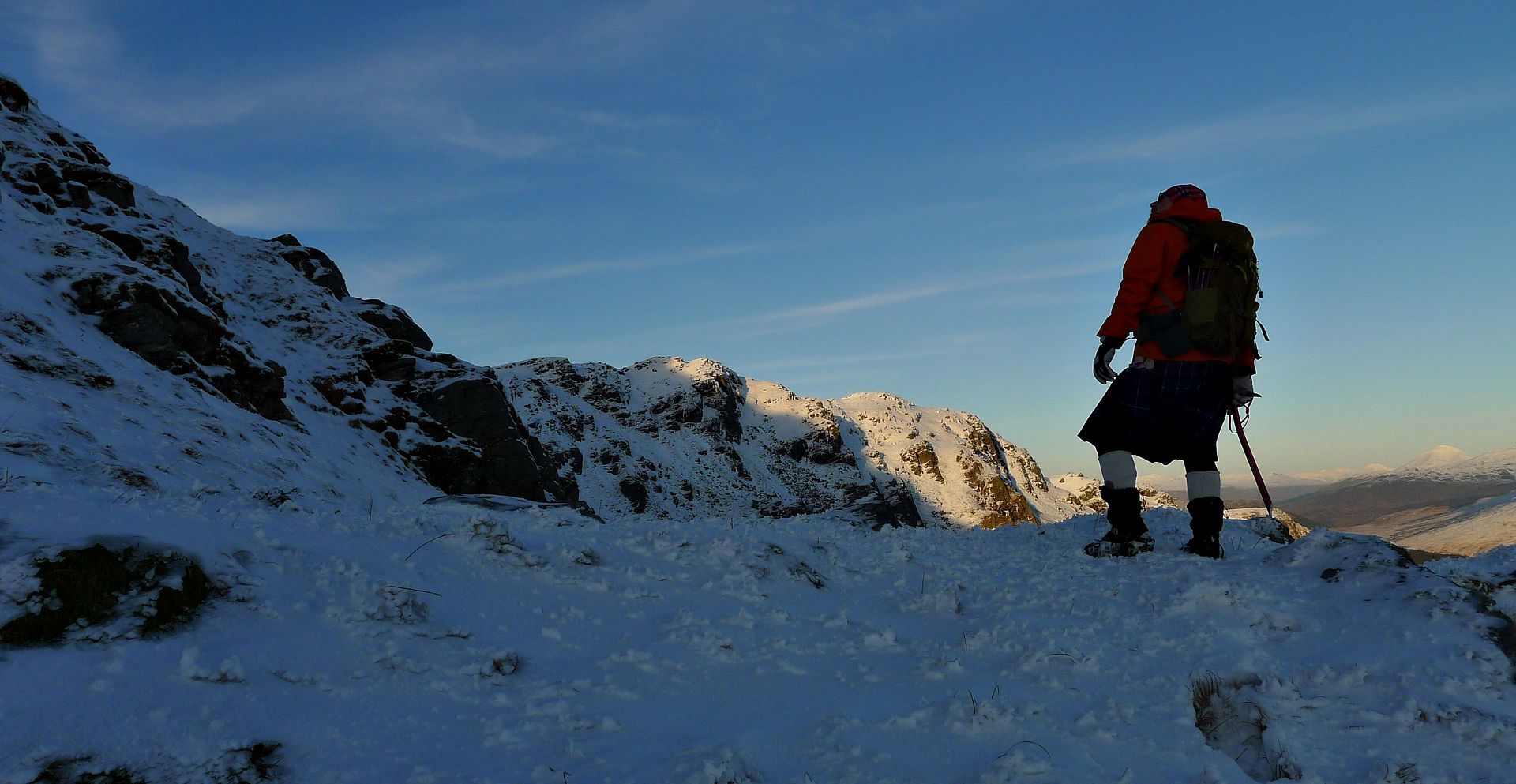 I did think about walking the ridge and descending to Glen Kinglas for a nice wander back up next to the river but that would have blocked out the sunset and although you can never presume to get that splash of colour, it's okay to hope and I was definitely but quietly hoping so I stayed on course around the rocks, stitching together the short steep snow slopes.
It was the best way to go as it tuns out. The west was hazing out to see and the sun was sinking into it, diffusing it's beams into a golden wintry glow. I stood on the summit and soaked it in with a grin so wide.
The snow took on the sun's new hues of pink and gold and the wind rose a little to see the sights, not enough to chill me, just cool but calm fitting the mood perfectly.
I wandered the chain of tops that make Binnein an Fhidhleir. Snow broken only by now black rock and visited only my my own footprints. The herd of deer by the Eas Riachain to the north saw me or sniffed me out and oh so begrudgingly moved a little further on every time I moved west until the gave up and ignored me.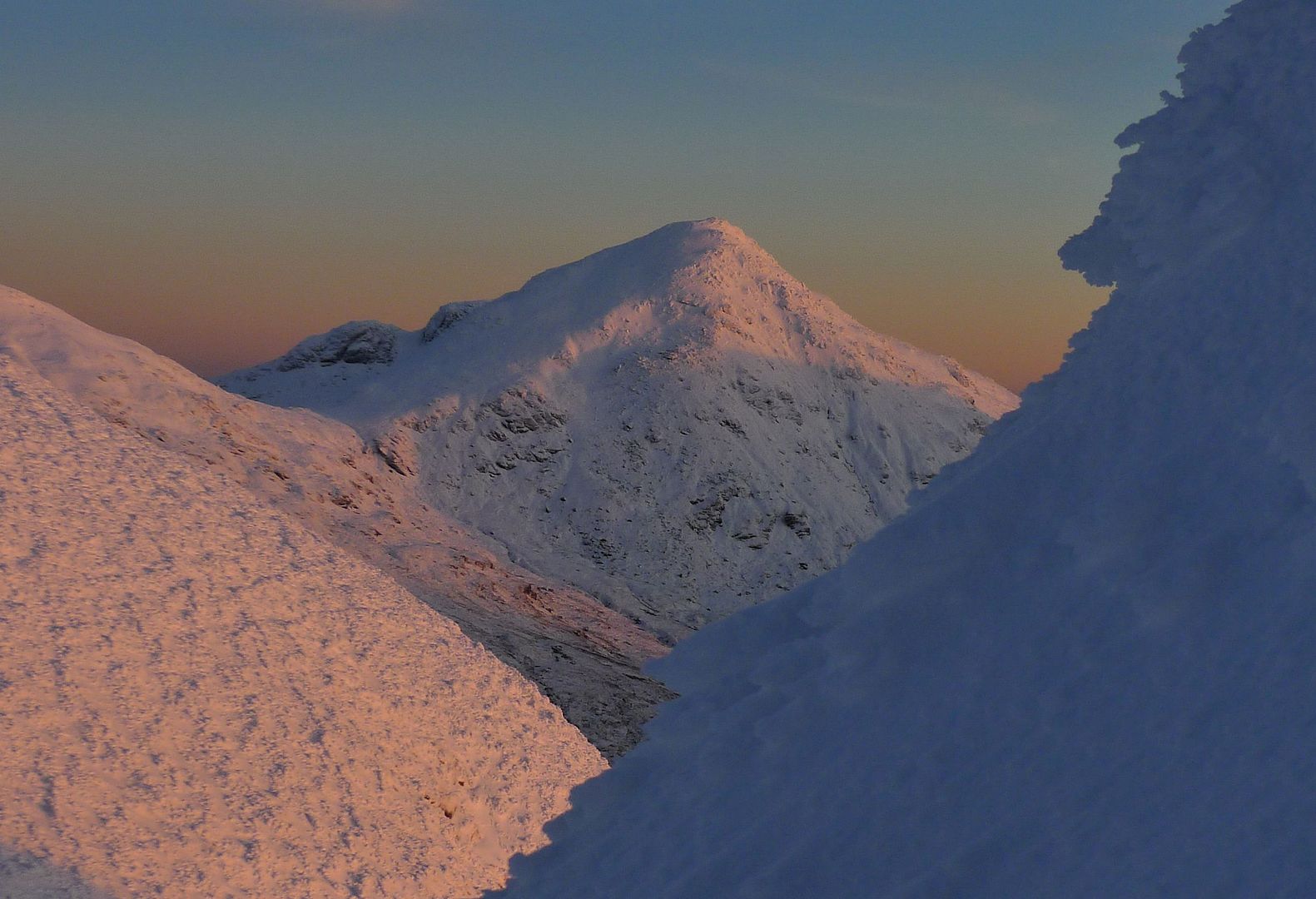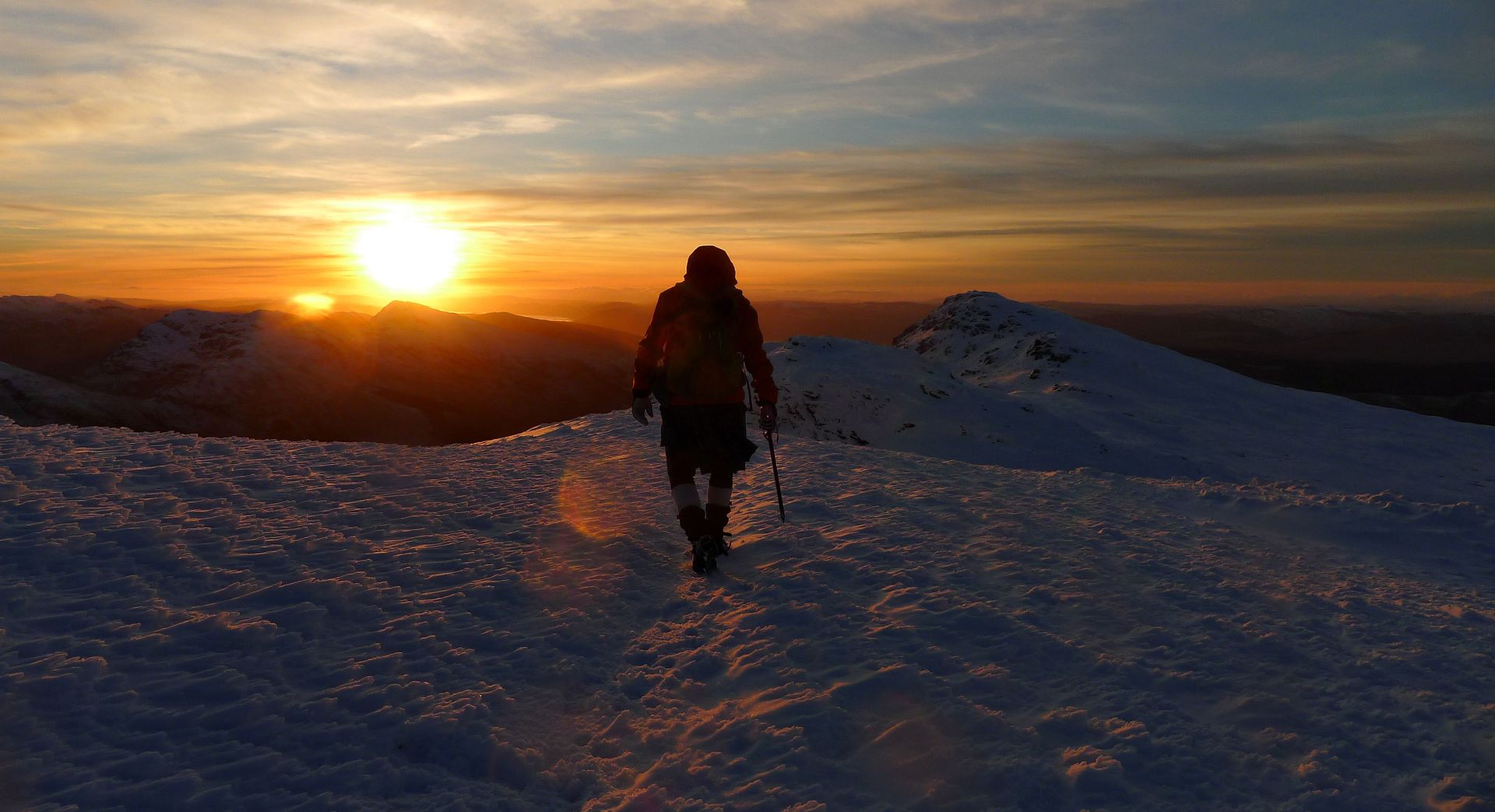 I had the best fun on the ascent and my legs and lungs were okay. Maybe the stretch out they had on Ben Lomond had been a good thing. Whatever, as the sun went down and I had the summits to my self I was feeling good.
No, I was feeling great.
I wanted to look in every direction at once, I wanted to go over there, no I'll go there first and stand on that crag and see what's… Oh, I might descend this gully instead.
I've often said we're just dressing up to go out and play and it rarely feels more accurate than times like this. Joy from finger tip to toe, just to be there.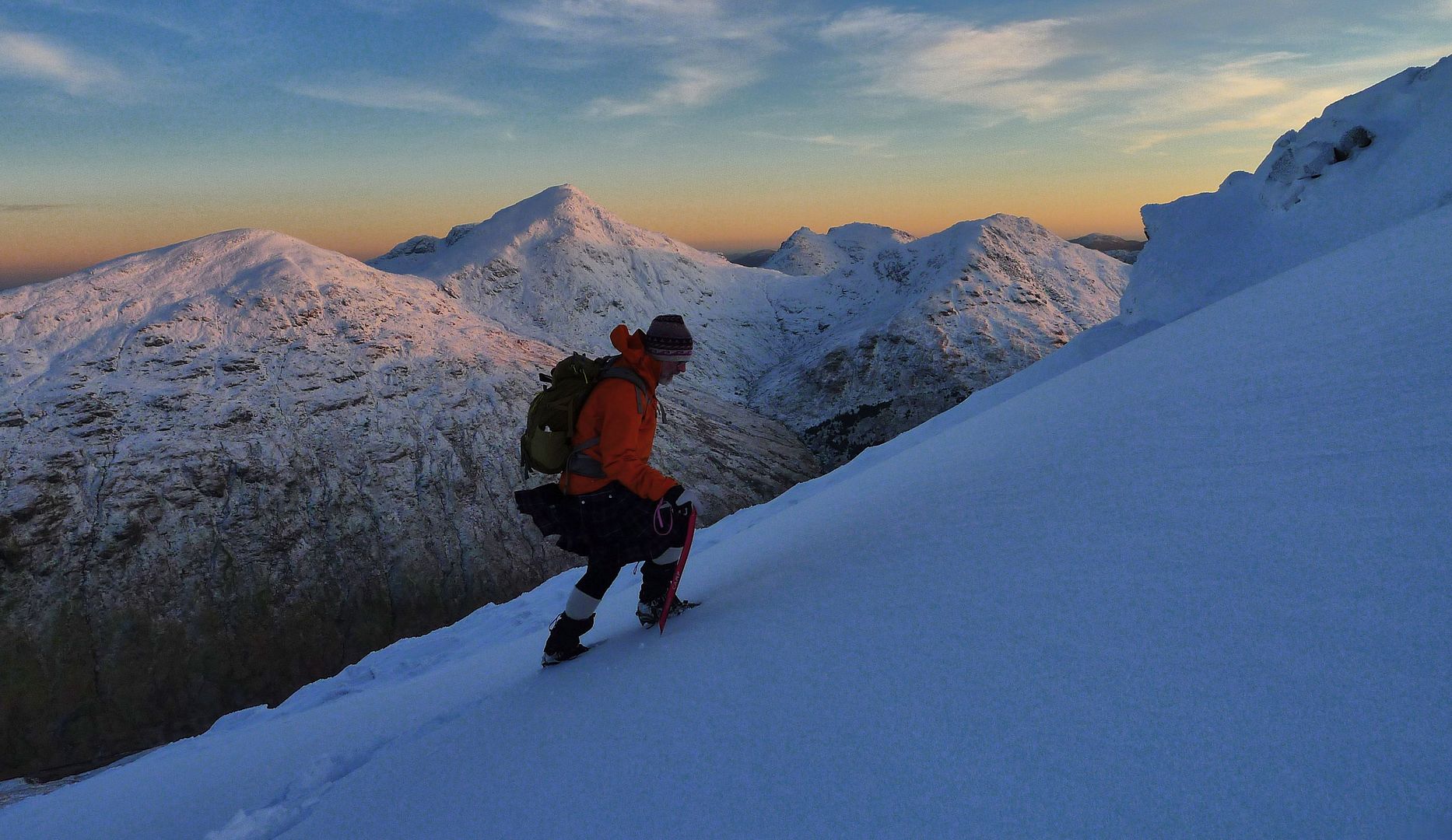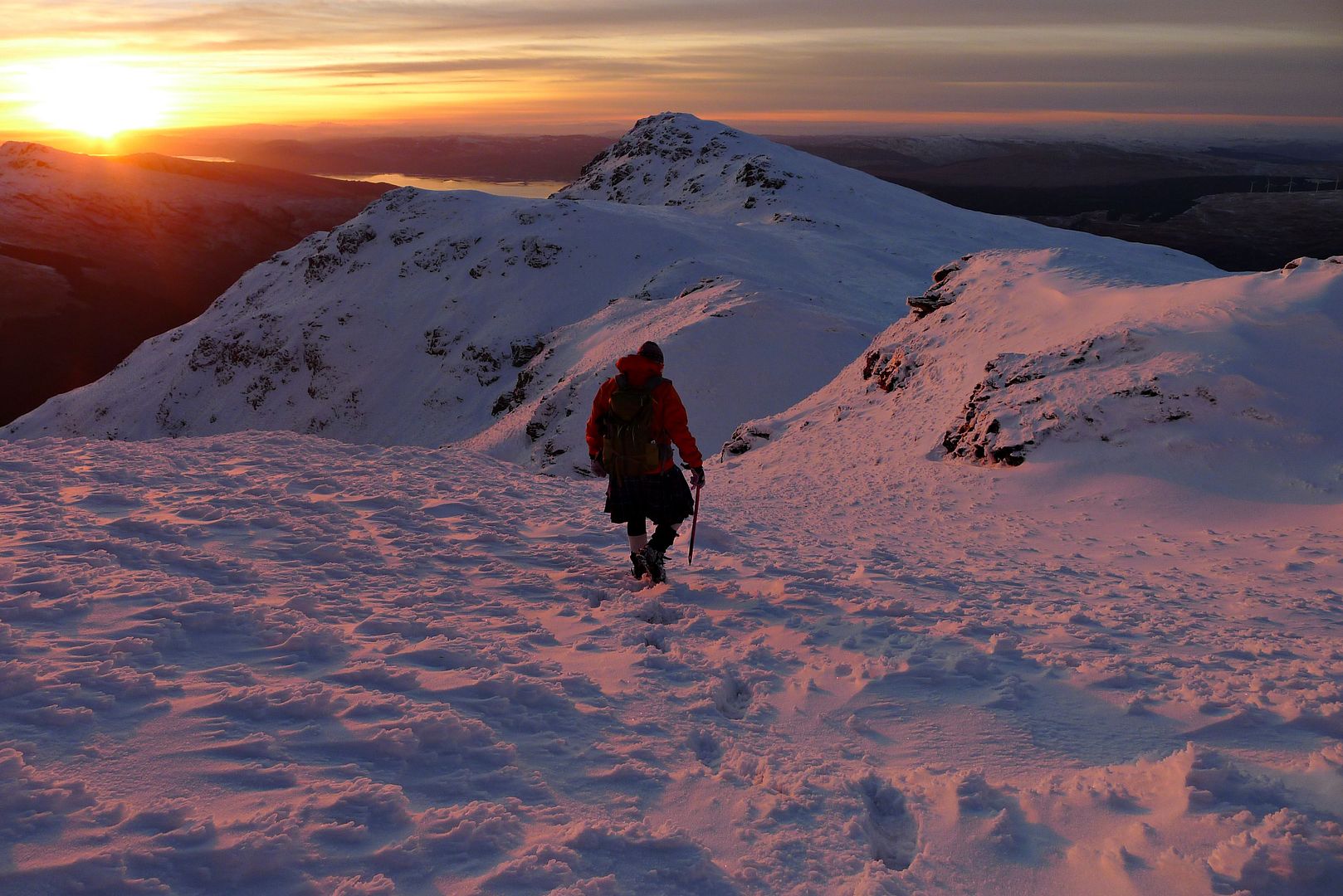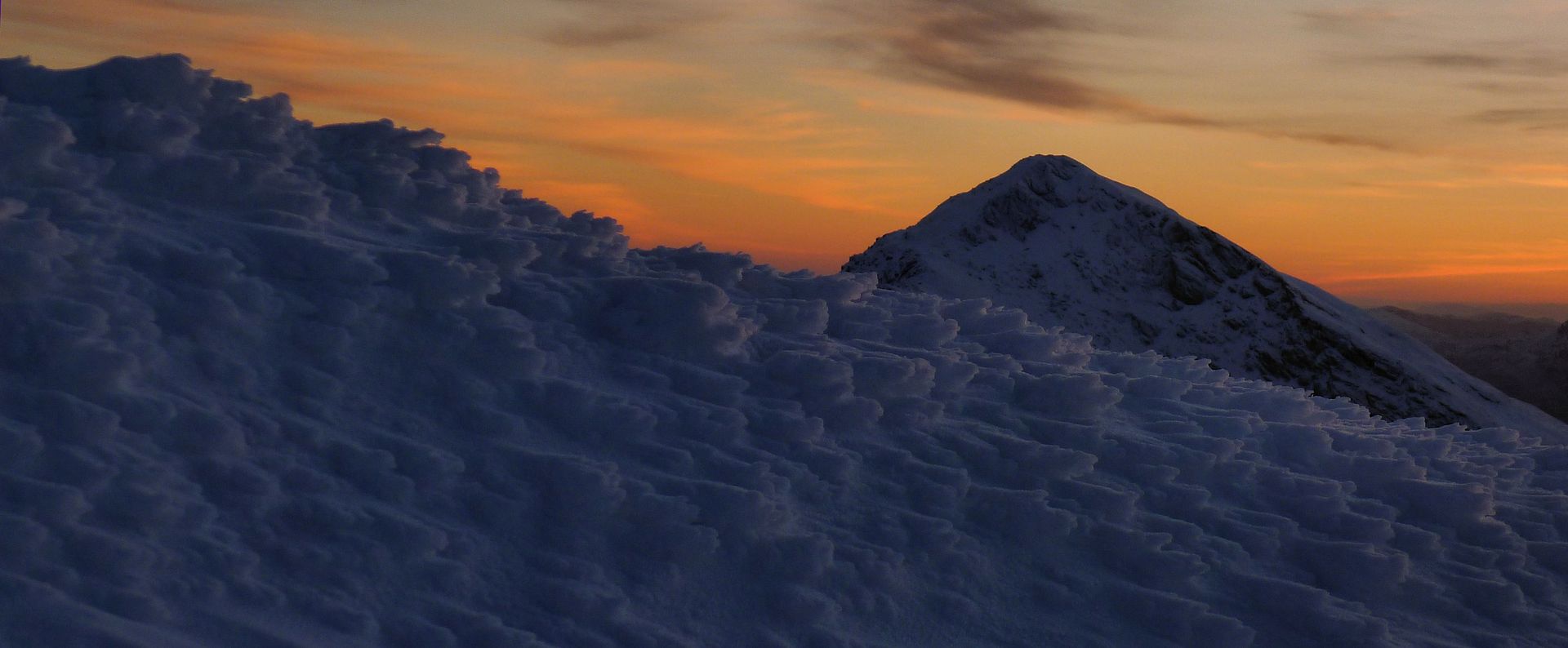 The scenery just kept on giving. The forms of the frozen summits, the colours of the sky, every step along there was something else to make me stop and stare and maybe take a photie with latest vintage Panasonic. I think that's shots from my fourth LX5 we're looking at here. Where would I be without eBay.
As the sun sank away the snow seemed to glow a little brighter once again and the sky and the land were washed over with a pale soft blue streaked distantly with pink.
Other than a lone raven coughing in the coire it was utterly silent. I caught and held my breath and listened. Nothing, absolutely nothing. So close to home, but standing here in these two footprints I was very much on my own.
It wasn't a lonely feeling though because I know what that's like, to be busy, to be surrounded but to feel alone. And while I might still get overwhelmed, find myself stuck, be looking for help, I haven't felt alone in years.
No, this was a moment of solitary contentment.
The gully was steep but the ribbon of snow down it's length looked like fun and skipped down it with a grin that hadn't shifted in what felt like hours.
All hill days have something, a memory will be made or a maybe a lesson learned. But some hill days have a sparkle, the little day on a wee local hill will keep shining bright for me.
Such was my mood that when I took a call just at the snowline (what are we doing about dinner? yes, I'm on my way) I put music on, something I never do and I stood playing air guitar on my ice axe to the first song that played (Ghost's Kaisarion, in case my aging brain forgets) because it just hit the spot perfectly and the joy that I had absorbed all day had a wee safety valve release to let some of the extra go into the world and hopefully find a new home.
The car was frozen in the Butterbridge car park and while it was thawing we made plans for dinner. I picked up Linda on the way to Sainsbury's in Drumchapel where we would pick up the makings of a nice steak stir fry. I did still have my hill gear on though so the first thing that happened was people were staring at the man in the skirt which just kept my grin fuelled and then an old fella came up and started talking to us about the telly show Outlander. He was so cheery and thought it was awesome I was wearing a kilt. In a day that had already been made, I think it had just been gilded by that chance encounter.
Shower, lovely dinner with the girls and an early night.
The best day.