No tents, just a winter day pack. Crivvens.
Tooled up with dangerous items like Kahtoolas, bendy footwear and aluminium ice axes we set off for the Lawers range above Loch Tay.  I haven't been there for a few years, it always catches a lot of snow, so it looked like a good place for a bimble under completely clear, blue skies.
The wee road up to the Lawers vistor centre was iced solid, so we left the motor at the edge of the forest. Time was getting on ( it really seems that alpines starts are very much in the past…) and as we'd be coming down in the dark, we though better of the "fun" of driving down the open hillside track. It was a good call, because of where we stopped we struck out over open hillside towards the rarely trodden SE ridge of Beinn Ghlas.
Deep soft snow and rough uneven ground made sure we went at a snails pace and we were soon stopping to strip down to baselayers.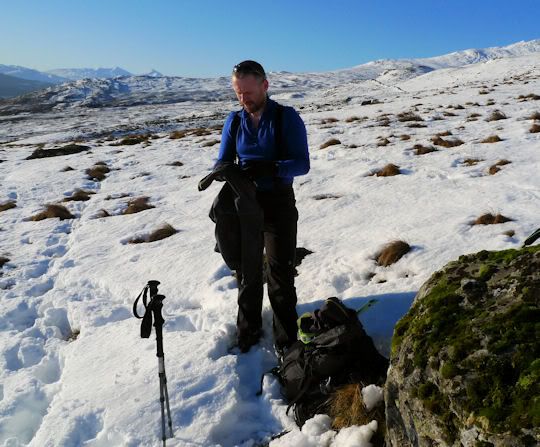 I love that. A base layer as an outer layer in winter feels like you're waiting to be caught, you broke mums favourite vase and she's going to find out. So enjoy the freedom while it lasts.
The wind picked up after we gained some height and layers were donned again, cuppas and a sit down also seemed like a good idea. The biting wind and exposed ridge meant that Bobinson's Snowclaw and everybody's ice axes were digging down into the snow. Cosy.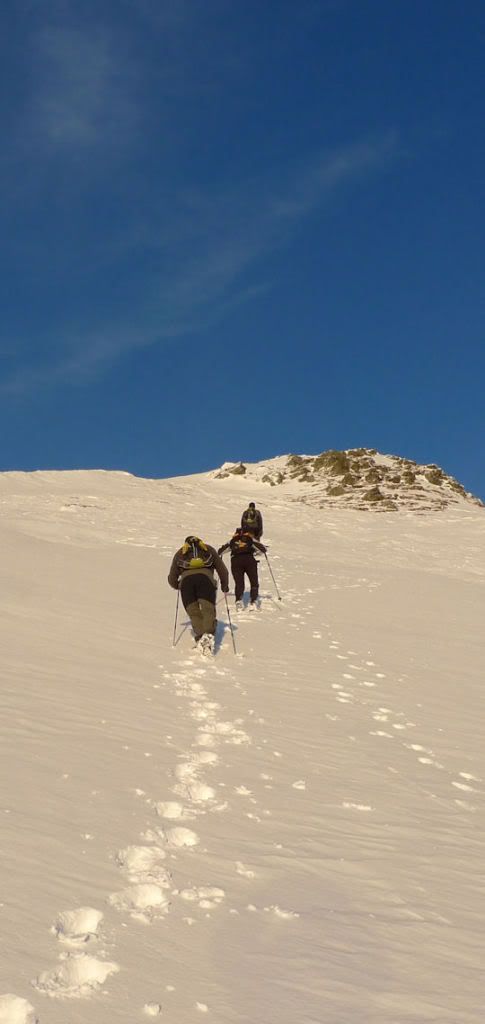 When we left our snow-loungers, the lowering sun was casting a warming glow as the temperature dropped. We were now well wrappped up as any exposed skin was getting uncomfortably chilled. High whispy clouds started to appear. The snow was changing to a much hard variety. Craig stuck on his aluminium Kahtoola crampons, Helen was kicking in with her proper boots, me and Bobinson found that slicing eding style kicks work for bendy footwear. No problems to report.
We reached the summit ( me last, my fuel tank had marmalade or something in it today) as the sun touched the peaks of the horizon. The sky broke into song. The West was rocK, fire and insistent colour, urgent to make its mark before the sun withdrew its influence for another day. The East was cool purple and blue, mellow jazz with it's feet up on a rainy Sunday afternoon.
We lingered on the summit as the wind had dropped. It's so beautiful, so precious to stand there at these moments. There was no one else still high on the mountain, all day we had seen distant figures, skiers, snowboarders and walkers. But all had descended.
The wind slammed into us, with a fierce cold carried in its pockets. We made haste, running at times trying to lose height, spindrift whipping around us like it had just been woken up after dinner and missed its favourite programme on the telly. My fingers became searingly painful in my powerstretch gloves, I've never known them to chill so fast. I made fists inside my gloves and carried my poles under my arm as I hopped and slid down the ridge.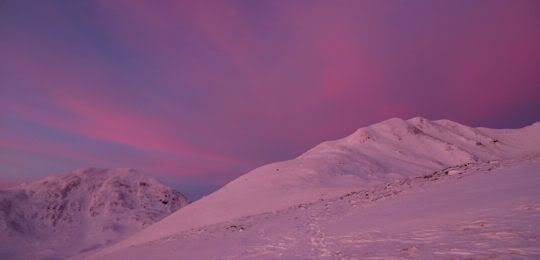 Lower down, out of the wind I sneaked my warming fingers back into my gloves and regained some composure. We tightened up out of our broken line and bimbled down together. The ascent conditions still applied and the going was slow, except for the smooth snow slopes where the four of us careered down on our arses with varying degrees of success and grace.
We reached the motor in darkness, warm and with thoughts turning to hot food. What a cracking day.