But I haven't even had a sip of my cuppa…
I'll make you another one, come on!
Right, right…
Lockdown isn't locked in, so we headed for frozen sands and the ebbing tide, hoping to catch the sun.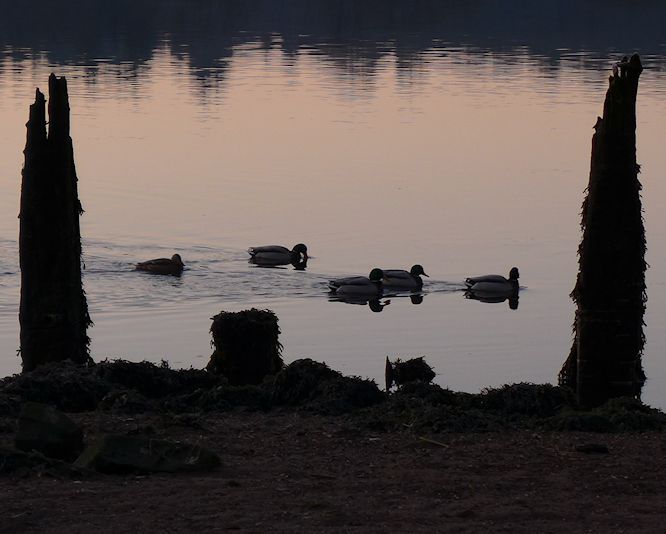 We had plenty company. The herons ignored us as long as they could, the ducks played races on the fast departing tide, grebes and I think moorhens put in guest appearances as we padded around on the solid sand waiting for the sun to crack the horizon.
It was gloriously cold, but we were well wrapped up and the smiles were warm.
Even when I kinda know what's coming it still takes me by surprise, I laugh, giggle and grin like a maniac. How could this not be exciting, how could this not be a rush of sensation and emotion. Yes it's just another day, but it's like the Star Wars scrolling titles, it's just an epic way of beginning it.
There was much photie taking, much wandering to look for better spots, but there was no where wrong to be standing, except at home probably, most likely staring at the kettle boiling or looking disapprovingly at the face squinting back at me in the bathroom mirror.
Aye, this was better.
It's a quick show, like a US telly series on Netflix, with no adverts to pad it out to nearly half an hour it's there and gone in a flash.
It stayed beautiful though, the horizon held onto its colours as the sun slipped up into its lazy winter southern loop towards the Cowal hills.
We thought we'd have a wee bit more wandering and it turns out the smells from the workies socially distanced cafe were too much to resist.
Rolls on sausage and cuppas as the light warmed the rising haze with a golden sheen for the rest of the morning.
Work to be done though. Time to head back.
I never remember any long lies I've had, I never remember when I had another cuppas and sat looking my my phone before I left in a rush.
This though, I'll remember. Getting your arse is to be recommended.