It's on the telly as I write, and if ever there was a time for a relevant title this is it.
Electronic gremlins eating an alarm contributed to our late departure, but we were happy enough to be back out, it's been a while.
The late morning arrival in Kinlochleven meant another breakfast visit to the Ice Factor, oh the hardship. The route was long and daylight was short, the roads had been deadly in places, black ice, but we had to try for Mamore Lodge to get a leg up to 1000ft for free.
Really bad idea in a borrowed motor with tyres as grippy a four inflatable swimming rings. We span out and started slipping back on the steepest stretch. Self inflicted misery it was, so action rather than tears, snotters or recriminations was in order. I couldn't get out of the motor, using the handbrake changed the weight distribution and I slipped towards a ditch which would trap us there and damage (mother's) motor every time I pulled the handle. Phil worked the ground with an ice axe, found boulders to bridge gaps and we got back on the "tarmac" eventually to make a very tentative retreat to safer ground.
I can count on one hand, and have fingers left over, the people I would want to be teamed with in a situation like that to ensure a happy ending, and Phil is of course one of them.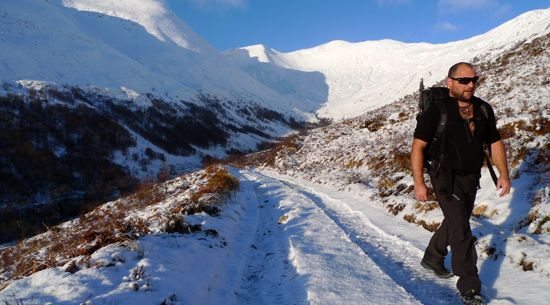 Nerves shredded, time wasted, energy sapped, we headed back uphill on foot to see what was left of the day. Ice overlayed with fresh powder in an alpine wonderland, and once off the track deep drifts pulled us down tearing at what strength and willpower we had left. We dug in for a rest stop and the stove went on. It was searingly cold but the soft afternoon light cast a warmth across the landscape that was at odds with my nipping fingers.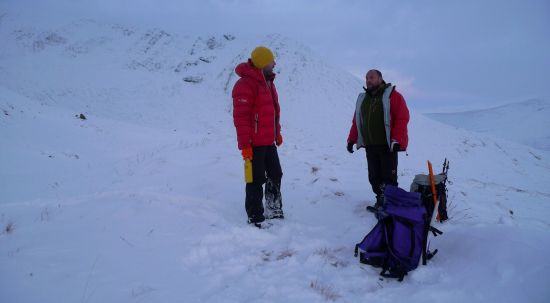 We climbed some more on some very steep snow, but lay short of the top in a gasping, inarticulate huddle. We were done. The descent was in a gathering sepia-tinted darkness, but there was a lightness to out steps, falls and stumbles to regain the track.
By headtorch we found the motor again, and the frictionless surface leading to it made me glad indeed that we hadn't made the car park at Mamore Lodge. The road was found and we took our time back to Glen Coe, just in time to see the wreck of a vehicle being  straightened and pulled onto a recovery truck. We waited patiently, and when we finally pulled away as the policeman waved us on, the wheels spun instantly on the invisible black ice that coated the whole road.
The journey back was one of extreme concentration and wariness. I was glad to be home.
I'm claiming a victory of sorts though. It was good to be out with my china and catching up on banter, it's just beautiful out there just now and it's good to have some reminders in the pressure-instigating-risks area.