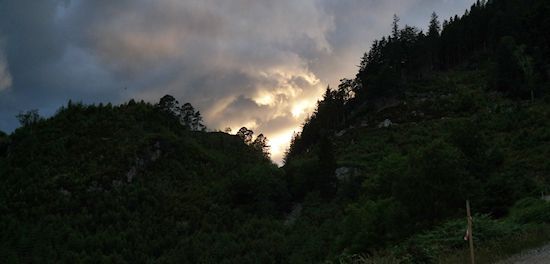 I was writing a route for Trail, somewhere I knew well and I thought I'd have a trip around it again to see how the new access point was working and write it into my planned directions.
I met Gus at Spean Bridge and after some fine dining at The Bridge Cafe by slalomed the road around the end of Loch Lochy, through the wonderful Mile Dorcha and into the midge death zone – the Eas Chia-eag waterfall car park to get kitted and changed.
It was then it all take a sinister turn. The track up by the waterfall was barred by half arsed fences and felled trees, so the new signposted route was the only one right enough, so off we went down the road. The banter was good, the weather was pleasant, the plan was for a fine overnighter on a lovely route. The forest roads were very fresh, well used, easy underfoot. The deserted construction village at the top rang bells but nothing prepared for the total destruction which lay beyond.
I'd been telling Gus how picturesque it was, the track winding through the trees as the burn disappears below. The track is gone, the trees are gone, christ, the whole hillside is gone.
Dynamited, bulldozed, destroyed. I've never seen such an act of total vandalism in the hills in all my years of walking and camping.
Soon there will be a hydro scheme, just a few feet above the waterfall that draws tourists too, one curtain of trees will separate the lower station from view. It's horrendous, we were stunned and speechless.
Bastards.
Maybe I took it badly because of my emotional attachment to the place, rainy hillwalks, fine summit camps and a particular weekend on these slopes where JYC and I went from "something funny going on here" to "oh look, we're having a baby". Or maybe it's just because it's act of unconscionable destruction.
Both.
It doesn't end there either, the trail of destruction drags itself high into Gleann Cia-eag to the intake for the pipeline and then you can escape into the short remains of the forest where it finally feels just as it should but the memories of what you've just walked through can't be left at the treeline.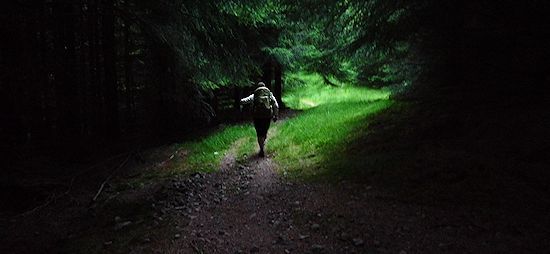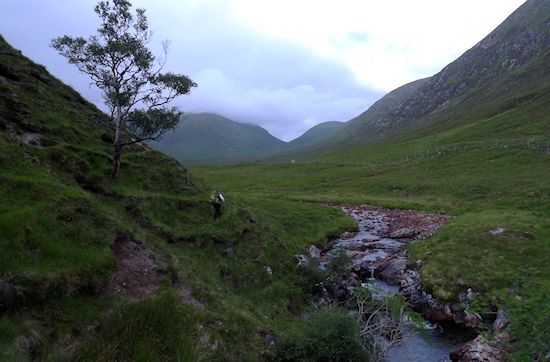 It was clouding over and getting dull, a few spits of rain dampened out enthusiasm for a high camp as much as the boggy ground pulled at our shoes.We carried on until we reached Fedden cottage where the short grass was too hard to resist.
It sits just short of 400m and there's plenty to see of the building but not much to read about when you search. I wonder who was here last and why they left? A recent visit to Auchindrain has broadened my understanding of these places and the people who lived and worked there a little.
We snacked happily and a wee beverage kept the smiles fueled. There was a breeze, but it wasn't angry and there was neither amidge nor a tick to be found. A fine bivy was had.
The morning was cool and bright, perfect for porridge, a cuppa and not so much hurrying. The route ahead could be seen but didn't pull at us enough to leave quite yet.
It's worth a visit this spot rater than cutting the corner as I have before, there's an odd sense of emptiness looking north as the ground slips away into nothingness towards Glen Garry while everywhere else are mountains. I want to go back and walk north at some point.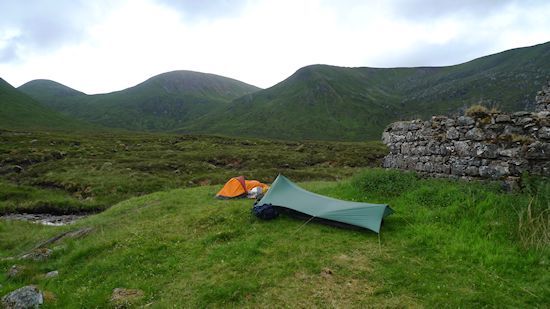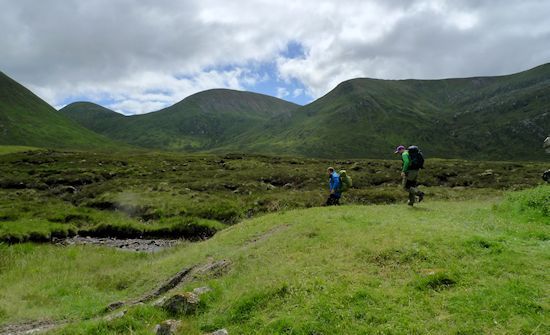 It's trackless and boggy, peaty and heathery and soon warm and sunny. The track on the far side of the glen is farther away and higher up than you think and we reached it just before the bealach where the dismal Lochy-side approach can be seen snaking away downhill.
The track from here is excellent, easy to follow, easy to walk and the views get better all the time. We did see a few folk which was heartening, but they were all in a hurry. Very odd behaviour.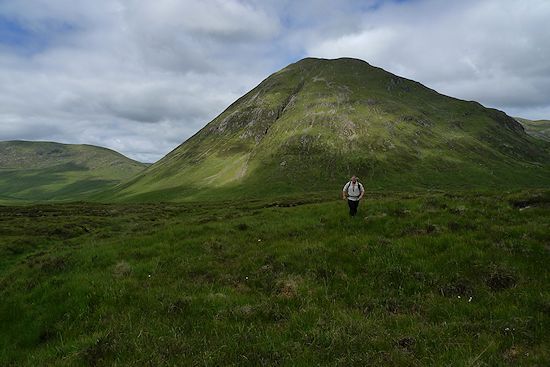 There were stops for snacks and looking at stuff, there was after all lots to look at and many snacks to eat.
There's some airy spots but there's never any exposure, a flavour or rock here and there in amongst the sweeping grassy slopes. The views north are like a sawblade, one tooth after another with names to fire memories an launch plans.
What a place to be.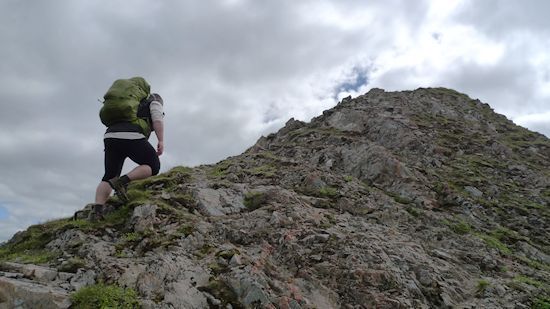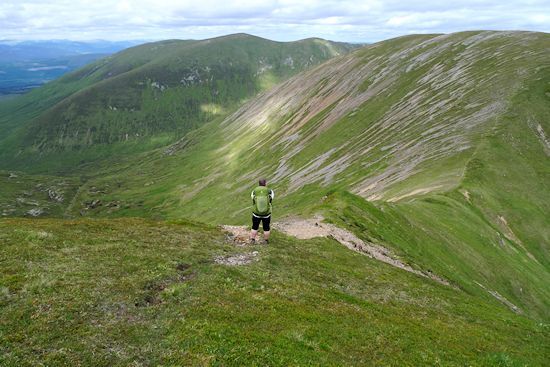 Nevis & Co presence is felt once you're on the tops, but they're just far enough away not to dominate and let the hills breathe a bit. Summit and sea, short grass underfoot and still no thoughts of hurrying.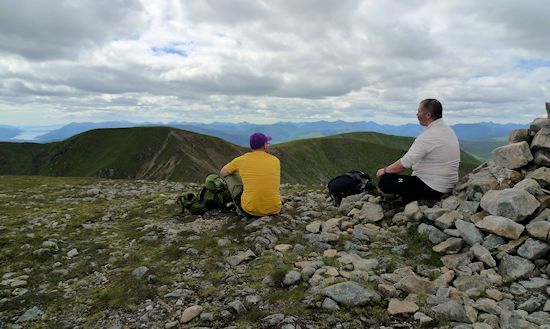 There was no way around it, the descent was fine by a tumbling burn but the forest beyond was just a gateway to horror.
We decided to explore the earthworks and found the last remaining stretch of the old path on an island on the hillside where each Scots Pine tree was marked to be protected. As you can see a combination of no one caring about that anyway and taking so much earth away around the trees to make it impossible for them to survive means they've had it. If I hadn't been so angry I would have cried.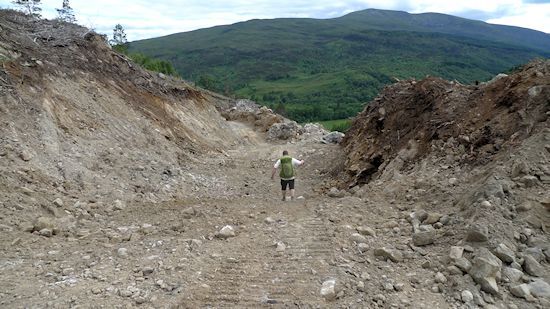 We went for dinner and on the way home I passed many favourite sights. It really was a joy, a great camp and fine hills but the image of that destruction lingers on.
The word "reinstated" is bandied around in the documents regarding these works, but we all know it'll never be the same. Surely there could have been a better way?