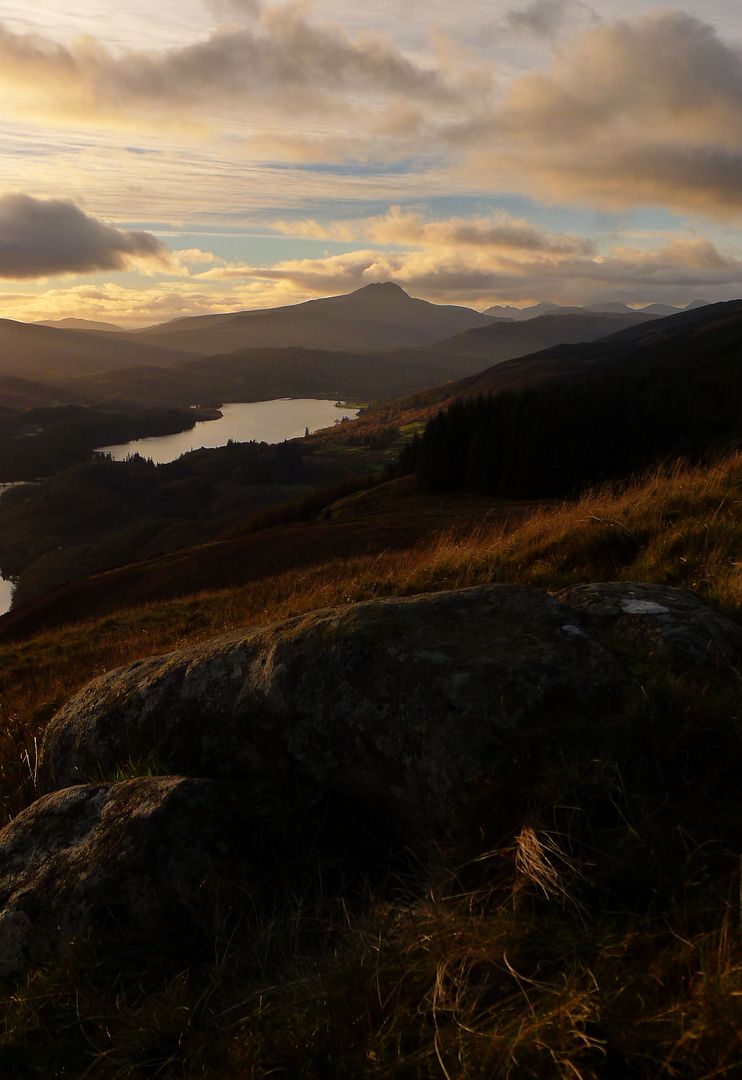 I don't know where this path goes, but we'll get to see the top of the waterfall going this way at least. The rain pattered onto my hood as I ran ahead a wee distance after the very hard to actually see top of the waterfall bit. Aye, it just goes to the road I think. My phone was already wet, the speaker was gurgling with every sound coming through it, I wasn't checking any closer.
Two weeks later…
Ooh, mind that path that went up to the road? It goes somewhere. Want to go somewhere? Yes, yes we did.
However, it doesn't matter if you've booked a day off, shit happens and gets in the way and then with the clocks back, it was definitely too late when we left. Especially when we had to get cuppas on the way which was definitely for both mental and physical nutrition.
A fiver was paid to the emotionless parking robot at David Marshall Lodge and we took to the trail from a couple of weeks ago, this time in unexpected but oh so very welcome fine weather.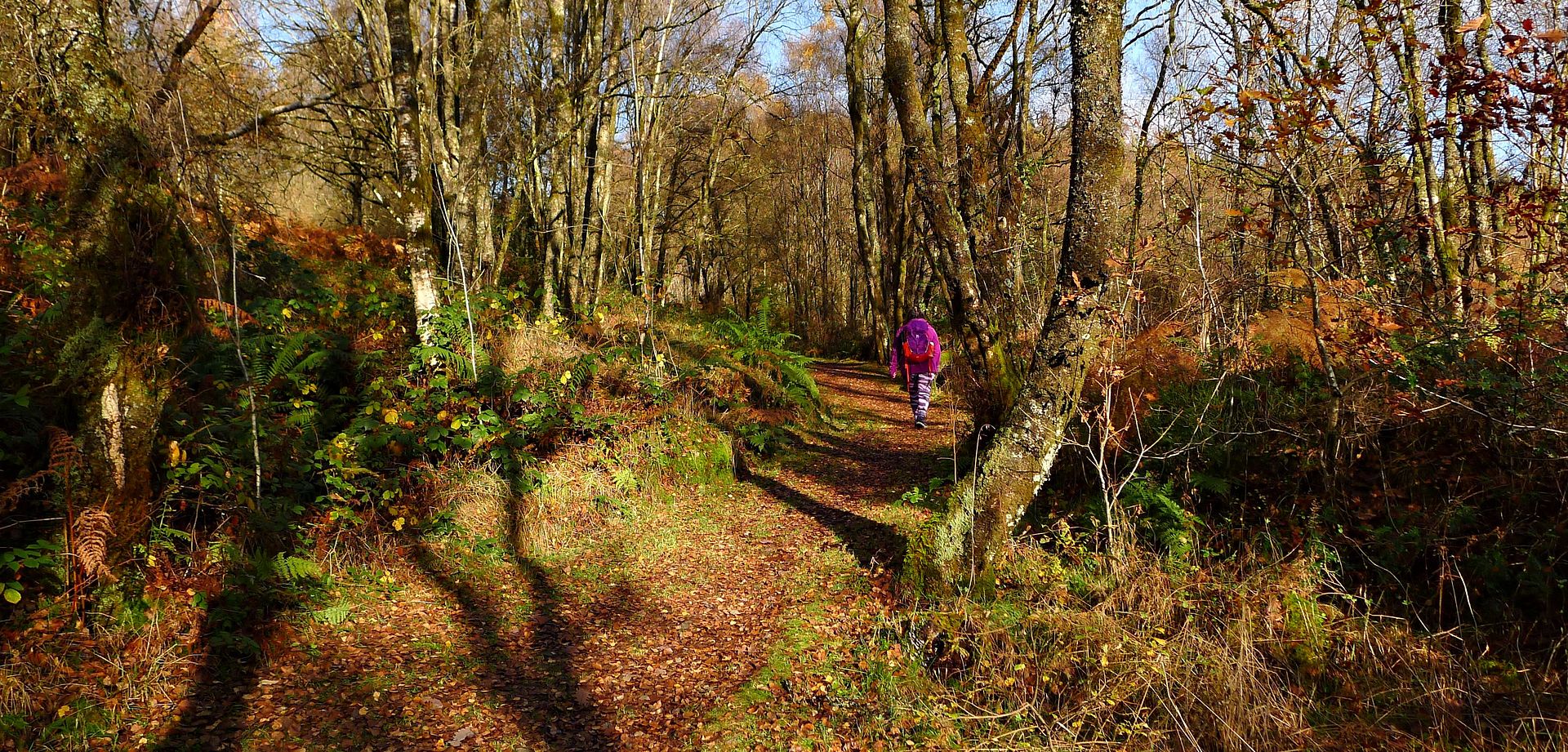 The most colourful days of autumn passed us by too quickly under too many grey skies but the leaves that are left might shine a little brighter because of the bare gaps between them.
It was a pleasant climb away from the regular visitor circuits past the top of the waterfall, you can see it on your tiptoes, and below the road to very sudden crossing at a fast corner.
A corner I know so well from the tarmac side. I've been driving past here for what, 35 years, and now I know what the wee gates are for. I shake my head at no one but myself all the time now while we're out, all these local adventures are such a joy and show me what I've missed all these years. So much to make up for, and time is not on our side is it.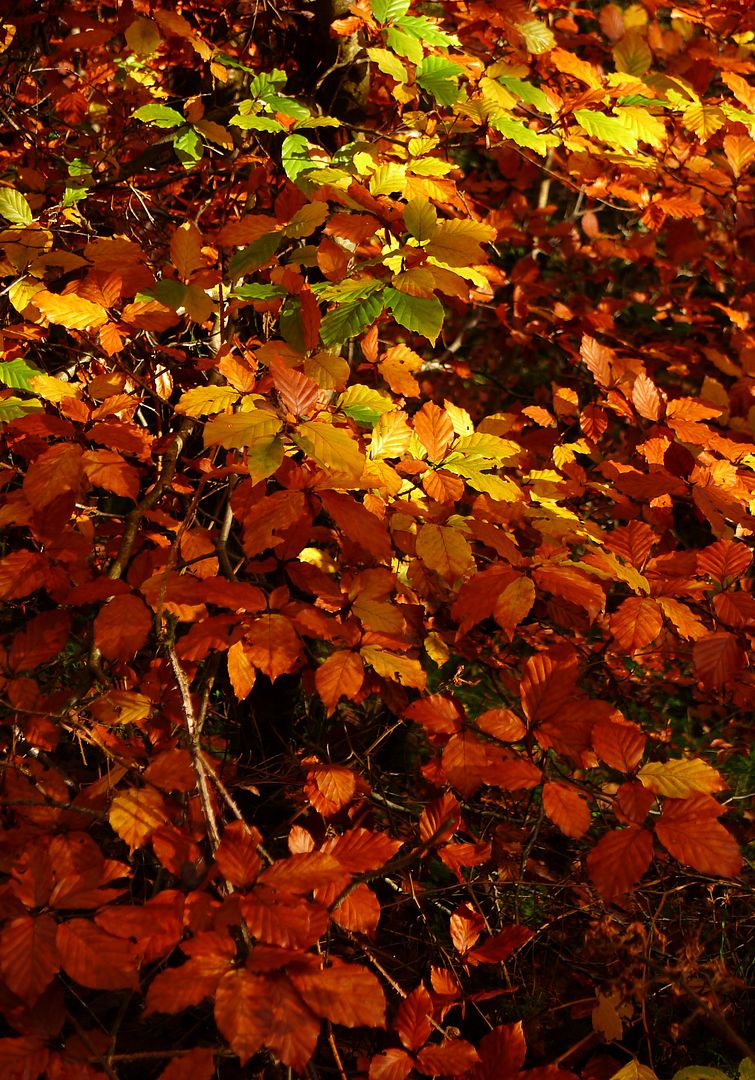 The road crossing changes everything as the views suddenly appear. The Campsies and Meikle Bin being a fine sight for such a little effort spent so far.
The colours stay strong all around us, the rusty bracken and golden leaves, flashes of apple green and more blue sky than we would have asked for without feeling cheeky. What a glorious day for such a lovely trail.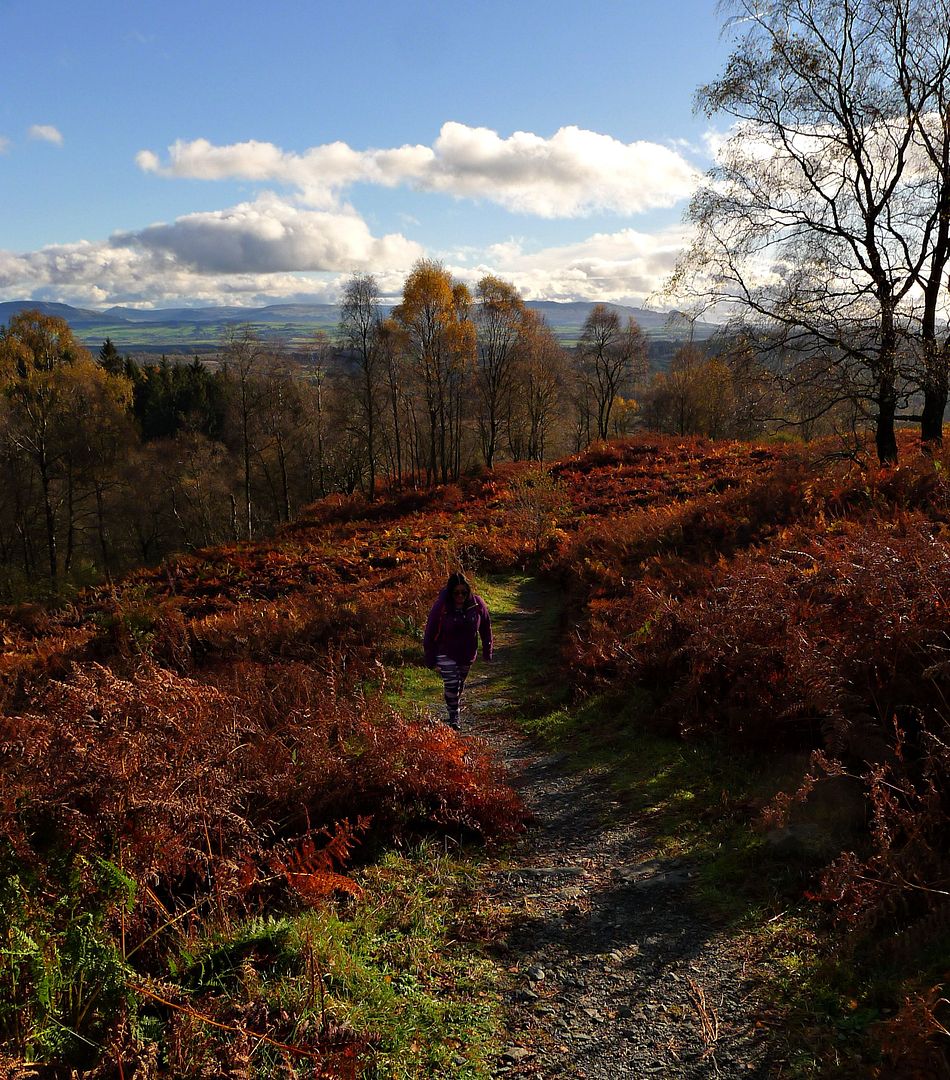 The path winds its well maintained course onto the bed of the tramway that brought slate from the mines to the north round to the railhead at Aberfoyle below. I think it's walkable right round to the mines and I also think we'll back for that another day. For now though, someone's left a bench here. Oh well.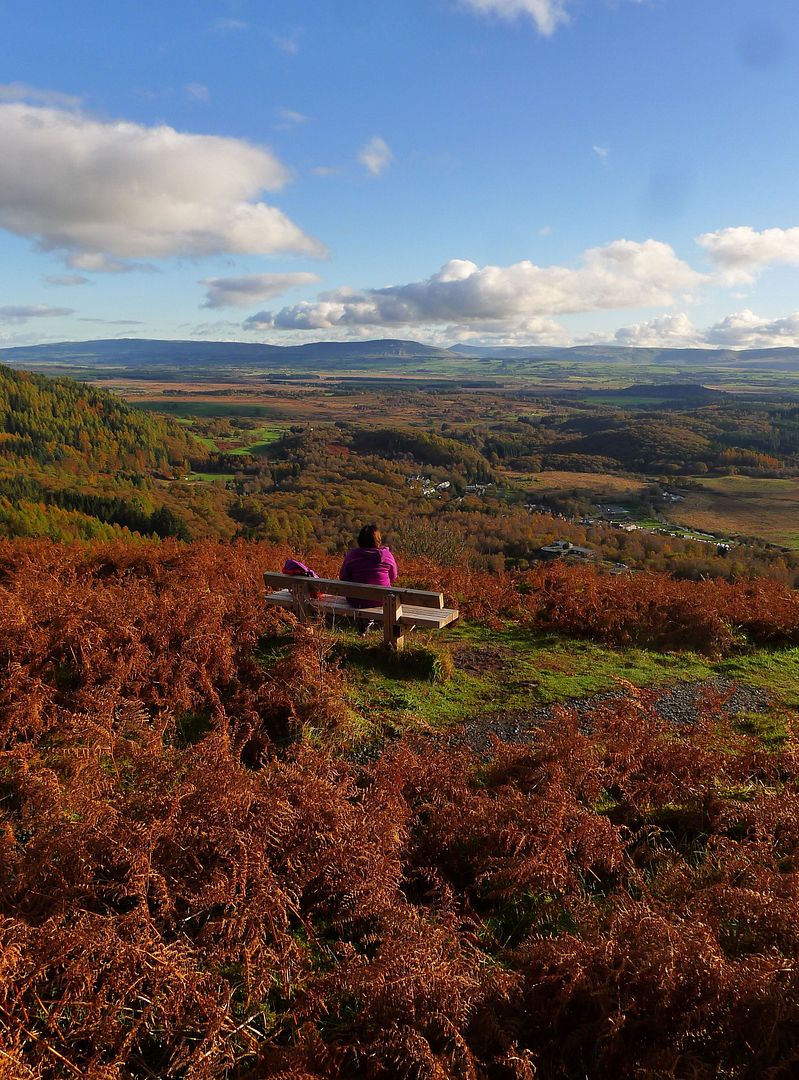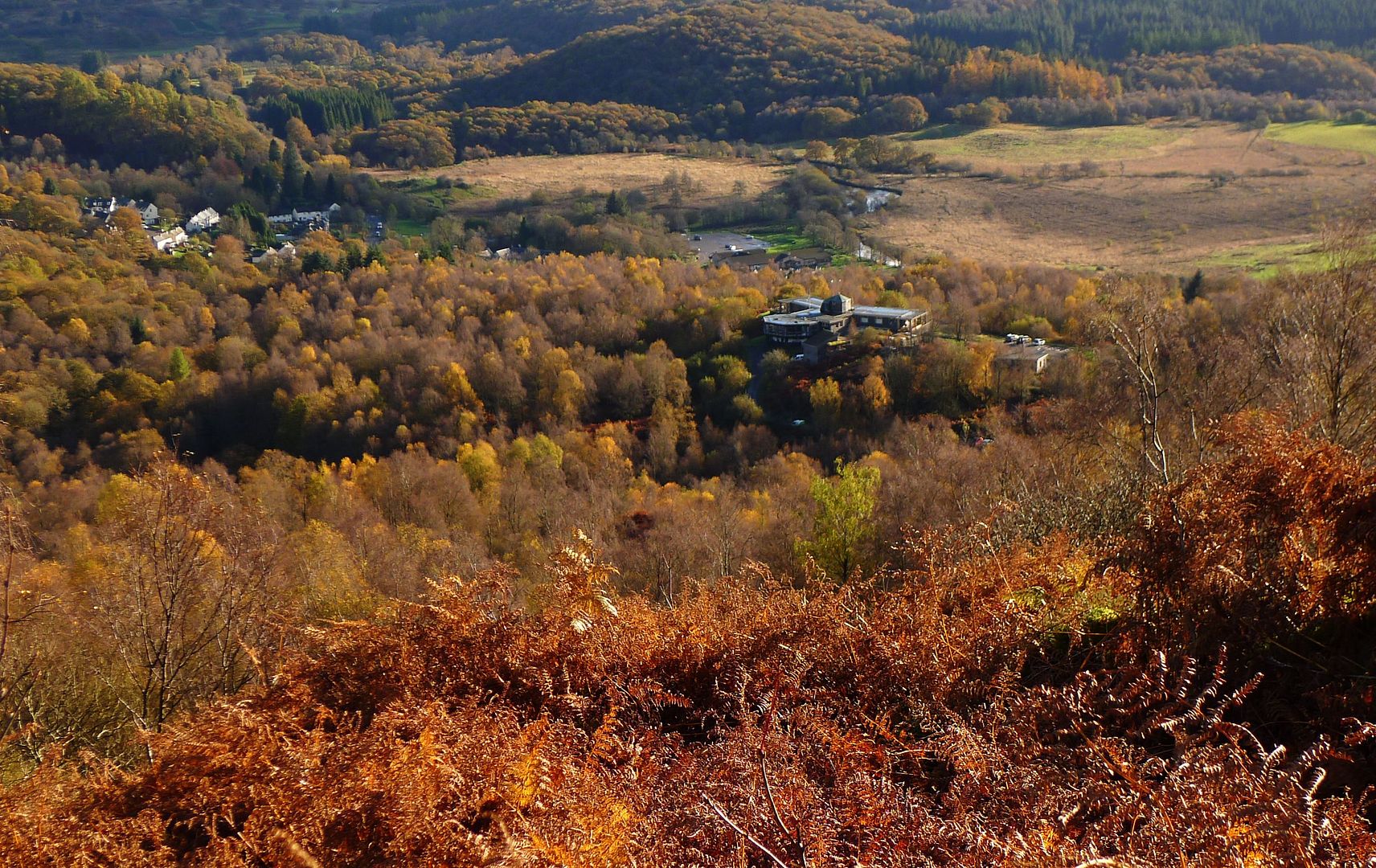 The lodge looks like something we should be viewing through binoculars while wearing camoflage and counting troop numbers as they jump off of half-tracks in the car park. Yes, them theme from Where Eagle Dare was in my head the rest of the day.
The path from here is a proper hill path, it's rough, boggy and steep in places and the views keep opening up. And not a single soul to be seen but us. From the car park back to the car park on a clear day and on an accessible hill we saw no one. is it always like this here? I'm not telling anyone, I like it like this, it's just between us right?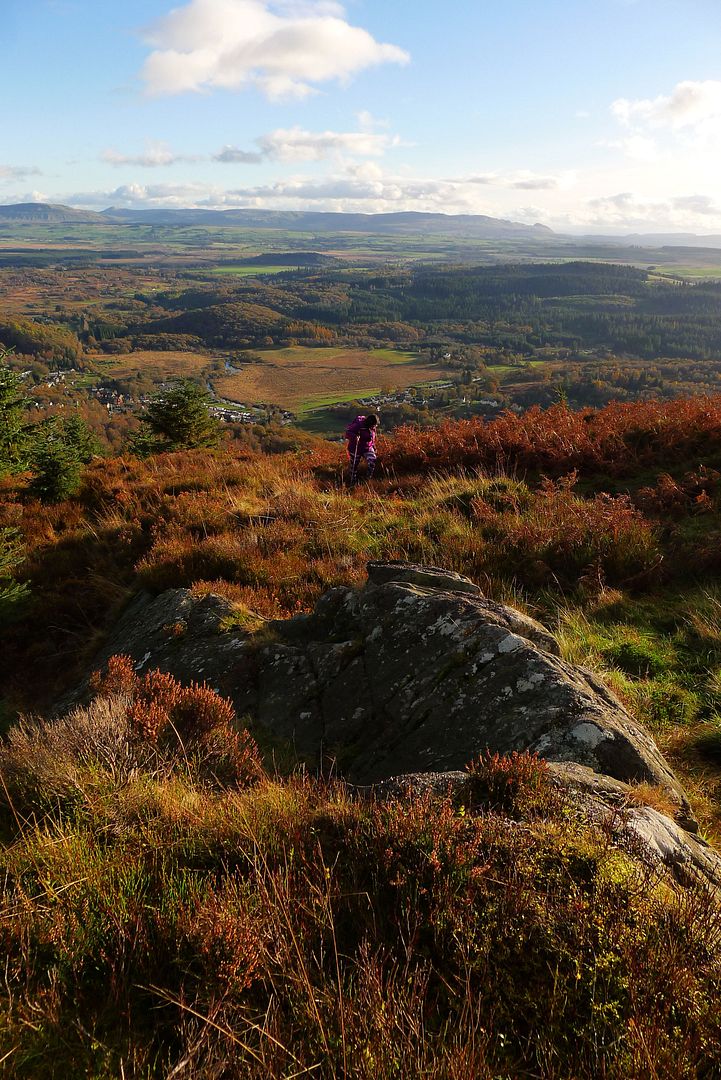 The light had been beautiful the whole walk but as we got near to what felt like the highest contours the sun was getting caught in thin layers of cloud out to the west and the golden rays were throttled back. But the views were not diminished by this because all of a sudden, there were the mountains. I saw the Crainlarich twins first then started picking out the rest. Ben Lomond I could probably had skimmed a bit of the old slate on the loch and landed it on its eastern flanks and there was the Cobbler too.
I laughed out loud and grinned and pointed as Linda uttered those immortal lines: "Woop Woop!"

Again, we're just thinking "Where's the people?" Maybe on Ben Venue which felt so close ahead, but the path while easy to follow isn't eroded as such, it's just not busy. Ah what joy.
I'm still on a fleece wearing crusade and this 100 weight Berghaus Ascent went out to play totally because of fit and performance, not because of the colour of the trim.
Berghaus might say '91 on the label of this fleece, but that silver beard I'm wearing is pure '22.
I think my first ever proper fleece was a black Berghaus Sangar IA, so I'm back home here in some ways. More on fleece at some point, probably a mild rant of some sort.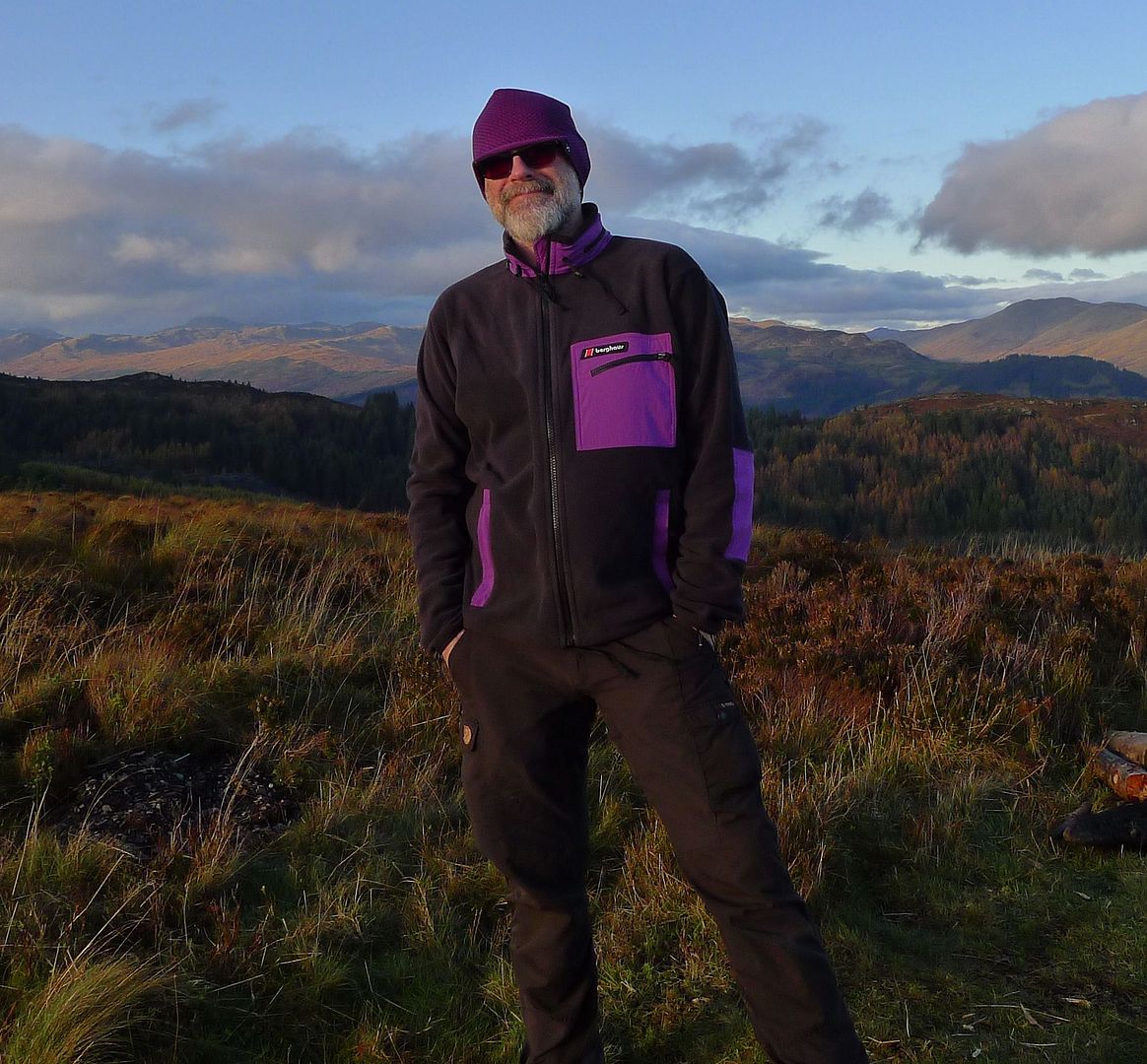 It looked like the light had gone and the colour drained from the sky and the hills. We hid from the strengthening wind behind a random conifer on the wee summit plateau and had cuppas and pieces.
It was as lovely a spot as it was unlikely, it's not like nature to leave you a random shelter so near to the top and it stopped us descending to find somewhere out of the wind to eat which was lucky because the sun found some gaps again and in it's final half hour is brought the whole landscape to life which shots of lazy, hazy, honey hued evening light.
I've spend a lot of dusks and dawns standing on a hill waiting to see what would happen in this was straight into the best sellers list. Simply glorious.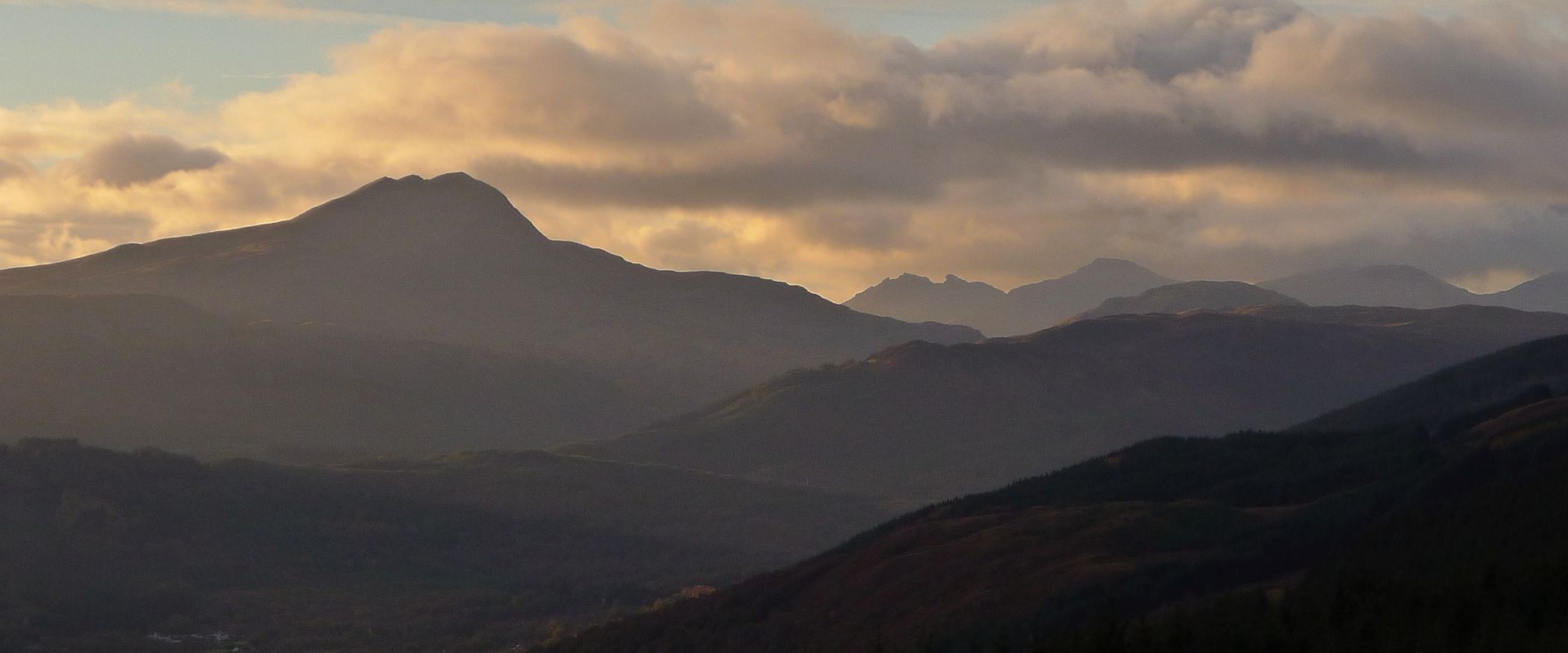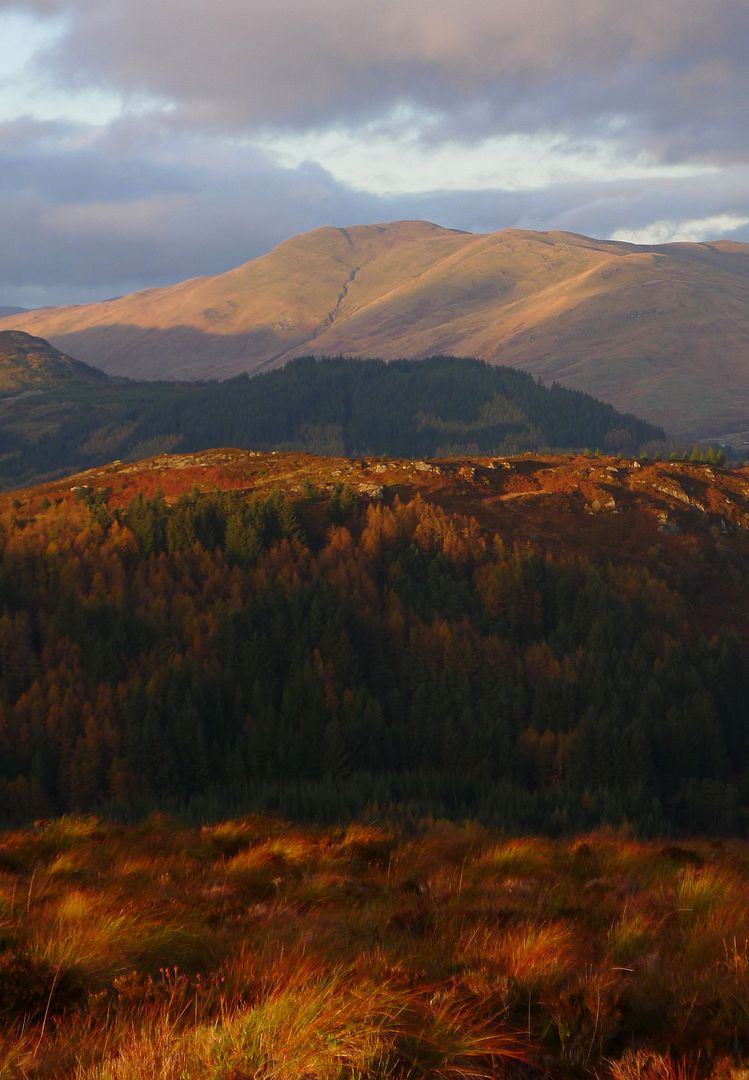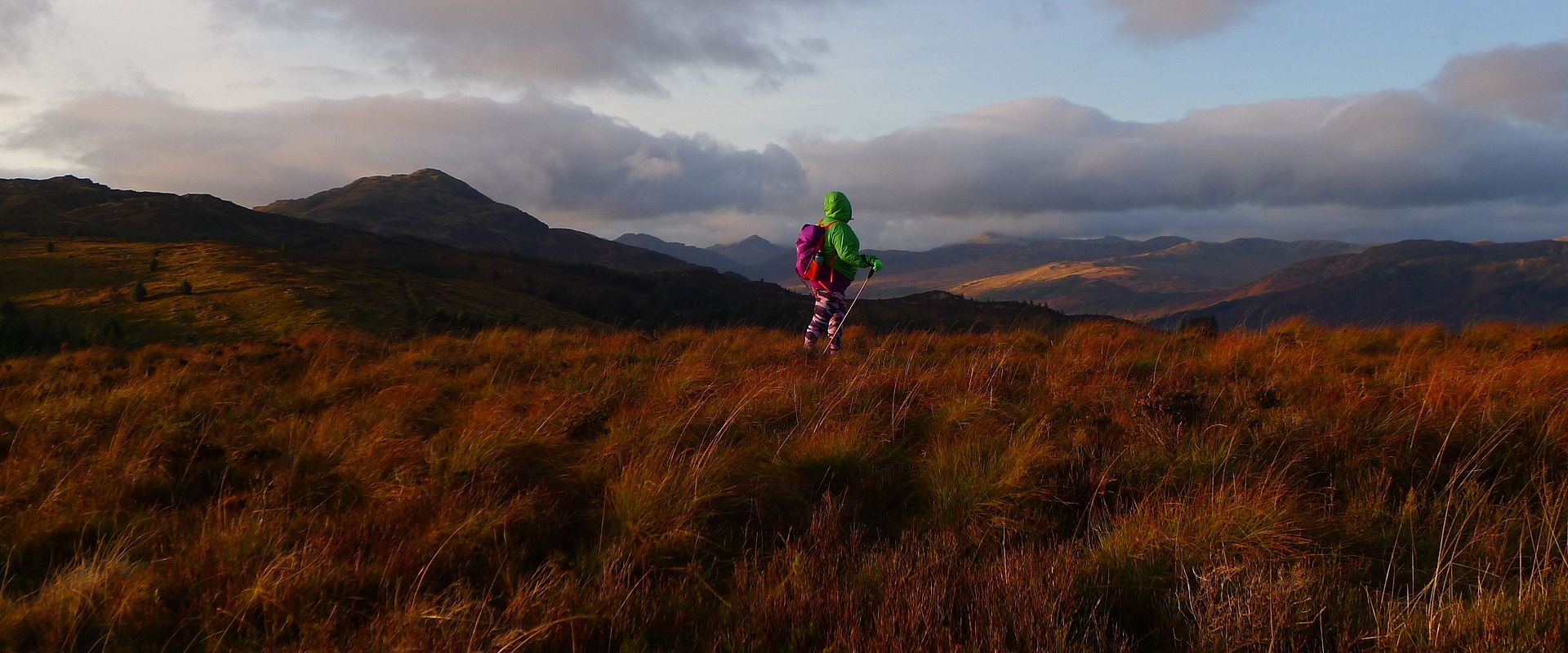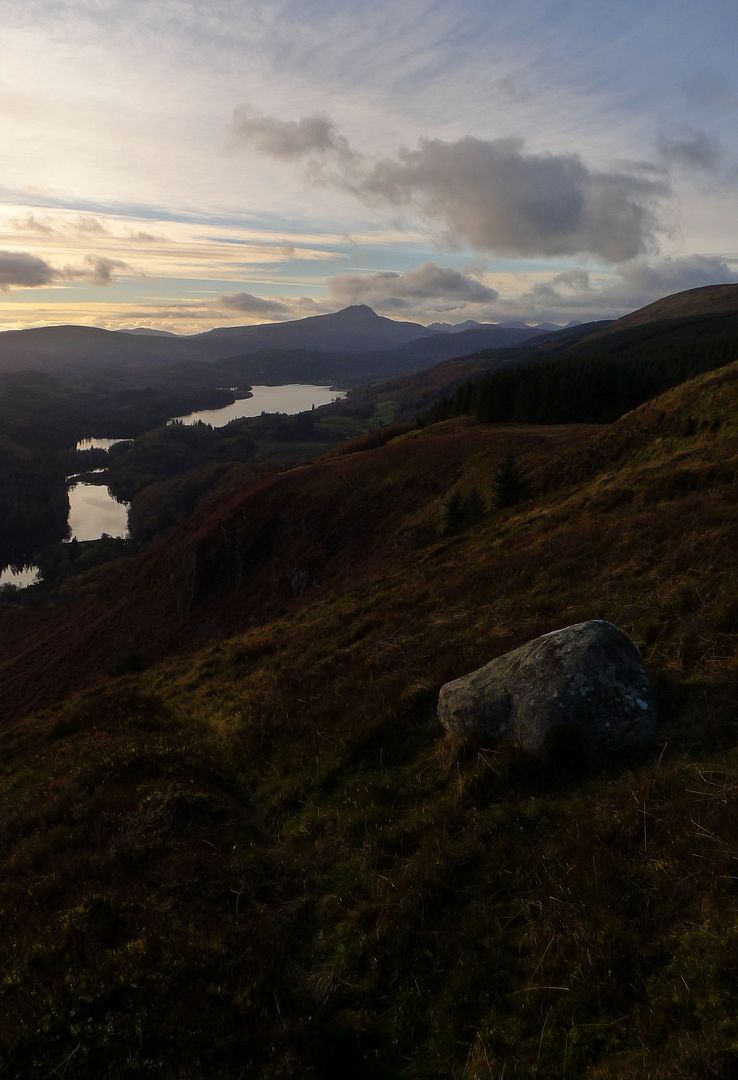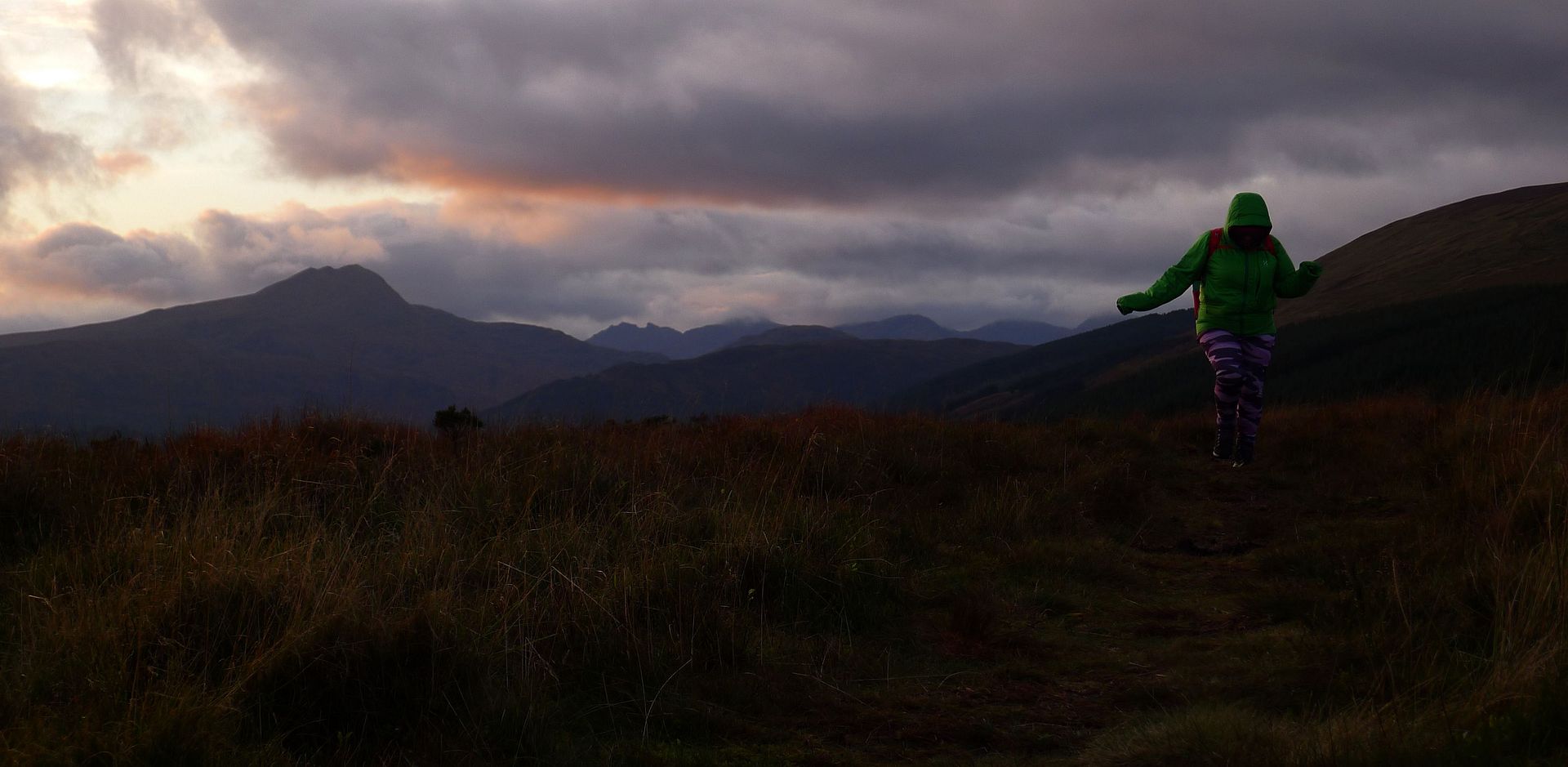 We only left when the sun sank over the edge, the cold bit a little deeper into out fingers and we knew we would have to have headtorches on for some of the descent. Linda as you know likes to meet the scenery and personal and horizontal fashion and this just wasn't the day to be relearning technical night time maneuvers.
But we did leave with full hearts, heads and tummies too. Summit (aye I'm claiming Craigmore as a summit, fight me) dinners are always the best.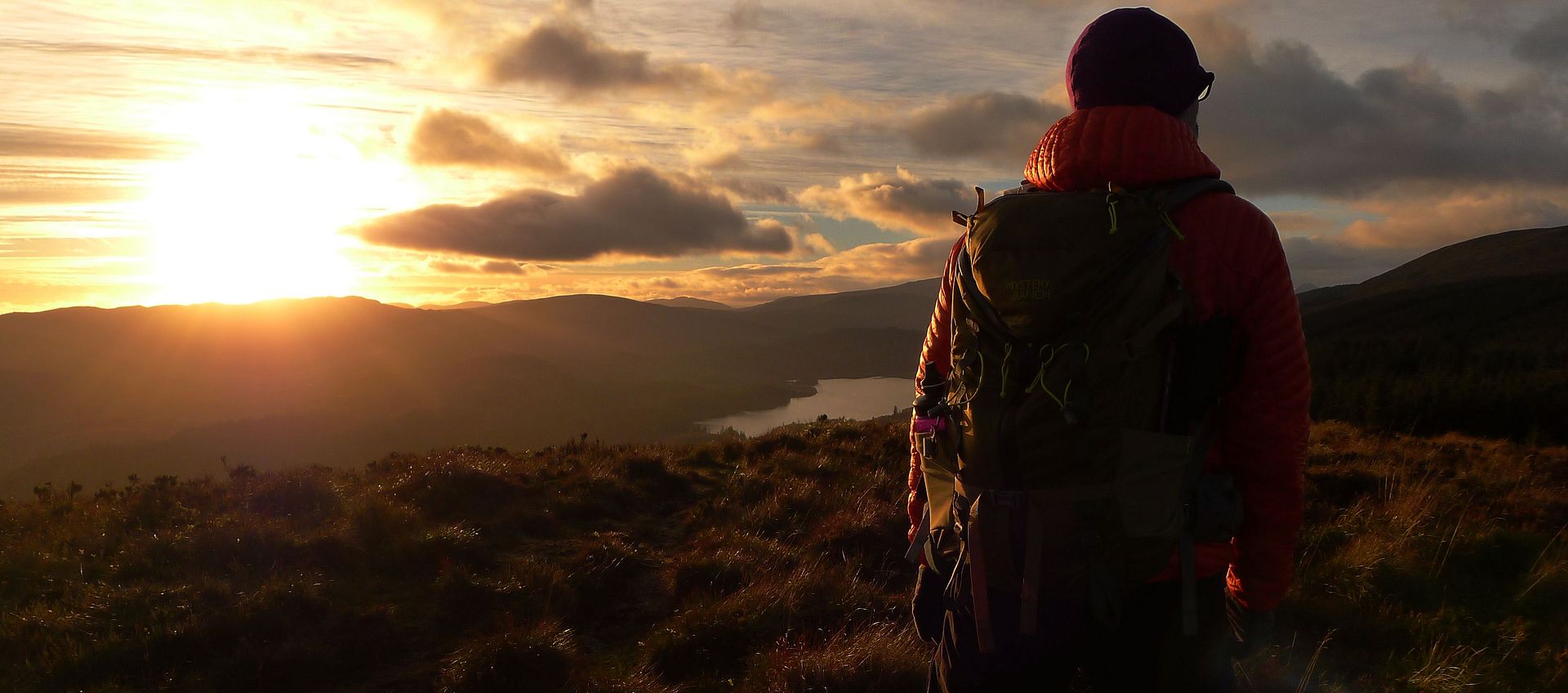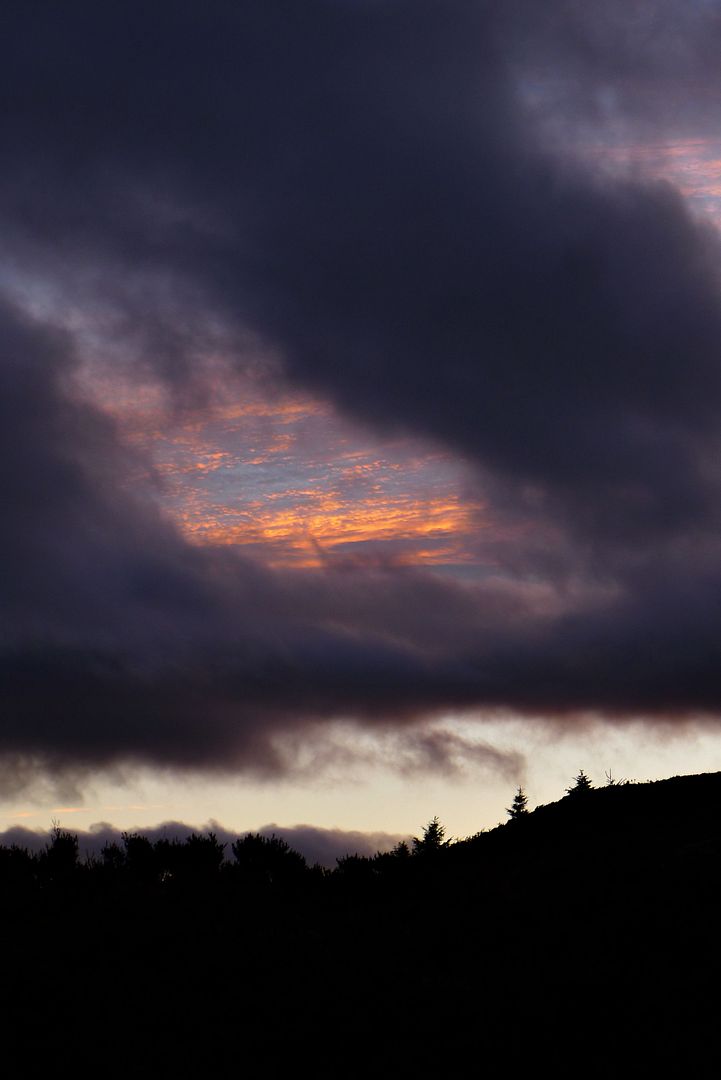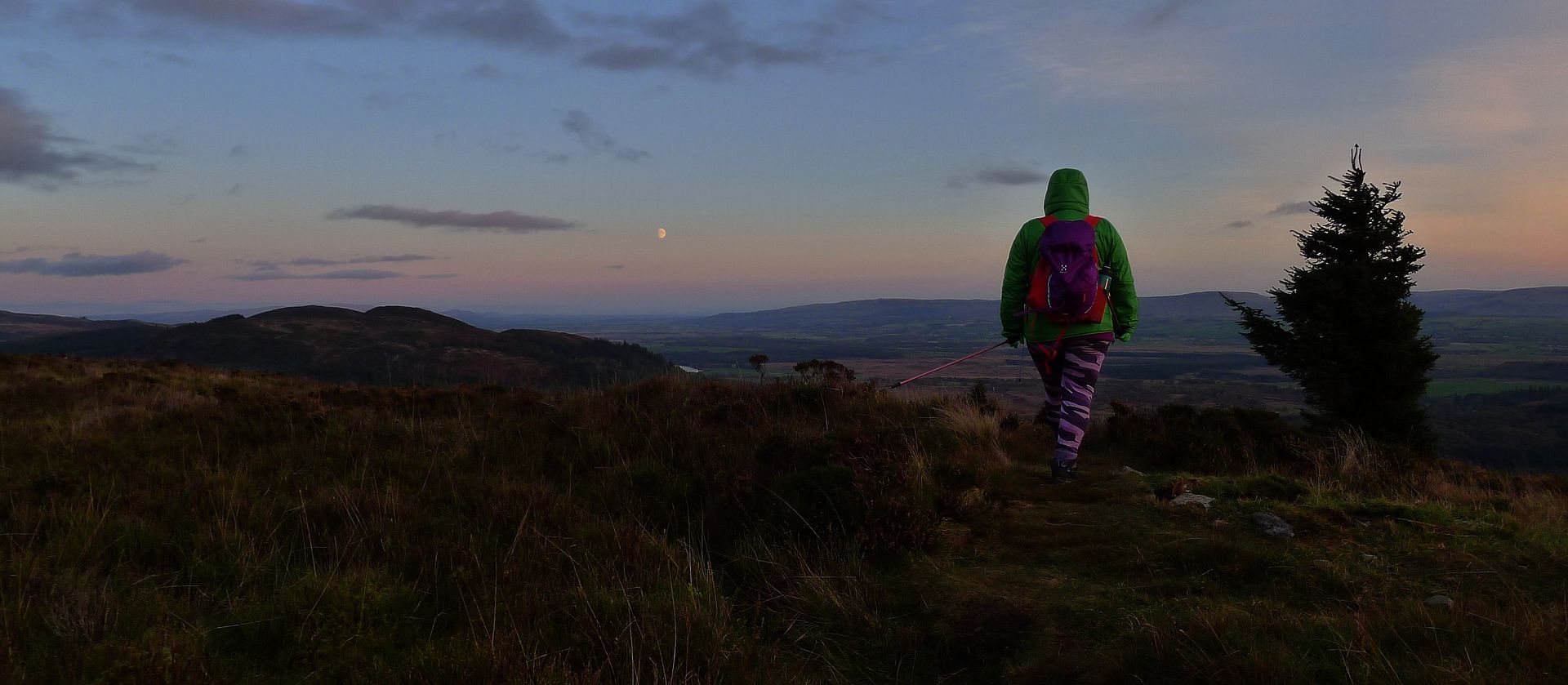 There was one incident. One of our party went knee deep in some mud, and I do mean knee deep. There was some laughter, some swearing, some grunting and I don't think that boot is ever going to be quite the same again.
The moon saw us home and our headtorch beams were diffused by breath that was clouding in the cold air. Noses and cheeks were nipped but fingers were coming back to life inside my gloves. Ach, you can never get it quite right.
Oh wait, that's rubbish. Today was exactly right.