Last thought is of maps. The best one for the area is the Harvey Southern Highlands British Mountain Map but Landranger 56 is fine.
See some of you folks today.
Also, we now have Mountain House dinners and Edelrid spoons.
Old News follows.
Can't be arsed editing below, so here's some updates where you don't have to search for them. Again.
Got comms from Arrochar MRT so our activities are expected and that also sorts the parking out. Details by email. Which is coming soon, really.
For folk wanting to arrive on Friday the best option is Ardgarten campsite, it's a great wee place and just along the road from where we're meeting, which I'll email out shortly with replies to all the queries. I'm rubbish at comms.
We have 16 berths in Big Agnes test tents, some of which are 2-person so there might be some partner picking depending on numbers. The base camp tent sleeps six, if you're wanting in that no problem, we'll sort that out on the day.
Arrochar has shops and a garage, but if you're wanting any specialist outdoor supplies the nearest place is GoOutdoors in Clydebank. Glasgow's got the Tiso with the cafe of course which is the easist outdoor shop to find in town as it's just off the motorway.
I'm going to bring a bunch of stuff along as well, so if there's anything I've reviewed that's caught your eye, give me a shout and I'll see if I can dig it out for the trip.
Just had a phone call, big  boxes of something have arrived. Hi-Tec I hope?
Also, they guys have said they might have a bunch of stuff going for trade prices if anyone's interested, dunno what yet.
Old news follows…
There's a bit better detail below and some new info, worth a read if you're coming.
On the weekend of 18th/19th of February I'm hosting (in the manner of Bruce Forsyth) a weekend of mountains, camping and gear and I want you to come and join in.
The meet will take place in the Southern Highlands, somewhere in the Arrochar Alps or very near by making it as accessible as we can for folk travelling from down south.
The plan, if the weather plays ball, is for folks to grab some tents and kit, climb a hill and space ourselves out along a ridge and see how we get on with the gear. Not very sociable you say, that's right, and that's why we'll have an expedition-sized mothership tent pitched in the middle where we can hang out and shoot the breeze. Or shoot at the breeze as is entirely likely at 3000ft.
For test there will be:
Tents, sleeping bags and sleeping mats from Big Agnes
Rucksacks and accessories from Granite Gear
Lighting from Princeton Tec
Food from Honey Stinger
Trekking and Nordic poles from Leki
Clothing from X Bionic
Clothing from Montura, which I just saw last week and nobody in the UK has tested yet.
Footwear from Hi-Tec
Socks from Wigwam
Sports shades from Polaroid Eyewear
I'm talking to other folk as well, so this list is a work in progress which I'll update as we go.
Familiar faces Ollie from 9point9 and John from Ardblair will be joining us to help with the kit, answer questions and get a break from selling kit and play with it instead.
Important new bits:
It's looking like we're going to have more folk along than we first though which is magic, glad you folks are wanting to join in. We should still have enough kit for everybody to get something and on that note here's a couple of points:
Bring all your own regular kit for a camp, just in case. If there's something you don't have that's worrying as we're doing a high camp in the cold, tell me in advance so I know you'll get it.
Winter gear. It's looking snowy, bring the kit for it. Same as above, if you're missing gear, let me know so I'll have it ready.
I have a lot of spare kit that I can bring, but it's not unlimited, don't leave it to the last minute to flag something up to give me a chance to sort something out.
I know that's all similar points above, but I don't want any last minute gear screw ups that might spoil someone's fun.
Now, one thing I'd been thinking about was the photies, of which I dare say there will be many. But, I think it's worth trying to get all the tents all lit up together at night. What would that look like? A Christmas tree no doubt. Brilliant.
I'm going to try and put together a group email, I'll keep you posted. Also, I'll be needing clothing sizes and foot sizes asap.
Old stuff again:
Price of admission? There's no such thing as a free lunch, so what we'll be needing is reviews. If you've got a blog, you know what to do and this is a good chance to get some exclusives. If you've not got a blog or even a camera, no problem, we'll get something together and we'll post in on here.
It'll be a blast, hanging around on the tops with cuppas and banter. I dare say some shot of tents with lights inside them will be taken?
If you fancy it, post a comment below and that's where we'll keep the admin and logistics going, I'll keep this page handy. Once we're closer to the day we'll do phone numbers and whatnot.
Looking forward to seeing you and hearing your accent, folk don't have accents on the internet.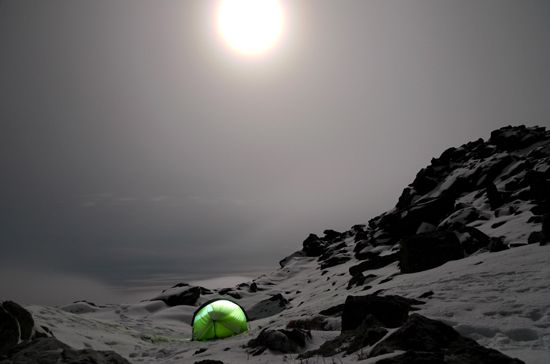 As much as it pains me, I'll do some terms and conditions.
Mountaineering is dangerous, mountains are dangerous just on their own, mountains in trainers is really dangerous.
Participation is at your own risk, this is an informal meet with fringe benefits, not an all-inclusive event with a back up team.
If you're worried about your level of experience, fitness or skills for the trip, email me and we'll see what's up.
We're on our own, it's like a regular hill trip, no magic wand so we have to be on the ball.
The tone is flippant but the message is serious, let's be careful out there.