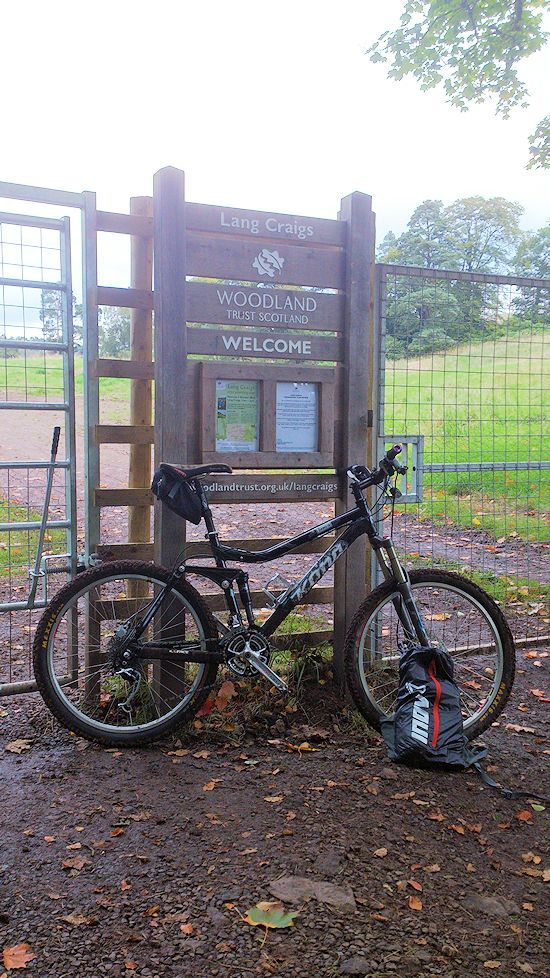 The bike badly needed a service, something that I enjoy doing but seem to get around to infrequently. Chain and gears fine, pivots good, hubs have new bearings anyway but then there were the brakes. The Hayes 9's are old but simple and reliable, until now, fitted to their third of fourth bike frame. One pot at each end was seized, which explained the poor braking. It's not just the additional rider weight of recent times…
Stripped, examined and condemned. Yet more refurbishment was pointless, new brakes were needed. But.
Self employment can be a little bit like being a child at times, you're skint until pocket money day, or until a customer pays you. Which is fine unless pocket money days are sometimes months apart. The brakes had to wait a wee bit. Mortgage payment or brakes. It was a close call.
The new brakes were fitted soon enough, Hayes once more, and I was free again. It turns out me and my bike were missed over the summer, Joycee's been questioned about me a few times (she's way more social than me), is he dead, injured, gone away on a pilgrimage etc. The best comment was that the riverside trails had gotten overgrown because I wasn't there. Ach, it's nice that folk are looking out for you.
I suppose my attention, feet and wheels have been elsewhere, I've been around the Lang Craigs a lot more which has kept me happy enough, but I've now made a point of hitting the old trails again, which are indeed really overgrown. The climb up the Kilpatricks from Old Kilpatrick is now smooth and easier to ride, no less steep near the top though, still a ball and lung buster.
Path works continue as does access work for the Forestry folks, although the original path works have bedded and blended in it's a changing landscape up there. Go now and catch it before… well, we'll see.
The Lang Craigs is still a work in progress but the raw scars of the the new machine access tracks are healing fast, the old main path is gone forever, but the new one is faster if less technical to ride downhill. You have to be careful though, the Lang Craigs are busier than I've known them, more people in the hills, got to love that.
Which brings me to the 5th of October. The Woodland Trust are having a tree planting day at the Lang Craigs and you should all come along. I'll be there in hi-viz vest wearing rangering capacity ready to help and banter about the weather, the hills and whatever else. Just go easy on the tree questions, I'm still learning.
The last event was great, lots of helpers from old folks to bairns climbed up the hillside in poor weather and got stuck in. There's other stuff to do as well and you won't go hungry. Give me a shout through the contact box in the center column of the blog or use the comms details from the poster below.
Now, some folk might spot the ultra light Inov-8 pack leaning on my front wheel above. I've been testing that and it's bigger brother the past few months and it's time to talk about that stuff again. Next week, gear is back. Lots of it.