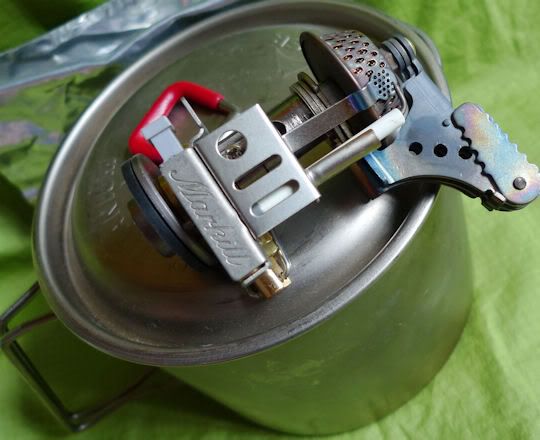 I've been having a rummage and it's time for a change. After the unrequired pyrotechnics with my Optimus Crux Lite during the week I'm going back to the Markill Peak Ignition. It's a great wee stove, and the ignition still works so I'll ditch the firesteel for a while and carry a wee plastic packet of matches just-in-case. Folk are sometimes sniffy about Markill, even though it's the same stuff as Snow Peak with a different brand stamped on it. I'd looked at some of the current models like the Snow Peak Lite Max , but it's all just tinkering with materials to get the numbers down, there's nothing genuinely new or sexy.
While I'm at it I'm going to go back to my MSR Titan Kettle for a bit, well, once I've insulated the handles, and see if I notice any difference. At 40g less that my regular Optimus Terra Solo pot I won't feel any weight difference, but the shape might let me cram more stuff in there, so we'll see about that.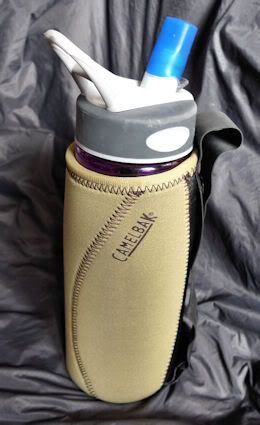 I've got a huge long titanium spoon that's become a regular (it's currently down at Trail HQ getting its photies took) that totally avoids "camp sauce finger" when eating from a bag, so sporks are oot for the timebeing. It's a bugger that I can't stow it in amongst my cook kit, but hey, you can't have it all.
Also after my water bottle contents reaching undrinkably high temperatures recently due to the sun's extra-super shinyness, I have installed US military coloured (ie sand, are there any wars in temperate regions these days?) neoprene sleeves upon my Camelbak 750ml Better Bottles.
I look foward to drinking merely luke-warm Nuun in the days to come.