I knew it was going to be good because it was late when we left because work and various other hassles had made it look like we'd not get further than having the notion to go out and play.
But out to play we went.

It was surprisingly quiet, never saw a soul until we hit the woods by the loch where a family sat on the sand soaking up the rather cool sunshine. The only other person we saw turned up where we sat waiting for the sunset and he seemed miffed by our presence so quickly disappeared once again with his huge bird watching scope thing. Ah well.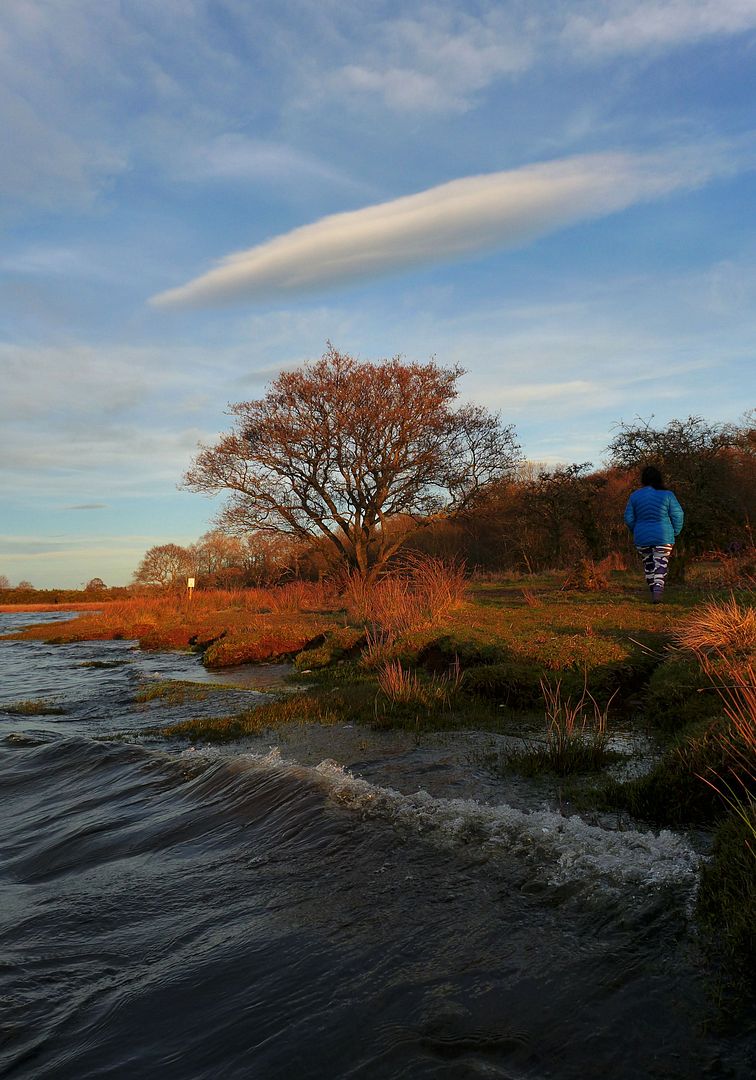 I wonder if it's quiet because it's sold to you as a bird sanctuary where it's really just a beautiful wee wander through woodland to the loch. Admittedly with a lot of birds flapping around you.
The end of the track has a couple of benches and a gated enclosure with directions to a low viewpoint of sorts. Better though its where you can get onto the long spit of land that holds in Endrick Water for over a kilometre before it joins the loch. Fine sands, lilies in the sheltered bays, and nervous wildlife are all there to be found, but today the loch was too high to even chance it. The grass grew straight from deep, cold water wherever we put out feet. As glorious as it would be to sit and watch the evening arrive from out there, tonight we'd stick to the tourist path.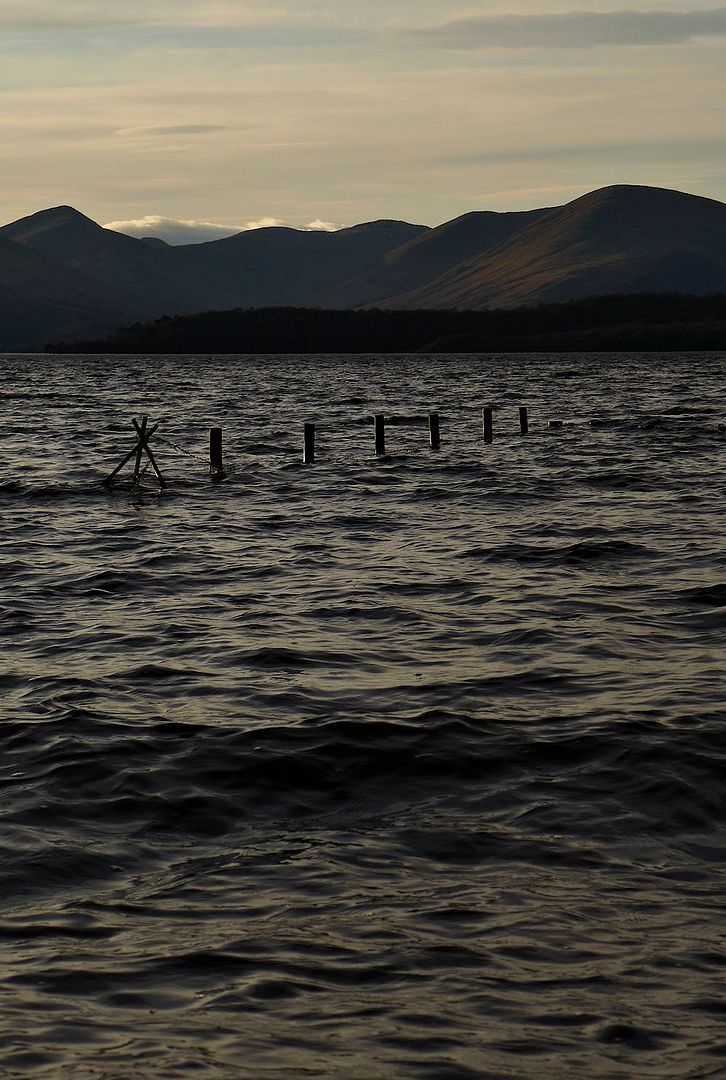 West Dunbartonshire has fantastic views to its neighbours, so many hills with so many ascents I call up from my archives. None of them in the last year of course but a lot of them are oh so very sharp. I can feel the rocks under my hands on Beinn Narnain, I can feel my knees on the descent of Ptarmigan Ridge.
Right now was all about a picnic though, and that's just fine by me. It was getting noticeably colder as the sun went down, jackets, hats and gloves were welcome and necessary.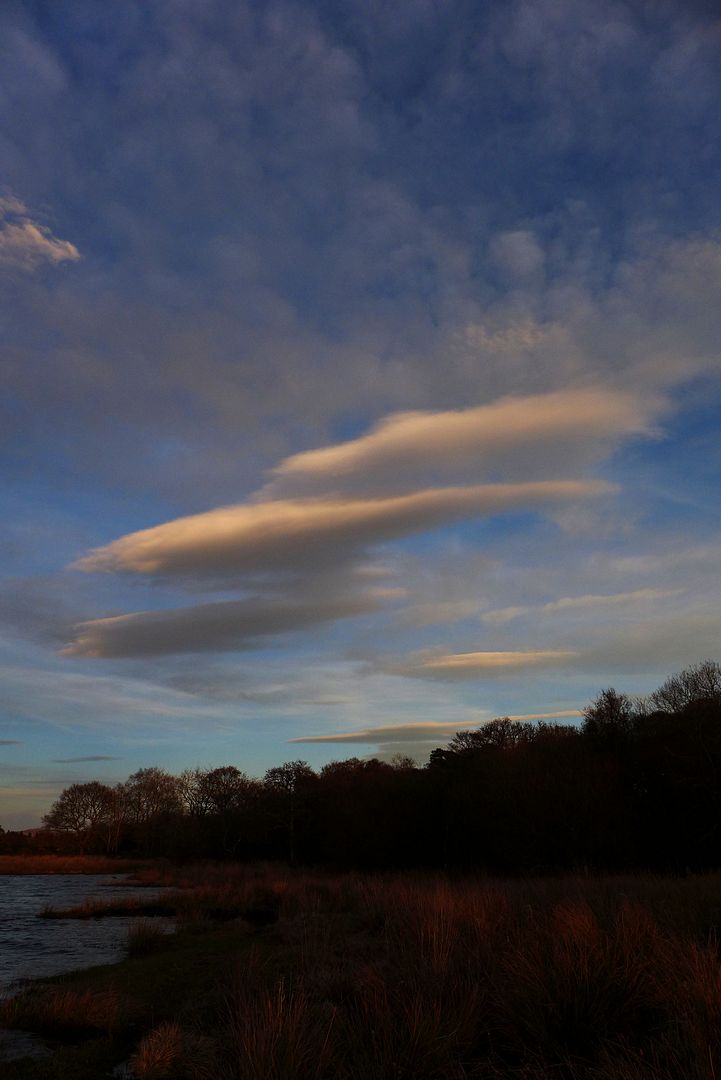 The water was choppy and waves lapped at our feet and the cold air swept off the loch. There was a little heat in the sun bit is was fizzling out as the light faded. We'd come for the walk, to be somewhere different, to revisit a happy memory too, but aye, that sky was starting to look a wee bit fancy too.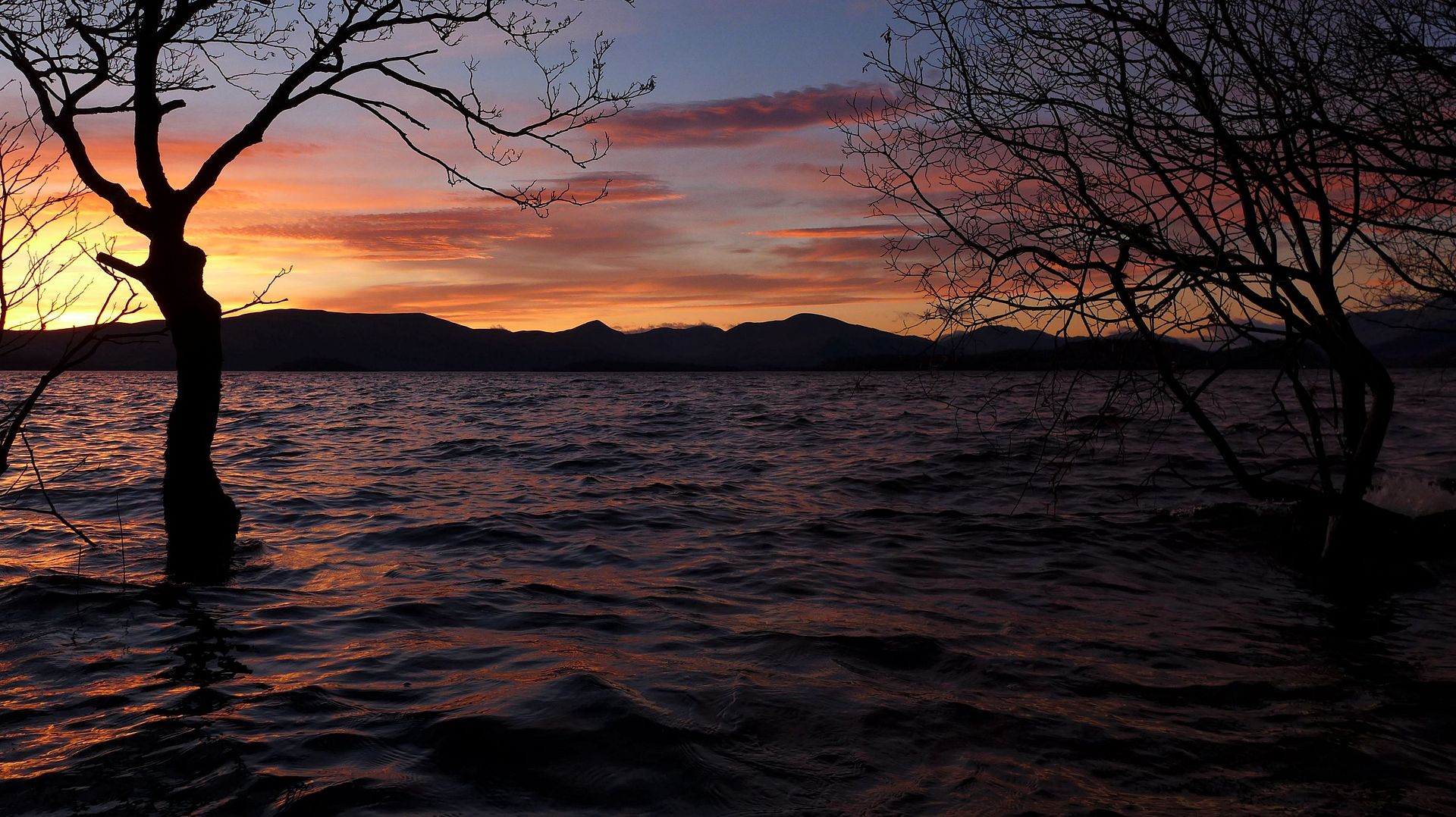 It was glorious and unexpected. Dark hills on the horizon, dark water patterned by sharp bright wave crests as the sky whirled through it's wonderful wacky colour palette.
It was getting dark so we did leave before it was all over and the last scenes here are me lying on the beach trying to catch a wave, the mountains and the sky while giggling and trying not to roll into the loch. Pure magic.
Then the deepest of reds on a silent trail as bats zipped low past out heads looking for those early hatching midges perhaps.
The sole came of my shoe. Pretty much completely off, it was attached only by a glue spot at the toe and it was a fine mix of inconvenient and funny as it wack wack wacked it's way back to Gartocharn in the dark. Can I repair them? 14 years old, I'll see.
This was a win in the face of nearly giving up. Not a lesson learned, a lesson reminded.