Some things are very hard to review, not because they don't work, they don't fit or I haven't used it and I'm just lying. No, it's the photies.
I refuse to use stock photies because it's lazy and looks rubbish. So, after a year I've finally got up the courage, managed to keep my face straight, stomach pulled in and keep hypothermia at arms length long enough to get a shot of my secret winter weapon. The Chocolate Fish Taranaki Merino Wool Singlet.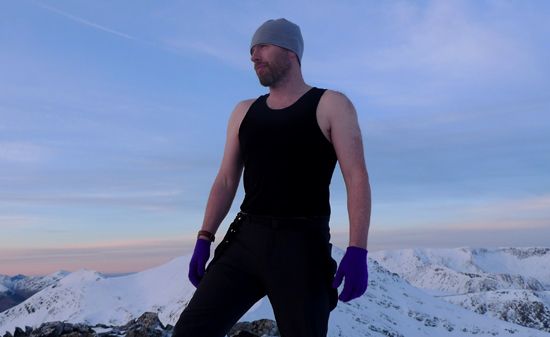 The vest (for that's what I call it, "singlet" sounds like a baby X Factor contestant) is your classic shape, long body, nicely clean cut around the arms, slim fitting and devoid of features, just as it should be. The merino is a nice light 190weight, is smooth with a little stretch and all the regular superpowers of warmth, stink destruction and eternal comfort.
"I have a baselayer, I don't need a vest". Indeed, neither did I until I started wearing this last winter and felt the benefit right away. It's that little bit of extra protection to your core for cold weather, and it stays completely put on your body, no exposed kidneys etc after that tricky scarmble. Having no arms it's not being pulled at during movement or by other layers binding onto it.
The arm-hole seams are low profile and although they line up with a pack strap I've had no rub points, which I was worried about.
In camp it's great as it's like keeping liner gloves on, you've always got that little bit of protection. In the sleeping bag too, it's comfortable without too much insulation if you need to regulate your temperature and your sleeping bags don't have zips like most of mine.
On the move I've found myself leaving a shell off for a little longer, but I'm not overheating either. Wearing it under a long sleeve zip-neck merino or synthetic base layer gives great ventilation options without too much insulation or exposing your bare skin too much.
There'll be a personal aspect to this, it's not going to be a universal fix-it, a wearer running hot or cold will make a difference to the results.
I'm just pleased that something I'd never even have considered trying turned out to work very well for me.
Ah bugger, I'll need to remember to wear in next summer on it's own. See, always learning.