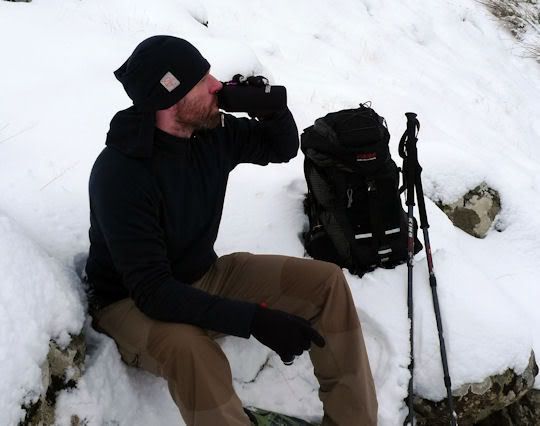 I was out in a variety of new stuff the other day, including a couple of test samples of upcoming merino gear from Chocolate Fish that have just arrived.
Unseen above is the Taranaki Singlet, a simple vest with a long body. This winter has been cold, and this little bit of extra insulation is just enough to keep me in the comfort zone. I didn't even think of a vest as a first layer, it was Amanda at Chocolate Fish that flagged it up, and it's a bloody good idea. Worth a thought if you're on the limit of your regular layers and don't want to put your insulation on when you're on the move. 
The top layer above (and below left) is a prototype "TeMata" zip-neck midlayer in 260gsm fine merino. It has the same cut as the Taranaki zip neck and layers well over it.
On my napper there is a Tuara, also in 260gsm fine merino. It's a tube of fabric that folds into a variety of shapes, my favoutire being the pirate (as seen) and the stop-my-face-freezing neck gaiter and face mask combo.
I must say it was all very pleasant to wear. The TeMata is a no frills pullover, and because it's merino it has the odd ability to absorb wind and keep your temperature constant that synthetic doesn't, and all the time I was out I didn't need something over the top despite the temperatures sitting in the negative accompanied by light winds.
Multiple merino layers feel good, very natural. Powerstretch is the closest synthetic equivalent I think.
I'll come back to these in a bit and see how they've done, and I'll also have the inside story on how a New Zealand highland sheep got to be wrapped around my head with a label on it.