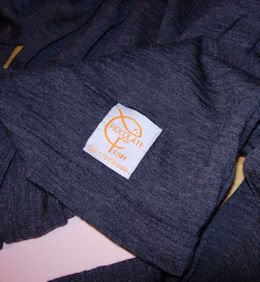 Regular listeners might remember the Taranaki Crew Neck from Chocolate Fish that I featured a few months back. On almost every trip I've had since then it's been my baselayer. I've worn it to work, so it's been crawling around on its belly under church floors looking for cast iron pipes, inside steam boilers repairing the brickwork, bumping up the price to unsuspecting customers who I don't like and sitting in cafes denying reality with Eggs Benedict, coffee and cake. I've also layered it under a t-shirt for both practical comfort and insulation and also to look like I'm not 40 in about ten minutes.
I've washed it water that was far too hot, I've left it lying crushed and festering at the bottom of the washbasket on occasion and it's been accidentally tumble dried with Holly's stuff on more than one occasion.
Simply, I've tried to destroy it and failed.
It's been great to wear, performs as you'd expect a nice bit of merino to do and it's kept its shape. The seams, which aren't flatlocked, haven't caused me any grief. This is something which always comes up in reviews and in popular opinion, flat lock seams don't chaffe. I think we need to revisit that and say "Well finished seams don't chaffe".
Oddly the only bad case of that I can remember is an old raglan sleeved microfleece where the flatlocked seam lined up perfectly with my collar bone, and with dexterously applied pressure from my rucksack strap over the top my life was a living hell as that particulat gear alignment sawed its way down to the bone over a weekend.
I digress, but the Crew is a great bit of kit. It looks well used now, but there's no holes and there's no burst stitching. But, a couple of weeks back it got put in reserve when the new Zip Neck arrived for test.
The Zip has a finer fabric (it's worth reading about the fabric on the Chocolate Fish website and the links from it, there's a wealth of ethical and environmental information there as well as the genuine Kiwi credentials) and the same long body and sleeves. Teamed up with the Taranaki leggings from before, this has been my winter kit for the last few trips.
For the recent tent-in-a-blizzard trip the Zip and Leggings were my sleep kit and comfort was sublime, cosy, dry and smelling of roses was the order of the day night. The high collar is great, but there's always a worry that a baselayer zip will irritate my neck in my sleep, but it was fine. In fact the zip hasn't caused me any grief in that way, even when layering up under other stuff. That's the joy of using intelligently designed midlayers as well, collars made to allow baselayer underneath. They don't all do it you know.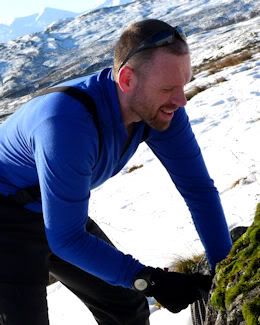 Coming back into winter you realise a few things again. Merino is where it's at for your first layer, it's just more comfortable and it protects you from the unfriendlines of softshell pants against the skin. You don't stink in the tent or in the motor on the way home. Last Saturday there were four of us in merino from wrist to ankle and the journey back was entirely pleasant.
I like the Chocolate Fish stuff. The fabric strikes the right balance between stretchy softness and having a bit of resistance. The cut is just right for me, the tops keep my kindneys warm and stay tucked in, the leggings don't have an irritating waistband or ride up the crack of my arse (these things are vital to our mission and must be shared), and the Beanie is magic.

Yes, the Beanie. A simple wee bunnet made from fabric offcuts from the Taranaki kit, it fits under a helmet, a hood and weighs nothing. I had to fight Holly for it at one point as well, so there you go, it's also a natural fibre non irritating weans heid warmer.
Another thing, there's important words attached to Taranaki kit. The obvious ones are well used above, but these need saying; independant and different.
I'll be using it all constantly through winter, I'll come back again and see how it's survived.