Chocolate Fish are an independant UK web-only outfit who supply merino wool attire in many varieties. They've recently started producing their own brand of clothing called Taranaki. There are all the usual suspects in the product list, boxers, leggings, crew and zip necks and more. The quirk is that it's New Zealand merino, made into stuff in a New Zealand factory by New Zealanders. In fact, it's made by the old Icebreaker people who were abandoned when the brand sought fame, fortune and bigger returns by going to China.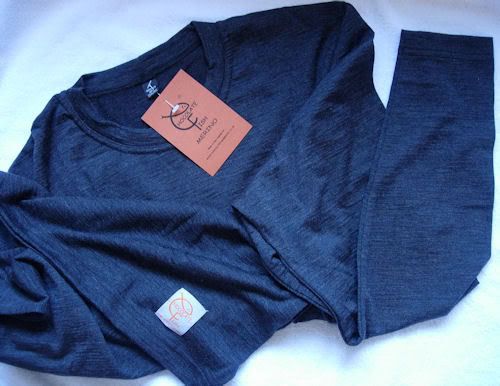 For test I've got the Taranaki long sleeve crew as seen above in charcoal marl, which is actually quite dressy looking. Fit is close but not tight, and both body and sleeve length are good on me. The seams aren't flatlocked but feel soft, the 185g fabric is smooth with a nice amount of stretch. The sleeves pull up over my elbows no problem.
The weight of the fabric is interesting, it's inbetween the usual standards of 200g for "all-season" and 150g for ultra light clothing. In summer the 200g is on the limit when dealing with sweat if you're really pushing and the 150g doesn't seem to have enough "wooliness" to stay as fresh when you wear it day after day. That's all relative of course, merino still beats synthetic tops into a whimpering ball in the corner with a big stick. There is no more comfort avaiable than that obtained from the fruit of the sheep.  Aye anyway, so 185g is a sensible compromise I think, the proof will be in the sweating and sleeping in it.
Also here are the leggings below in the same fabric, dead simple, merino covered elastic waist, same slim fit. As ever, more later.