It had been nice all day and my last client postponed so I dived home and grabbed some gear with a definite destination in mind.
It was a very different road to last night where some dumb bastard threw a wave over me and the opposing two lanes of the dual carriageway from overtaking me and consequently driving full pelt into a very obvious and very deep flood from the torrential rain we'd had while we were in the studio (single still there to be streamed or purchased at all the usual places @The Violet Signs).
My visibility was instantly gone completely and the car shook around. I just took my foot off the gas, stayed straight and came through it, no idea what the other side did, but I heard no collisions. Mr Stupid legged it, likely a mix of shock and terror.
So aye, the dry tarmac was good.
The sun was low by the time I got to Balmaha and it was a wee bit chilly, but I wanted to get moving so I just put my hands in my pockets and headed for the hill.
In the trees I had my first and strangest meeting of the day. Casually but warmly dressed, this chatty fellow told me to watch for the fallen tree, it was blocking the path, it was dangerous, I had to go around it he said. I was glad at the head's up if not overly concerned for my safety.
Then he ruined it by asking questions which seemed to me to be seeing if I knew if the Balmaha car park was a good dogging site. Naw. I mean, just gonnae no.
I left him to his musings in the trees.
I next stopped for a blether with a couple on their way down from Conic Hill. They'd done the nice loop right round using the road to Buchanan Smithy and were looking glad to be nearly done before dark. They were happy though, enjoying the sun going down but were worried about me still ascending into the approaching dark.
That concern has been a familiar one over the years.
Bless you all, but I'm good. Double good this time actually, I had two head torches with me because all the batteries are of questionable life expectancy.
I sat up on a rock on the top below the top that folk think is the summit but isn't. It was cold and the wind cut through my windshirt so I pulled on my down jacket and watched the sun, the horizon and the ever darker hills. That includes Ben Lomond which was just peaking over the rust coloured sprawl that stretches along the east bank on the loch between us.
It's a great spot, worthy a visit and you get way better views than you deserve from the effort put in to get here.
The term passerby doesn't really apply for me, I will stop you and I will talk to you. So when Paul (as I soon found him to be named) wandered down the ridge path, he had no chance of escape.
We had some good banter, compared notes on stuff and found to our surprise that we were being silently and rather tentatively menaced by cows. Time to leave.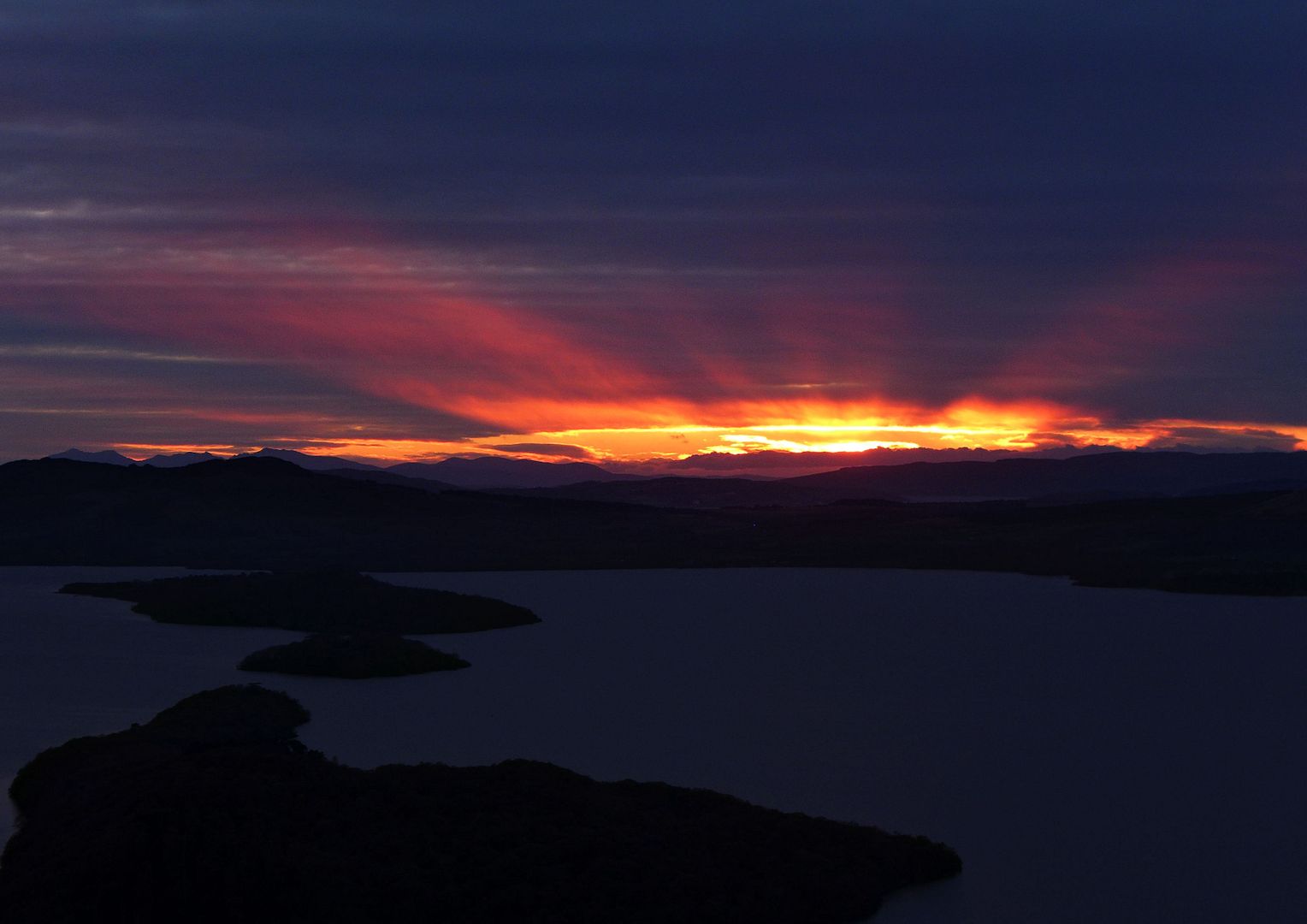 We took the rather nice ridge path which feels pretty steep at the last descent and gives magic views before you lose it all and head back into the trees.
The chat smoothed the way down and time passed quick, even at the er, dangerous tree crossing.
It was getting to the limit of walking without a torch when we got to the car park, the nights really are drawing in now.
Then I got the call, it was mother "Holly's here from school, you want to bring in a McDonalds…".
So from lovely view to drive thru it was to be…
Nice wee quickie. Conic Hill is always a good bet for maximum fun from minimum time and the banter just made it even better.