I blame a swing to the right. Or it could be refined sugar, or asbestos. Whatever, the evening sky has been an electric blanket of shimmery wonder thrown over the shivering legs of humdrum weekday dreariness. Until today, when it's pissing it down.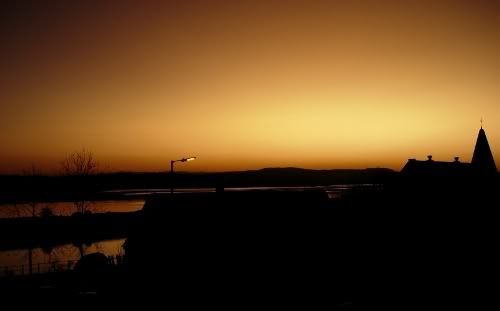 The plans for the weekend have been put back in the box, the weather is looking rubbish. The first ever pogo stick ascent of Ben Lomond will have to wait until next week.
Why would you sit with your foot on the brake? We're sitting there with our hand brake on waiting for the four phases of lights at the junction to come back around to us, staring at your brake lights because…your arms are too short to reach the handbrake lever? You're testing the endurance of your calf muscle? You like to move off with uncertainty at the green light?
It's a great film. Walter Matthau eases his way through it with classy style, Joe Don Baker plays (with thanks to Hudson) the Ultimate Badass and Andy Robinson puts another nail in the coffin of his career with another fine Scorpio-esque psycho performance. Almost forgotten, but along with others such as The Taking of Pelham 123, the style and pacing, the plain nastiness of some of the characters can be seen in Pulp Fiction and beyond. Sometimes it seem like Quentin Tarantino is the only film maker that remembers that there was another way of making films before Star Wars came along and nearly ruined everything.