The weather is looking crap for the weekend. It was looking misty with a hint of blue above it this morning as AyrtshireTiger reported. So, I took the gamble and headed out for wee quick hike up to Doughnot Hill.
I consider that to have been a wise move. Despite the coughing fit I had at the Trig point (tubes apparently still not totally clear…) it was a couple of hours of total joy. The scene is posted below; cloud inversion and nothing but blue sky above, everything crusted with thick frost. I was stunned. I could see all the hills to the horizon, Ben Lomond, Arrochar Alps, Crianlarich and Falloch hills and more, brown and stark against the sea of cloud like a pile of bricks sticking out of a bubble bath.
After Doughnot Hill I headed over to the Lang Craigs. Here I had a Brocken Spectre follow me all the way along the top of the cliffs.
I'm a lucky bastard, I know that. But like we've been saying the good days are there, you just have to catch them if you can. Carpe diem indeed.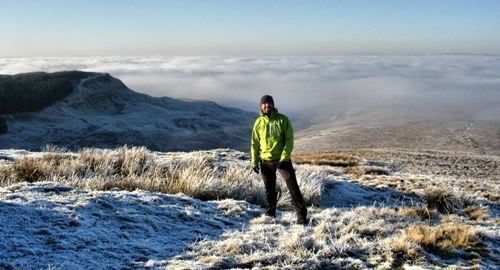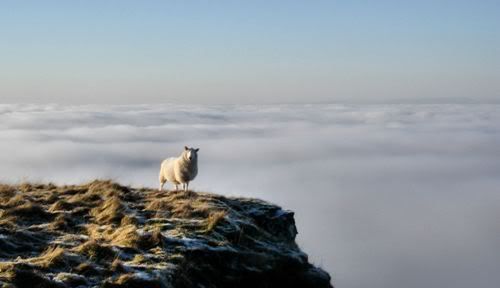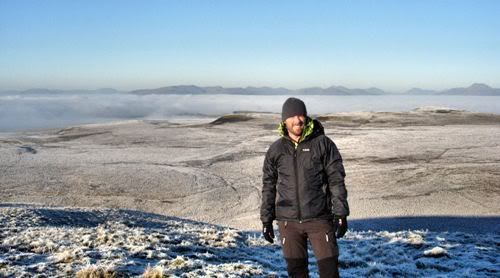 It's no wonder I'm grinning all the time.
It was a good wee test of some of the kit as well. The Icebug Speed Bugrips were a revelation, they do actually grip on ice, the start of the track was frozen solid, and and on the open hillside on mixed terrain they were fantastic. The Haglöfs Oz was also a surprise, the only condensation spot was under the chest pocket, the lack of seams does make a difference. It didn't ride up either, short jackets usually do. I'll put that down to the slim cut.
So looking good, it's given me a bit of confidence to take them uo the big stuff.