Hey, it's here in its 250g of wonder. It is basically a cranked shafted Corsa, but has it's Steve Austin bionic implants. The pick has a usable point bolted on.
The point on the pick as actually a lot slicker than it looks in the photies. There's no noticable saquared edges.
The shaft end has the same treatment. Plus a better grip than the Corsa.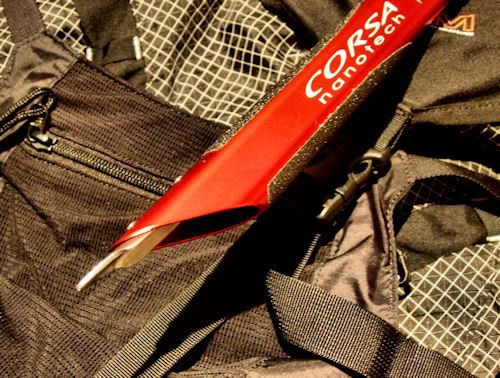 The reinforcements are made of Sandvik Nanotech steel alloy. I have used their hacksaw blades and other tools for 25 years, so they do know their stuff.
CAMP reckon it's a perfectly good tool for "alpinism". There's more of that going on down their way so we'll take that as read until it's got some miles on it and evidence presents itself to the contrary. Bearing in mind that in current lame UK fashion I may be struck dead by even the merest thought of taking it near one of our mountains.
I got the 50cm to contrast with the 60cm Corsa. I'll take the two out together and play around and see what happens.
"Here Petesy, how did you get on with those axes today, you never cracked a light?"
"Aye China they were fine, I quite like them"
I forsee a drama free conclusion along those lines coming up.