These have had some coverage in Trail, but it's good to have a closer look at the features for those interested in trying one out. I'll be using one of these this winter depending on where we're going. So once I've had a good go with it I'll get the news on here, good or bad.
Looks pretty standard. The adze is welded on which is usually a sign of cheapness, here I'm happy to see it as the it's probably the toughest bit of the head and will keep the adze attached if you try and chop a step through an unexpectedly tough crust.
The shape of the adze is good, clever thinking has given it the shape that the soft metal would probably have worn into after a good bit of use if it was a standard shape. I'm hoping this and the sculpting will give it a bit more longevity.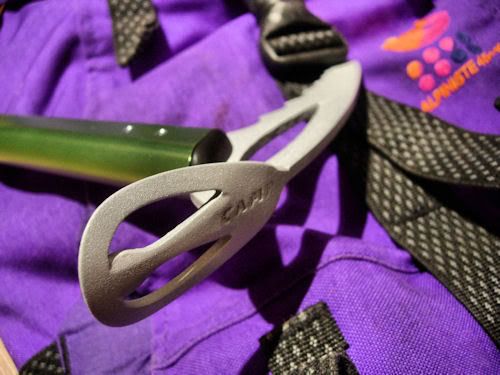 The end of the shaft is cut to give you a spike shape for penetration, the ferrule you see holds a plastic plug in place to stop you carrying an aluminium wrapped ice lolly by the end of the day. You'll see the little cuts into the front edge to give you a bit of grip.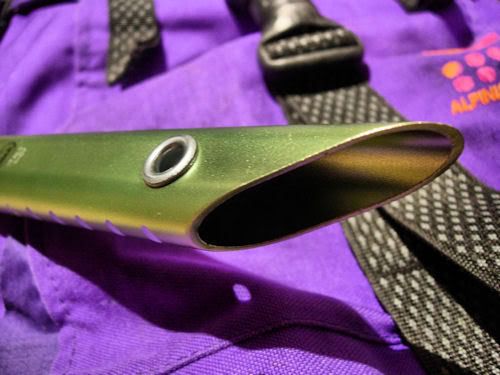 This area will wear first and might decide the lifespan of the axe. Unless of course, you actually have to self arrest with it. Then it takes on the role of drivers air bag. One crash and it's back to the garage for repair or replacement.
The head is pretty comfy in the hand, quite wide, but the teeth aren't so sharp and won't shred your gloves. It'll take a leash no problem.
The head won't penetrate ice well at all, it isn't meant to. But they've profiled the pick well so that if you have to it'll have a good go at it.
I like the feel of it, at 250g for the 60cm it really is light. The length will give me a good swing for step cutting, so that doesn't worry me. Anyway my arms aren't made of cheese straws with bread sticks for fingers. This criticism of lightweight axes, that folks can't swing them seems to assume that users are always going to be a bunch of feeble incapables. Unlikely I would hope?
It'll take some thought on the side of the user, if it's chucked about like my old favourite Mountain Technology Alpine, it'll be burst in no time. But people aren't stupid, we adapt. We just need the facts, not patronising.
On walking routes, or as a will I/won't I need it tool it looks like it's on the money.
Time will tell. More to follow.