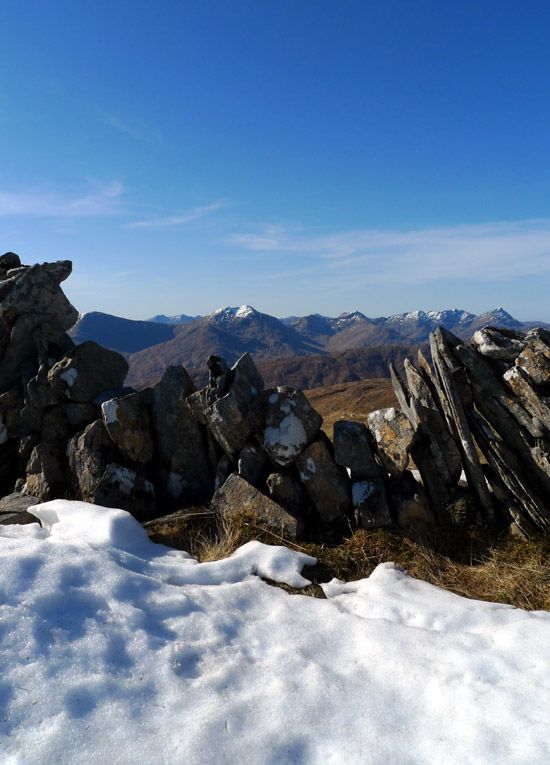 I could hear the others rustling in their sleeping bags, zips being pulled, coughs and splutters and sniffs. The sound of the key being turned in human ignition.
I waved to Sandy as his head popped out and I whistled to Elaina as she peered out at the sunrise. It was slightly surreal as I'd stuck the music back on while I was dozing and had Megadeth's "Peace Sells…" shouting at me while the morning played a silent stadium light show.
I probably could have just lain there until the desire to pee became #1 in the list of priorities instead of #6 where it actually was, but I had to get out and feel those rays as they burst over the South Glen Shiel Ridge.
I pulled on my jumper and down jacket, peeled my legs out of my sleeping bag and tucking the laces inside my boots, stuck my feet inside and lurched out to greet the day.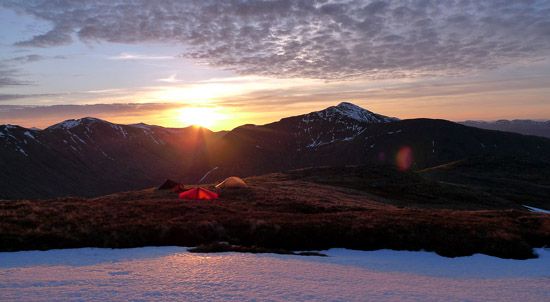 Now, as is my habit, I cut about for a bit outside without getting properly dressed, the reason being I always get back into my bag for a cuppa and bit of a re-heat before breaking camp. I fail to see why my companions found a man in boxers and a down jacket so amusing. No I wasn't cold, yes my legs are always that colour. Cheeky buggers.
We milled around soaking it all up as the sun squeezed through and the sky changed shape and colour by the second. The colour and patterns washed over us and to each side. Gairich to the South over Loch Quoich glowed like the last embers of bonfire against a blanket of soft pink haze.
It was funny when everyone's alarms started going off. We knew what time the sunrise was due and various devices had been primed to make sure we saw it. We'd been standing watching for it for nearly an hour.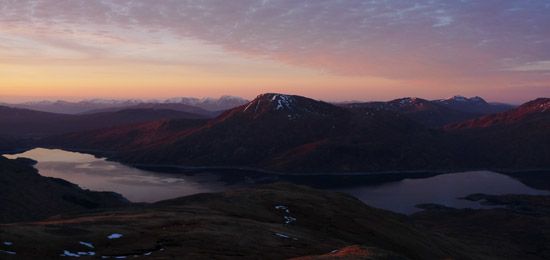 There were grins and superlatives, there was disbelief too. It was as if we'd been dropped here from an aircraft, like a really out-of-shape band of mercenaries (60+ Roger Moore, Michael Caine, Robert Shaw, you know the kind of thing), in the middle of the night and had woken up to see the target for the first time, sleeping in a deck chair on the porch. I had difficulty in attaching an expended effort to attaining the result we were experiencing as the climb had been in total darkness and had been rather pleasant too. If nothing else if did tell me that the whole experience means something to me, not just the photogenic bits.
Ages later, when blue became the dominant hue above us, I did indeed retire to my sleeping bag for breakfast, and when I emerged I was fully clothed and laced-up. I had a roasting hot purple titanium mug in my hand too. Of course I did.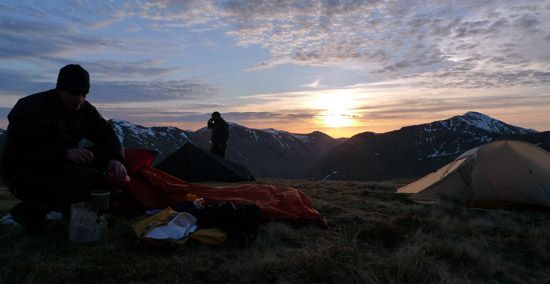 We broke camp slowly, it was warm and bright and we were donning hats and sunglasses by 0800.
This is the joy of wild camping at its best, already being there, no traffic, no fussing, no frustration. Time to enjoy the moment and all the little things that glue it together.
A ptarmigan was chuckling away and flitting from rock to rock behind us. It's such a cheery sound and it's such a lovely little bird. It had spots of colour across its white overalls, it hasn't had that outfit on for so long for a while, I'm surprised it hasn't worn out this year.
We put our cooking stones back in place, scanned the ground for anything amiss or missing and hit the trail again.
It was only a little after 0900, but I haven't felt it this warm outdoors this year never mind at 800m. We all felt the presence of the heat right away as we moved, but the track is a gem and the views kept opening up as we walked, there was nothing but joy to be found with every step.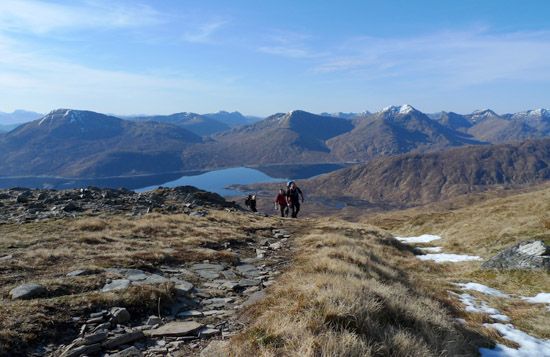 The ridge swings and tumbles towards the summit, dips and crags at every turn. We found dry stane dykes here and there (top photie), always a good thing to put your own meagre efforts into perspective.
The ridge defines itself in the final appraoch to the summit in a series buttresses on the north side rising to rounded pinnacles which taper into steep snow slopes to the south.
We thought about which way to go, the snow traverse could be loose and difficult, what about the scramble on the crest?
I decided to go and have a look at the snow and report back.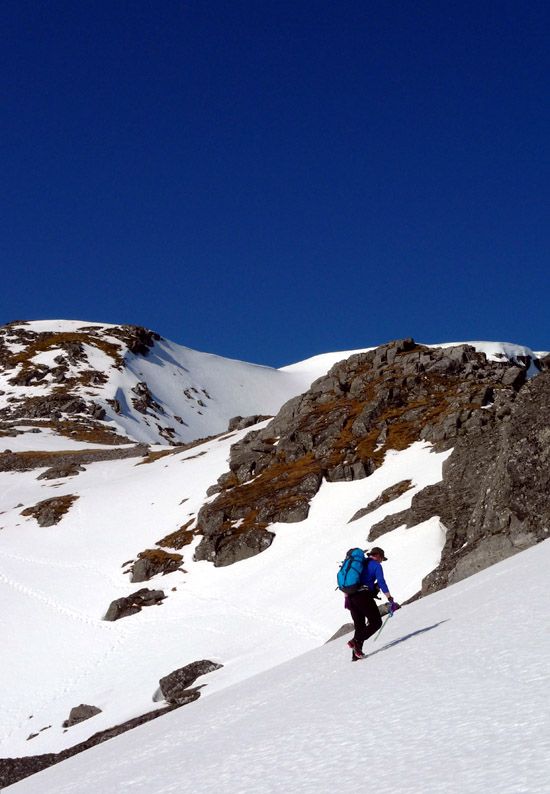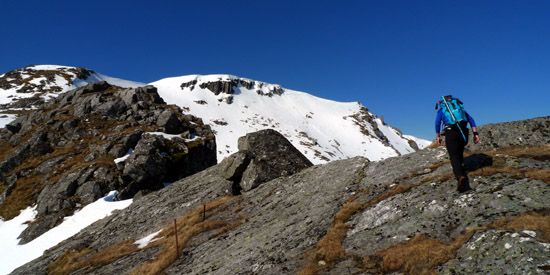 The snow was soft in places and consolidated in others, I crossed a good bit of it and it was great fun, but the lure of the rock above me was strong.
I climbed up and stowed all my bits and pieces on my pack as we regrouped and then made our way up to the first little crag on the crest.
The first thing you see is the oft-mentioned "via ferrata", bits of old metal fence posts that are actually handily placed on the first little bit of the scramble. Again though, it kinda puts things into perspective when someone is up here cutting holes in rocks and melting lead to seal in a metal stake to build a fence.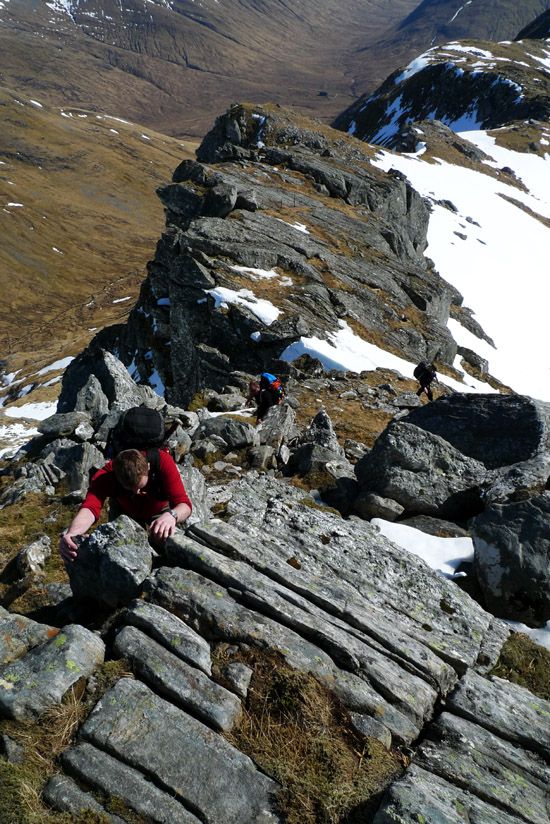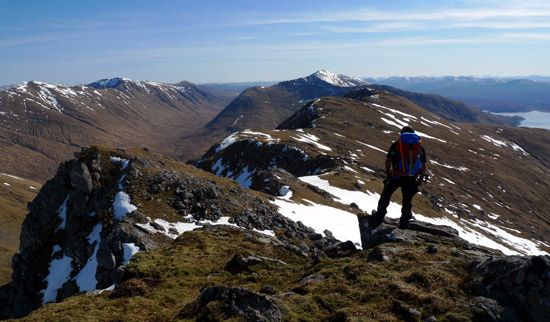 The scrambles are great fun, nothing very difficult, but the airyness to your right side lend them a little bit of drama. But the holds are there, the rock was dry and grippy and we revelled in pure joy of playing on the rocks.
One short section did raise an eyebrow when we looked back, it's a cleft filled with snow which you can't really see until you're across and above it. At the height of winter, that gap would be bridged by snow and would be an accident waiting to happen.
It was over too soon. We strolled the final pull through the bouldery terrain to a short snow slope which pushed us into a wide, shallow channel running from the summit down the southern ridge. This was nice on its own, but behind it lay the peaks of Knoydart (Ladhar Bheinn below with a wee bit of snow on it), Loch Hourn with Skye and the Atlantic beyond. Carron and Torridon now joined the Cairngorms as we began complete a 360° circle of peaks including the still snow-plastered Ben Nevis, Ben Alder and Creag Meagaidh and the bare rocks of An Sgurr and Rum.
It's as fine a sight as I've seen, Sgurr á Mhoaraich sits in a perfect position, it was definitely waiting at the door for the box-office to open.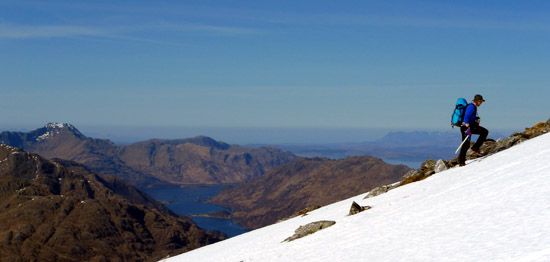 A final shimmy on the snow and we were on the top. Sitting on warm rock, surrounded by pure white snow wearing base-layers, the only sound was gently roaring stoves as they melted some of the scenery to make us soup and cuppas. Twice.
We unpacked and moved in for the long term.
Some folk came a went, seeming slightly perturbed at our presence, a couple arrived with their playful dug and they seemed as happy as we were. That's the way it should be, if you're annoyed because I'm on "your" summit I'm glad.
Another cheery fella appeared, I took his photie on his camera and he told us he had only "19 to go". Good lad.
I wasn't expecting to see so many folk on Sgurr á Mhoaraich, it's really heartening to see smiling faces making the effort to get to hills a little off the beaten track.
I dare say we could have stayed up there for longer, we still had food and gas, the ginger muffins were all gone which was a blow, but there was some still sweet to go with last nights still uneaten savoury.
But, we looked at descent routes. Straight down the south ridge would take us into the boggy coire and onto the road in about ten minutes, going north meant a steep descent on very rough ground, a scramble up to another top with a ridgewalk, steep descent , uncertain water crossing and a long walk out.
As we descended north from the summit we quickly hit a big concave snowslope which was a lot of fun as the run-out was long with a sticky end waiting for the unfortunate and the snow was very loose. We all took different directions and approaches and got to the crags below in a good state of repair.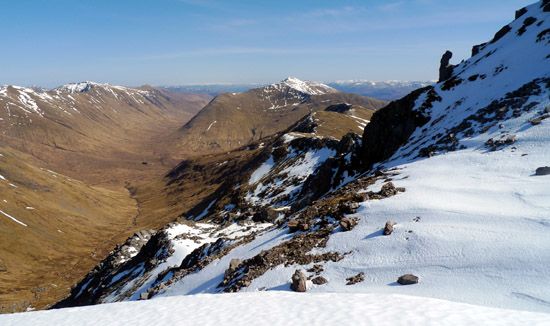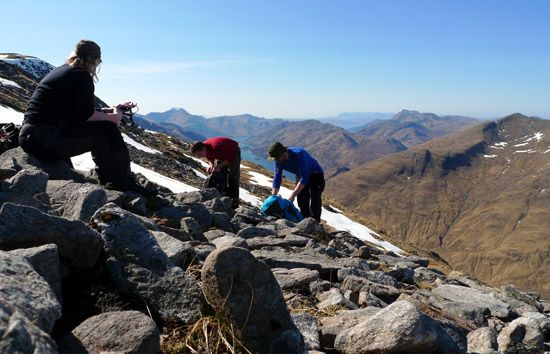 It was here that the snow gear got packed away and we also got some new views. The length of Loch Hourn to one side and the wonders of Coire á Chaorainn.
The upper coire is a mass of huge boulders which have broken from the face below the summit of Sgurr á Mhoaraich I looked like it would be a lot of fun to explore too, and that's a feature of this mountain, it's got so many options to explore.
To get to the bealach we had to cross some very rough, loose and steep ground, but it was just so much good bloody fun. Hitting the solid surfaces in the bealach was no disappointment though, the rock formations were good to both hand and foot, in fact the rock is so grippy you can walk up some surprisingly steep outcrops and they hang onto your feet. Brilliant.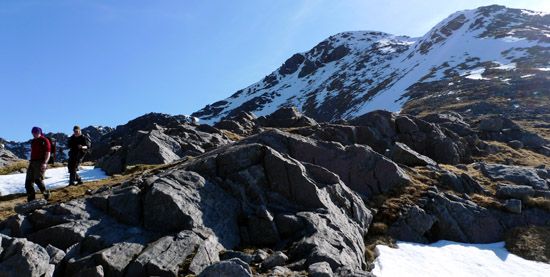 Some fannying about was inevitable, we were like kids playing on outcrops on the beach. Phil's little cave looked cool, although when I looked at properly I don't think I'd sit under it without a couple of acro-jacks and an HSE risk assessment.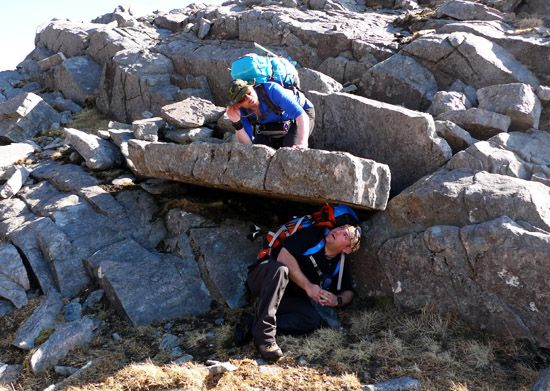 A few paces over, and we stood at the bottom of a terraced buttress guarding Am Báthaich. There's no obvious best-line, so I went left and Phil went right. As we looked down on Elaina and Sandy after the first pull-up it was obvious that the best line was the one you fancied best, so the four of us threaded our way through the outcrops and along the grassy terraces to where it levelled out into a strange little oasis ringed by twisted rocks that looked like giant penny sweeties, flumps, shrimps and more. We all tackled various bits and found ourselves on a little rocky top a little way from the summit.
There was a deep clear pool there where water was filtered and stowed and I stood on a little crag and found myself drifting away with my eyes fixing on features near and far. I could see places I'd been, places I want to go and those unsung in-between bits that I never knew were there.
I'm an emotional auld bugger at the best of times and years back I used to think "Oh, I'll come back and go there", whereas these days I'm as likely to think "I'll never have enough time to make it back here".
Maybe that's part of why I make the most of my trips these days, I like the slow pace as it gives me time to look and think. I know at this stage in the game, that my time isn't infinite. In my 20's it maybe looked like it was.
Two blokes passed us in a hurry, not looking up, or sideways, they weren't runners, just walkers on a route. Did that used to be me? I don't think so, I hope I'm just more these days rather than different.
The rock that had been giving us so much joy over the past day signed itself off before we left it behind for the knee wrenching descent to Glen Quoich.
At first you think the ridge comes to a full stop, but it falls away steeply in hundreds of metres of steep grass. It was slow going at first but a zigzag path appeared which did make it easier, but we estimate four times farther.
I think it got to me because I took my boonie hat off and packed it full of snow to cool me down as we'd left the glorious shade we'd enjoyed higher up the slope. It didn't cool me down so much as really hurt my head, like an ice-cream headache all through my brain. I kept taking bits of snow out and throwing that the other members of the party to minimise the pain, but it was still all wrong so I put the snow on top of my hat and just let it melt into the fabric.
Then I just ran down the ridge in a straight line, stopped and shouted "Bored".
I felt much better after a wee sit down and a drink. We'd all got a touch of the sun.
Elaina is no great admirer of descent, surely a sentiment we can all spread on a Jacob's Cream Cracker, but it was only when we reached flat ground that we finally hit a Blondie Stopper™. Water, wide, fast flowing and deep. Pure Kryptonite.
We surveyed the chasm that was the Allt Coire á Chaorainn. Phil skipped over on the points of rock that were clear of the raging torrent, the rock was as grippy as it had been all day which was welcome. I followed, dumped my pack and jumped back over. Sandy crossed and we decided to re-arranged some stones under the surface as Elaina was already removing socks in anticipation of the inevitable.
Some stones were shifted and some thrown in from the edge, remarkably Sandy seemed to postion himself in line with the spray every time I launched one…
Phil and I, now happy with our submerged causeway, passed the mighty luggage to south bank and then the lugger of said luggage followed, knee-deep in rushing snowmelt. Incident-free, Elaina sat on the bank emptying the water from her boots while Phil stood and grinned back at me "Ha, all the rocks are soaking wet now, you're going in on your way back".
Despite his best efforts to engineer that outcome through leering at me from the bank, my feets did not fail me and soon we were all pulling on our packs again for the walk out by the river.
Before I set off I filled my hat with cool water from the river and jammed it on my head. Bliss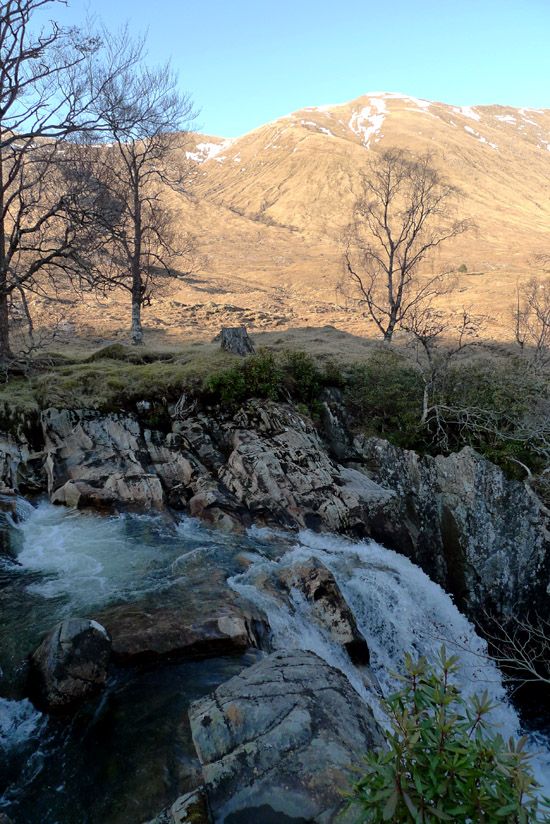 The light was low and the waterfall rushed on it's way in the shadow of our day's route, the South Glen Shiel Ridge glowed with evening light through the scattering of moss covered trees.
When we reached the estate road it was all over, we took some "all of us together" photies and trundled along the road. My energy was gone and my legs were set no return-to-base.
The loch water-level was very low, showing the scarring which hydro schemes quietly exert upon the landscape. It was almost a glacial scene, the original river course running through black soil with white rocks and rounded outcrops stark in contrast. There was a little group of walls on one usually submerged flat spot, outlining a group of shielings, rooms maybe?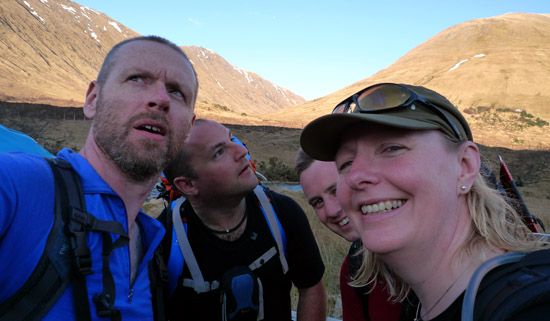 The lowering light added to sense of melancholy, and after a young stag caught our attention and played hide-and-seek for a while we walked to the main road in a quiet mood. The high ridges at either side tapered down with every step we took and when climbed the stile to find the tarmac we were out of the mountains and by the lochside.
One kilometre of road and the motor was found again. We threw our packs down and the banter flowed once again. Smiling faces, sweaty socks, mini Irn Bru's and a general agreement on the merits of a fine wee trip.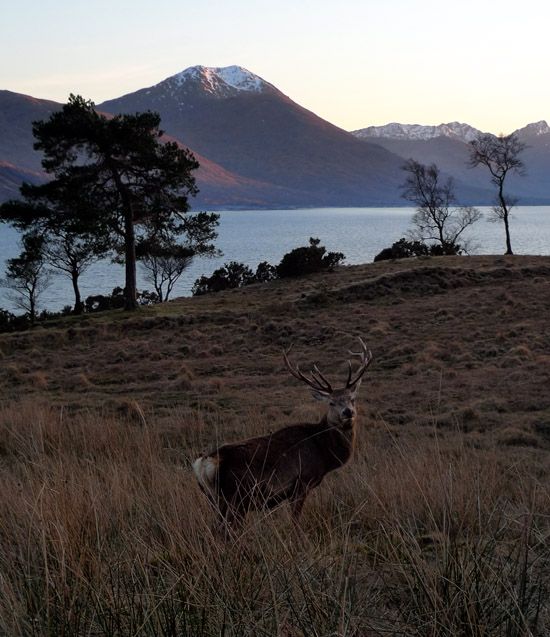 We pulled over to see another stag, a cheeky one at that, and a little farther on at a high point in the road we all got out and said a proper goodbye to the sun.
The trip was ending as it had finished, in a wash of colour with four pals full of expectation in a beat-up old Ford estate.
Now the expectation wasn't for some mild adventuring, it was of hot food while we sat and relaxed and laughed about our day, the fun scrambling and the hairy descents, the views, how much sunburn Sandy had and would it lead to sunstroke and maybe a flick through the photies too.
We pulled onto the main road and headed south.
Epilogue
Road Closed South of Fort William from 2100hrs tonight.
It was 15 miles to Ft Bill and it was two minutes to nine. We invented new curses as we swung through the Little Chef (closed) car park in Spean bridge and headed east.
This meant at least an extra 100 miles of driving to get home.
We drove into the night, tired and hungry. Maybe Dalwhinnie will be open? No, Pitlochry was a wasteland too, not even a garage was open.
Everything else was in darkness until we reached Perth where we turned in to find the BP shut as well. Back onto the A9 and to the other side of Perth and the services at Broxden. They signs were out.. Ah, but it's open.
I parked at the pump and rubbed my eyes. I got out and stuck the nozzle in the empty tank. Nothing…
"We're changing shift, can ye gies five minutes"
I was beyond caring or verbal reprisal. We left for the shop and gathered what we could to eat, I had Frosties and milk, a microwaved roll-on-bacon, a brownie and two actually rather nice latte's. The team fared similarly. Home's were phones and texted, disbelief was expressed.
Have a look at the map, from Loch Quoich there was nowhere to get food or fuel until the southern end of Perth.
I got my fuel once the tricky task of getting someone different to stand in front of the till was completed by the crack team of garage operatives and we left.
I turned off at Stirling and headed cross-country to Balloch and then round the corner back to base. I was tired.
We bid each other a fond and fleeting farewell, too tired and too early in the morning for anything else.
A fantastic trip in glorious country with wonderful folks. One that will stay with me.
But, I urge visitors to remember my motto when visiting this pleasant land..
Welcome to Scotland, Ye'll have had yer tea?
Once again, "Photies by Us"