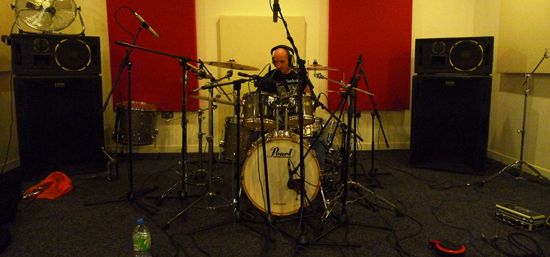 Had a fantastic day today. Spent it indoors at the Audio Lounge in Maryhill recording a new tune with my china Craig.
It was something of an unknown how it would turn out, new studio, new engineer, new gear and new sounds as I'm really detuned and play the guitar through a bass amp these days. But, Colin the engineer was on the ball and we got on well, so it was pretty easy all things considered. Craig got the drums down after a few takes and then I started laying down various guitar tracks, the bass and a couple of vocals, with varying degress of success. Bloody time consuming when you're a two-piece I'll tell you.
I played all the guitar tracks on my new Flying V, it just felt and sounded right. First time I've ever recorded without my favourite Les Paul, I'm saying that shows character growth.
I like the song right now, I hope I still like it tomorrow. I left the vocals clean, no distortion to mask my deficiencies, we'll see I how I feel about that later on.
It's called Princess (Click for that stupid pop-up player thing, play it loud mutha (it's a metal thing…)). The words are a little strange, it's kinda heavy with a surprising burst of melody and harmony when you least expect it. Happy.