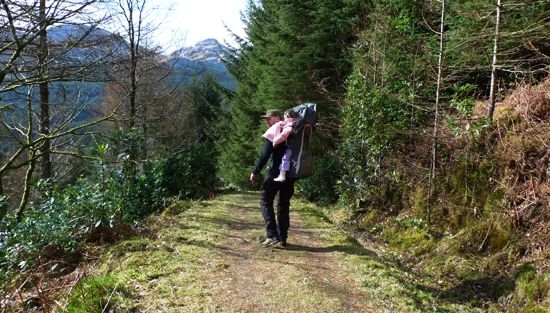 What do you want to do today?
"My want er… Daddy's mountains and build a snowman"
Off we went to Lochgoilhead, quiet trails to walk, down a quiet singletrack road and somewhere where Holly had been when she was just a little baby.
This time she walked a good bit of it, but had great fun in the "Hollypod" as well, although making dad run after mum while she was in it took years off of the old fellas knees…
We had a picnic in the sunshine, saw red squirrels, waterfalls and birdies in a landscape waking up and coming back to life with a flourish.
The Arrochar Alps looked beautiful (and awfy busy) as we passed, snow clinging on as green creeps up to meet it.
We had some unusual sounds in the motor too, the usual mix was there, but Holly has an ear for the pipes and traditional music so I have a few favourites in there like The Mist Covered Mountains, With a Hundred Pipers and of course Macfarlane's Calling.
I've spent a lifetime denying the cliches of the land of my birth, but as I grow older, when I hear the pipes I can now feel something tugging at me deep inside. It's a wonderful thing.
Holly was knackered by the time we got back to the motor and could hardly keep her eyes open at granny's when she arrived for dinner all rosy-cheeked and muddy. 
A perfect day.