Well, an in the trees baby at least. The three of us had a nice wee walk with Holly in the Bush Baby carrier. I've been getting her used to it gradually and now she just falls asleep and misses the show. I told her we'd climbed Ben Lomond when we got back and she seemed happy with that.
It's so nice for us to go outdoors as a family. Holly loves seeing and touching everything, a pussy willow blossom was the favourite of the day. As it gets warmer and the days are longer we'll go a bit higher and a bit farther I dare say. As long as she enjoys it all, that's the important thing.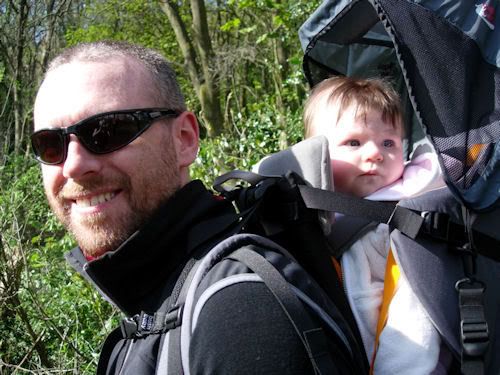 The carrier's nae bother (the "Lite" model of course…), it feels just like an oddly packed camping sack when it's on. I was given this one by somebody who used it properly which is dead handy as it meant it was a good one and it works really well. There's so many of these out there and getting the wrong one would be so easy. I can get 25 litres of kit in it as well so it's great for picnics.
I just need a CCTV system to see what she's up too. "Joycee, what's she doing?" being the familiar question.