A few years back I was posting photies on the old Trail website and one of the comments was "That's a nice headscarf". It was of course a Buff, one of my many.
I remember when they first came out, there were cries of both "A tenner for patterened tubigrip!" and "Genius!". The tubular style design is nothing new, but the fabric is what made a Buff my new best pal. The stretchyness, the balance of insulation and wind resistance that makes it both a summer sun retarder and a winter face protector, and of course the limitless potential of colourful designs all made it instantly vital for me.
The addition of other styles while others have been ripping off the "Original Buff" has kept the brand oot in front, and as an early adopter I felt it was high time I had a look at the Buff's of today. The good folks at Buff UK have sent up a bunch of test kit (including the in-store DVD, stick it on in the background and you think you're in a gear shop), some of which will be instantly regular-choice kit and some is all-new to me.
First up is the new Merino Wool Buff above. It's soft, stretchy, does all the regular Buff stuff, but as you can see below it's much longer. It has finished ends as well, so no fraying of the merino. The fabric is light, but the extra length lets you double it up, depending on whether you need extra insulation or you're just taking the sting out of the chill.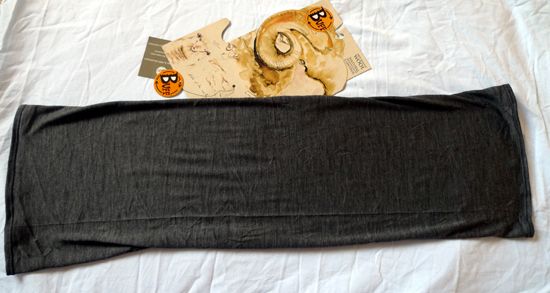 Exclusive to the UK is the Dog Buff. It's shorter and has reflective stripes to keep your mutt visible to traffic and to yourself as you walk your dug in the park or woods by headtorch (which seems to be becoming more popular). It has handy wee pictures for both you and the dug to learn the ways that a Dog Buff can be worn. And as Holly pointed out, the wee dug in the drawings is a little bit like Bookaboo in bandanna mode, so it went down here very well indeed.
I've got this lined up for test by a local Access Officer's best pal, so action shots coming in a wee while.
Above and below we have the Cyclone Buff which is a heavy-duty version. The bottom half is Gore's Windstopper and the top half is a double layer of regular Buff stuff. This will be properly warm and the Windstopper half will stop the wind dead in it's tracks, the top can be pulled up to your nose or right over your napper balaclava style. The Windstopper has a "Powerstretch" fillet at the back so it's certainly not the garrote you might imagine. I reckon this one is for proper cold weather, it's a good scarf replacement for general cutting about as well as for use on the trail, but I reckon it's best-performance niche will be motor-bikers and skiers. It's low bulk and well shaped neck-line look ideal for that stuff.
I got a few other models in too, right at the top you'll see a SueMe(I've got some SueMe streetwear on test as well, coming soon) Polar Buff, a model which I've never used, and a couple of regular Buffs, one of which is of course, purple.
Buff's come with Polygene treatment these days which does help with the vanquishing of stinkiness, I've got the same treatment in some synthetic baselayers, and even after a couple of days wear it remains remarkably pleasant. Handy as winter is here and I'll be sleeping with a Buff on my napper quite a bit.
I'll comment on these chaps as we go.