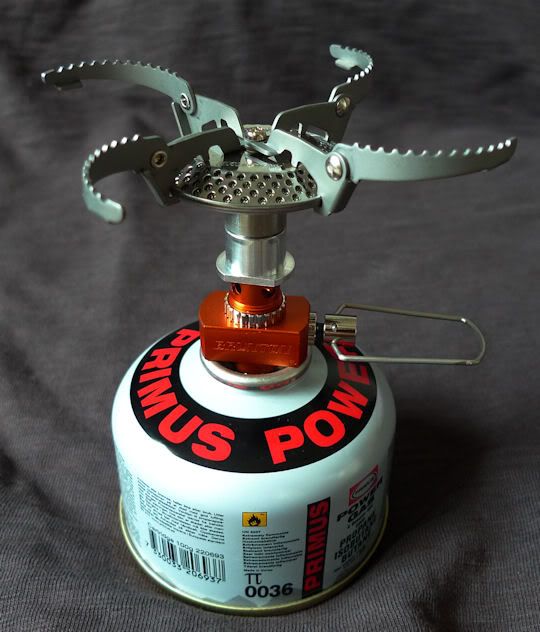 I first saw Brunton's Flex stove at a trade show ages ago when the brand was getting launched in the UK, but it's fell on its arse and Brunton is nowhere in the UK market. It do hope that changes though. It's a shame actually, because although many camping stoves are made in the same factory or to the same design (Primus, Snow Peak, Markill, Optimus and Brunton etc often have the same basic chassis), there's always tweaks in the spec ordered by the different brands that make them stand out, or indeed not stand out.
With that in mind, the Flex is very similar to the Optimus Crux, but is also very different. The valve body is machined differently, there's four very curved pot supports to the Crux's less swoopy looking three, but they both have that cracking wide burner that I love on the Optimus Crux and Crux Lite.
The Flex comes in at gram lighter than advertised at 96g which is fine, and when you add in the folding feature that it shares with the Crux you're got a bit of kit that just disappears. In the wee stuck-on photies below you can see the little pouch that keeps the stove in the hollow bit at the bottom of your gas canister. I don't know if I'll use that all the time or not, it looks a bit like supreme faffery, but I suppose one trip out will get the measure of it.
It's a kinda cool bit of kit, I like the more robust feeling valve compared to the Optimus version, and it looks easy stripped for maintenance, but time will tell whether it's really any different. The Crux Lite has been my favourite stove for over a year, so this'll have to be good.
Anodised orange as well, Help ma' Boab!