I don't get a lot of tech gear in to review, for one I don't really like using it in the outdoors, I don't feel the need to programme anything to enhance my mountain experience and to be honest I don't like reading instructions that are more than a couple of paragraphs. So when the Brunton Ember appeared I went "Ah…" I read the simple instructions and went "Ahhhh…."
It's been in my pack or in the car since, here's why.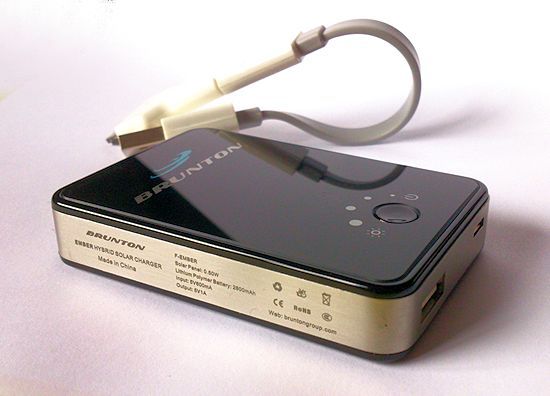 90g for the charger and 14g for the wee cable, not a helluva lot and it all packs away no problem with dimensions at a little over 2″ x 3″ and around the thickness of a slice of bread. It's a tough wee bugger too, metal (stainless steel I think?) chassis and so far scratchproof plastic faces. It's also rated as being water resistant, but I will not be risking a test of that.,
On one side we have the solar panel, rated at 100mA and on the the other side is a button and some indicator lights.
The little red light comes on when it's charging with the four blue lights showing you where the battery charge is at, either by a short press of the button or when you switch it on with a long press where the "on" icon to the right lights green when you're charging your device. Simple. Thank you.
The supplied cable fits both my iPod and my Sony Xperia phone and will also fit anything with that big Apple connector and mini and micro UBS connections. The cable has a neat pull and flip 3-in-1 connector on one end and a regular USB on the other. The Ember has two connectors on its base, one for when it's charging your device, and one for when the USB end is plugged into something else (me it's the laptop or the lighter socket in the car) and you're quick-charging the Ember for a trip. I like the flexibility and again the simplicity, I took to this wee thing right away.
Now as much as I say I don't like tech kit on trips, that's just outdoor tech, for entertainment I say yes. My iPod is a long time saver of my sanity and my smartphone has become vital since I got it last November. I take a lot of photies on it and staying in comms with home is more important than ever these days with Joycee and I being away from home so much the past few months and me wanting to keep up with regular stuff like reading Holly a bedtime story. On a battery-eating smartphone that stuff leaves you flashing empty, but the Ember has been saving the day.
I've found it can save the day from a full charge around twice, and I'm going to be very unscientific about this whole area as monitoring just how fast the Ember charges from solar input alone has too many variables and how quickly it charges my devices is even harder to monitor. You can see the percentage points on your devoice battery clicking up when you're using the Ember to charge it and I can charge a low powered phone from a full Ember battery twice, exact figures? No thanks, I'm looking at the view or the map. But, I feel I can rely on it and not worry about keeping the Ember full, which is partly why I don't mind carrying it: useful but not intrusive.
In good sunlight the Ember does charge quickly, in low light it simmers away, the wee red lights lets you know when it's working. Magic.
The battery storage is 2800mA which is plenty for me, way more than my phone battery and because the Ember's not a finite resource, you can top it up on the move, you can have almost constant power replenishment as long as your not tweeting a photo of yourself every ten paces. Which no outdoor folk do of course.
It's actually hard to review the Ember as its all so simple, it does what it's supposed to, it's light and I like it as it fits in perfectly with what I need right now. The cable will need looking after, moving parts etc, but pack it well and it's all good. Definitely recommended.
It'll be interesting to see how it fares in winter, so I'll come back to it then after a year of charging and discharging, see how it does in a sub zero tent.