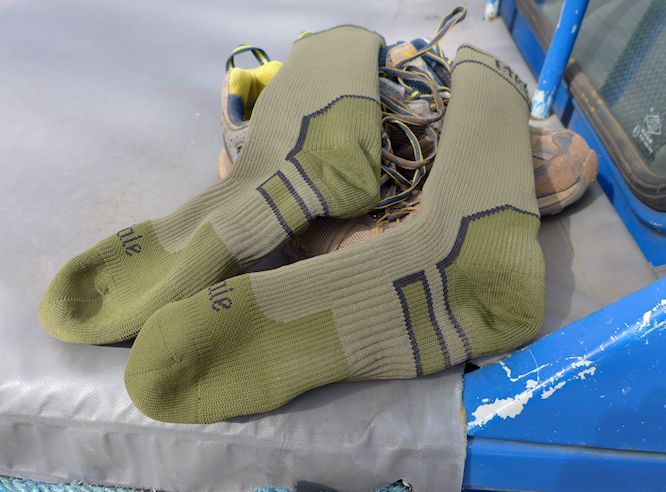 I've used waterproof socks for years but always with mixed results. Gore Tex socks were always a hit and miss affair with the chance of a perfect fit being very remote and the likelihood of taped seams being placed where they would eventually give you blisters being high.
Sealskinz were better but I never liked them for trekking, too slow to dry and just not that comfy, the stretch and form just wasn't enough for me. However, for winter mountain biking, they were very nice indeed.
So Bridgedale's press release raised an eyebrow, they can do socks, but can they do waterproof without all the usual drawbacks? Rarely off my feet recently have been the mid-height boot versions.
Seen above they look a bit like socks, what's not so obvious is the slightly wetsuit-esque texture to them. The construction is a sandwich with nylon outer for abrasion resistance, a HydroTech membrane which gives you your waterproofedness and almost a regular liner sock inner with a bunch of merino in there. You can see below the pattern is pretty familiar with loopstich at the toe, heel and sole.
There's lycra in there too and along with a big amount of stretch in the membrane this means that the wetsuit feel isn't overpowering. In fact when I pull them on, the initial gentle compression I get everywhere but the end of my toes is unnoticeable when I get my foot into a shoe. It just feels like a normal, medium weight sock.
These mid heights are perfect for what I've been using them for which is bog hopping around the Lang Craigs in mesh trail shoes. The ankle stays up and there's enough of a seal from that and the elastic cuff that I haven't had anything running down from wet legs yet, despite a couple of soakings.
The smooth but tough nylon outer works well, I've purposely tried to put a hole in these by my choice of terrain. Mud full of tiny heather and grass fragments grinding away in the gap between foot and footwear has been the death of many a Gore Tex boot liner and here that tasty mix has been dried and reapplied without washing several times. Even filling the sock with water from the tap and standing there holding it over the sink, no holes seen as yet.
Actually doing that is probably a bad idea, it must really stress the membrane as there's a lot of stretch in it, so it takes a lot of filling, which is a lot of weight. Hasn't burst yet, I'll keep trying.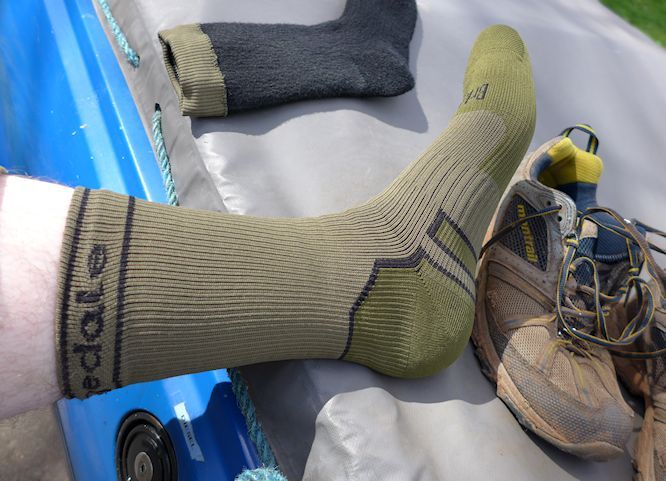 Of course they are warmer than regular socks, but not as warm as I'd feared. On long stretches of dry trail (yes, this can actually be found, it's not a rumour) my feet do heat up, but I've not overheated yet. It does make my feet sweat more though, and that's where the sock has to do the other half of its job, get the sweat out.
I was expecting them to struggle, in a shoe, wet and covered in mud, no way they were breathing. Turns out, they kinda do.
I can't be scientific about this, I mean, it's the internet where opinion is presented as fact, so you know, trust me…
But, my feet are keeping an enjoyable level of dryness. The inner sock wicks well and I'm assuming the constant heat source from my feet is trying to pump the sweat further through the sock layers to the outside.
When I'm regularly ankle deep in the bog and the socks are constantly saturated on the outside, taking the sock off, my bare foot feels slick, but not wet. These conditions keep my feet cool too, so the sock should be struggling and it's still doing its best.
Another thing about being saturated is the squelching in my shoes. I've been convinced several times that the socks had burst and were full of water as it felt just like it, but no. What this does tell me though is that despite the apparent thickness and rubustness of the socks there's still decent sensitivity around my foot, important in trail shoes.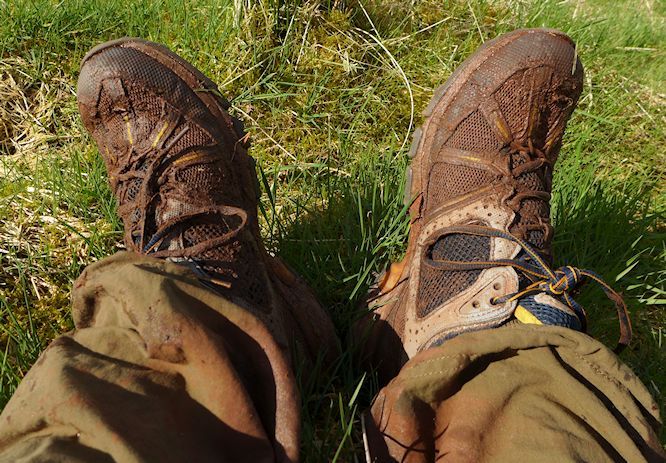 I've tried wearing them for days straight, leaving the mud on overnight and rewearing them next day. Partly so see if I could get a hole in them, partly to see how they would smell and also to see how fast they would dry.
No holes yet as the previous disappointment indicated and the smell is good. Well, not good, no sock is ever a good place to go for fun smells. Unless it's brand new sock just off the loom made from the finest plushest alpaca fibres. Hold it against your cheek, close your eyes, breathe in deeply, feel that warmth, the security, feel the..
Anyway, moving onto drying time. They dry on my feet really fast when walking on dry terrain, taking my shoes off for lunch they dry well, lying ignored in a corner overnight doesn't work so well. So, for backpacking, they'll be turned ootsides-in and spend the night in the sleeping bag. They need a heat source to dry.
Washing I have done by hand and by machine, jeez the outer sucks in a lot of dirt. Fully wet like this they take ages to dry naturally. The temptation is to throw them over the top of the radiator but I'm sure that's going to do them any good, so it's been a manual squeeze in a towel and onto the clothes horse near a radiator.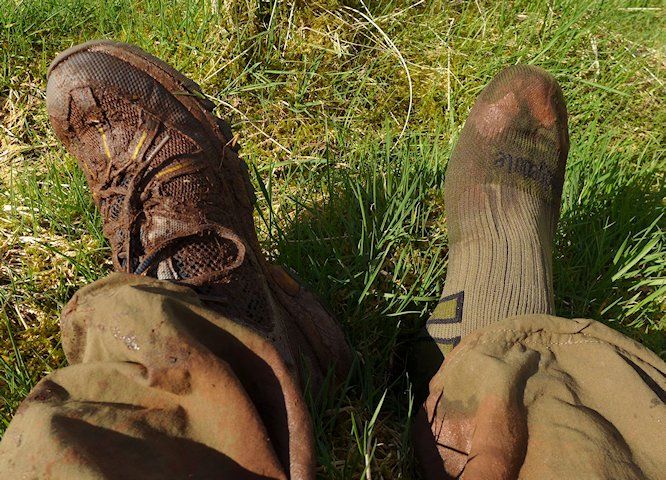 Washing and wearing is loosening them up, relaxing them maybe. They came flatpacked, now they kinda keep their tubular foot and ankle shape.
The three striptease photies here show a typical drier day's run in the Storms. I keep taking the socks off expecting to see a muddy tidemark on my foot, but not yet.
It's a sock, it is waterproof, it's comfy.
I know I'll wear them out at some point, I'll either hole them or the elastic at the ankle will go, that "when" is the one gap I can't fill in my assessment.
Until then, I will be wearing these two or three days a week. I think that thought is probably what sums it up.
£32 to £48 for light versions to beefy knee highs.
ms